National Tour of Where Do We Migrate To? Visits DePauw's Peeler Art Center, Sept. 8 - Dec. 9
August 11, 2016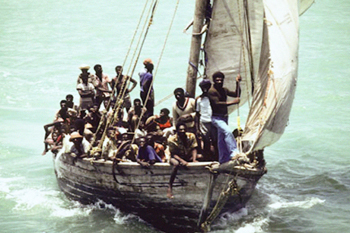 The nationally touring exhibition Where Do We Migrate To? -- organized by the Center for Art, Design and Visual Culture and curated by Niels Van Tomme, director at de Appel arts centre in Amsterdam -- is coming to DePauw University's Richard E. Peeler Art Center. It will open on Thursday, September 8, and remain on display through December 9, 2016. (at right: Xaviera Simmons, Superunknown (Alive In The), 2010; C-prints mounted on Sintra, Installation/dimensions variable, First produced for Greater New York 2010 MoMA/PS.1)
The exhibition explores contemporary issues of migration as well as experiences of displacement and exile. Situating the contemporary individual in a world of advanced globalization, the artworks address how a multiplicity of migratory encounters demand an increasingly complex understanding of the human condition. As such, the exhibition allows multiple perspectives about its subject matter to unfold simultaneously, opening up a range of political, psychological, poetic, and pragmatic manifestations of the contemporary migrant experience.
Where Do We Migrate To? features the work of twenty-one internationally recognized artists and collectives, including: Acconci Studio (United States), Nobutaka Aozaki (Japan), Svetlana Boym (U.S.), Blane De St. Croix (U.S.), Lara Dhondt (Belgium), Brendan Fernandes (Canada), Claire Fontaine (France), Nicole Franchy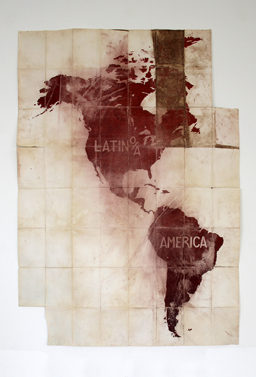 (Peru), Andrea Geyer (U.S.), Minna L. Henriksson (Finland), Isola and Norzi (Italy), Kimsooja (Korea), Pedro Lasch (Mexico), Raqs Media Collective (India), Société Réaliste (France/Hungary), Meriç Algün Ringborg (Sweden), Julika Rudelius (Denmark), Xaviera Simmons (U.S.), Fereshteh Toosi (U.S.), Philippe Vandenberg (Belgium), and Eric Van Hove (Belgium). (at left: Pedro Lasch, Guías de Ruta - Edición Destino Nueva York, Route Guides - New York Arrival Edition, From the LATINO/A AMERICA Series, 2003-06; archival paper weathered by use and travel)
The exhibition has been reviewed in eminent publications such as Afterall, ArtPulse and Art in America, the latter of which said, "Intelligent curatorial decisions transformed what might have been a straightforward thematic survey into a thought-provoking examination of the discontinuities that persist in our steadily globalizing world."
Originally displayed at the Center for Art Design and Visual Culture at the University of Maryland, Baltimore County (UMBC) in the Spring of 2011, the exhibition traveled to the Sheila C. Johnson Design Center at Parsons the New School in New York in 2012, the Contemporary Art Center in New Orleans in 2013, and the Värmlands Museum in Karlstad, Sweden in 2015. A book by the same title is distributed by D.A.P.
Where Do We Migrate To? is curated by Niels Van Tomme and organized by the Center for Art, Design and Visual Culture at the University of Maryland, Baltimore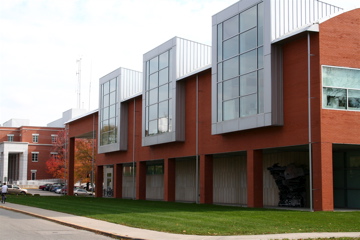 County, which also published the exhibition catalogue by the same title. The exhibition and catalogue are made possible, in part, with the support of the Flemish Government through Flanders House New York. Additional funding for this activity at DePauw University is made possible, in part, with support from the National Endowment for the Arts and the Janet Prindle Institute for Ethics.
The galleries at the Richard E. Peeler Art Center are open Monday-Friday 10 a.m. – 4 p.m.; Saturday 11 a.m. - 5 pm; and Sunday 1 – 5 p.m., and are closed during University breaks and holidays. For more information, click here or email craighadley@depauw.edu.
Back