Olympic Gold Medalist Janet Evans Visits DePauw
September 11, 1996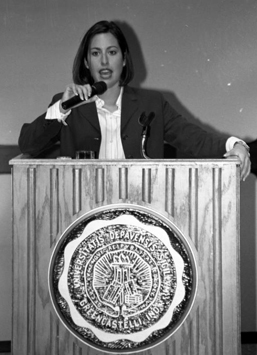 September 11, 1996, Greencastle, Ind. - "I think that in anything you do it's important to set goals," Olympic gold medalist Janet Evans said at DePauw University today. The swimmer, who collected four medals in the 1988 and 1992 games, made two public appearances on campus today -- a speech in Meharry Hall in historic East College, and a question-and-answer session with DePauw students and local schoolchildren, which took place in the Center for Contemporary Media's Watson Forum.
"Obviously, whether you're working your way towards a goal whether it's to get an A in a class, or land a job that you always wanted, or to be a successful athlete, you're gonna have your bad days," Evans said. "In fact, your bad days are almost going to outweigh your good days. And I think the thing I learned through my swimming is that if you have a bad day, you put it behind you, you forget about it, and you learn from your mistakes."
The world-class athlete, the first woman swimmer to win back-to-back Olympic titles at the 1988 and 1992 games, says she is committed to serving as a role model for young women, noting, "I think athlete, particularly female athletes, can be a help to young girls because I think young girls sometimes - and I got caught in this, I was a good little swimmer when I was a kid but my mom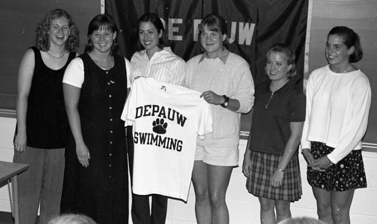 thought I should be a Girl Scout, I should be a Brownie, I should be doing other stuff besides being an athlete because being an athlete wasn't the most feminine thing I could do. And I think it's important to reinforce to young girls that athletics is a very good thing."
Video of the session at Watson Forum is embedded below.
Back