DePauw's Most Diverse Incoming Class Ever Arrives Saturday
August 19, 2016
The latest chapter in the 179-year history of DePauw University begins Saturday, when the liberal arts college welcomes the most diverse incoming class -- the Class of 2020 -- to campus. Opening day will begin with the 587 new students and their families moving in to residence halls, the traditional convocation -- which includes the entire faculty and an address by President D. Mark McCoy -- and the beginning of the orientation process for first-year students.
"It's a time of great excitement and anticipation as we prepare to welcome new members into the DePauw family," says Alan P. Hill '81 & '83, vice president for student academic life and dean of experiential learning. "This is a place that changes lives, and has for many generations. Our staff has been working through the summer preparing for what will be an exciting and impactful year on campus."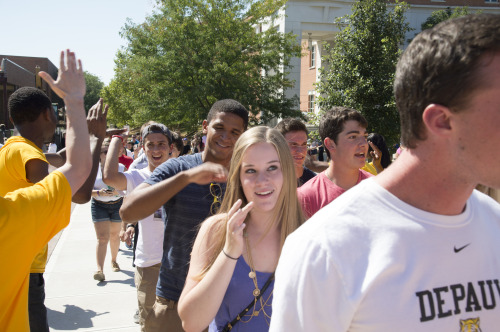 The incoming class includes:
587 first-year students (38 enrolled in the DePauw School of Music, 11 exchange students and 14 fall transfers). They come from 29 states and 24 foreign countries.
3.8 average grade point average; 14 valedictorians and 5 salutatorians.
25% (145) of the new students are domestic students of color; 14% (82) are international students; 20% are first-generation college students; 34% are recruited athletes (181 of the new students captained athletic teams in high school); 14% are "legacies" (they have a relative who has attended DePauw in the past).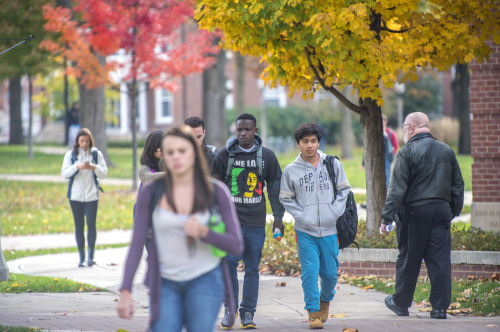 Among those who are beginning their college careers this weekend: DePauw's first-ever student from Mongolia, the first undergraduate from Alaska to enroll in many years, a refugee from Sierra Leone and a member of the Croatian national debate team.
DePauw received 5,078 applications for enrollment for 2016-17, including 1,705 from students of color and 904 from international students. The most diverse applicant pool in the University's history resulted in the most diverse incoming class.
"This class comes to our campus with impeccable academic credentials and a compelling array of life stories and backgrounds," says Anthony E. Jones, vice president for enrollment management. Jones, who joined the new administration of President McCoy July 1, adds, "As a 'new kid' myself, I have been overwhelmed by the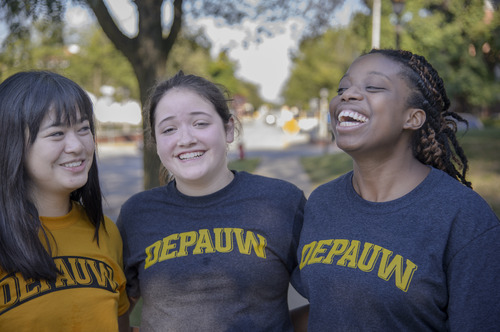 reception I've received since arriving to Greencastle. This will be a day that students and their families will remember for the rest of their lives, and the work our new undergraduates do at DePauw will shape and impact the lives they lead. I'm excited to welcome them."
A live webcast of Saturday's convocation, which begins at 2 p.m., is available via this link.
For more information, click here.
Back