Donald Trump's Media Game Plan Needs to Change, Prof. Jeff McCall '76 Tells Delaware Radio Station
August 30, 2016
Republican presidential candidate Donald Trump has been limiting his recent television appearances to Fox News Channel, but according to Jeff McCall, "He needs to get in front of as many audiences as possible." In an interview with Wilmington, Delaware's WDEL radio this afternoon, the professor of communication at DePauw University added, "The image he's created in the primaries was that he was the brawling outsider who was willing to take on all the interview challengers. And now I think he needs to get back into that."
The segment with radio host Allan Loudell came two days after a story in The Hill, which quoted Dr. McCall. In that piece, Joe Concha reported that "Trump has appeared on Fox News and Fox Business 18 times in August -- and on all other networks twice," and was feuding with the hosts of MSNBC's Morning Joe.
"Trump needs to get on as many shows as he can," the professor exclaimed. "He really needs free media, because he's gonna be outspent in paid ads by the Clinton campaign a lot. And it worked for him in the primaries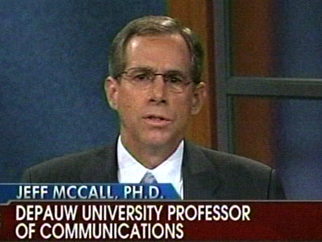 to go on as many different shows as possible, so it's really surprising to me that Trump is now narrowing the range of programs he wants to go on."
McCall says it's important for a national candidate to reach a wide range of viewers. However, "The challenge for him is that he's got to stay on message; he's gotta hammer the three or four things that are best for him -- the economy, that he's anti-establishment, the Hillary email thing and the Clinton Foundation -- and he can't go on these shows and get distracted and then look like he's untethered."
The segment is embedded below.
A 1976 graduate of DePauw, Jeffrey M. McCall is a former journalist and author of Viewer Discretion Advised: Taking Control of Mass Media Influences. The professor is regularly called upon to comment in stories on media matters. He was cited August 19 in a report on NPR's Marketwatch and in an August 1 Huffington Post essay. His column on presidential polls was carried in a number of American newspapers.
Source: WDEL Radio/Wilmington, Del.
Back