DePauw Students Join Taiwanese Counterparts to Teach English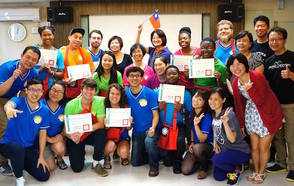 August 31, 2016
Six DePauw University students -- Bulmaro Espericueta '17, Daniela Moeller '17, YaTing Yang '17, Marisa Ellison '18, Shanae Nelson '18 and LaToya Logan '19 -- and three Wabash College students traveled with Associate Professor of Modern Languages Sherry J. Mou to Taiwan this summer to participate in RemoteCamps Taiwan, an English-language program for elementary and middle-school students in remote areas of the country.
Sponsored by the Taiwanese government for the past three years, the program's week-long camps are designed to excite interest in learning English, to balance the teaching resources between Taiwan's urban and rural areas, and to open students' international vistas. This year, for the first time, the program recruited native English speakers to join the local camp councilors. After an initial two-week training, each of the American students joined a team of Taiwanese college students, traveling to schools in generally rural, mountainous areas (two students went to an island offshore). In total, 14 teams ran four camps at four different locations. Every camp was also visited by experienced Taiwanese teachers to ensure the quality of instruction. Impressed by the American students' dedication and effectiveness, the Taiwanese government has since decided to provide international airfare for next year's American participants.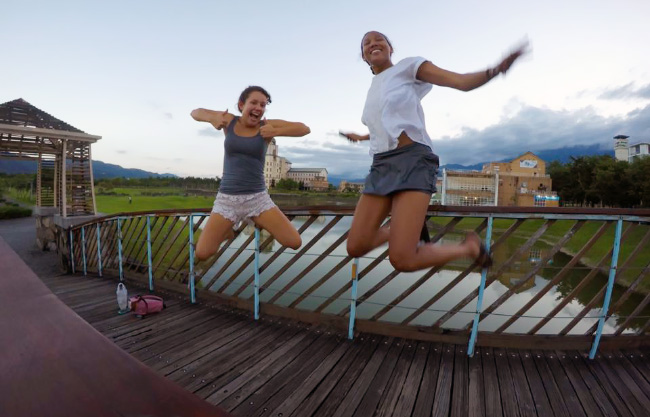 "Our students' participation and interactions with the 151 Taiwanese college students enriched and strengthened the program for everyone involved," Mou says.
Taiwan is an island off the shore of mainland China, and it has a vibrant and multifaceted culture, influenced by Holland and Spain in its early history and by Japan and America in recent history. Politically separated from China since 1949, it is often been called a citadel of Chinese culture. Geopolitically, it is in the midst of the recent territorial disputes in the South China Sea.
Back