DePauw is Nation's #2 Small College Contributor to Teach For America Corps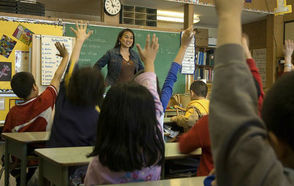 September 8, 2016
DePauw University is second among America's small colleges for graduates participating in Teach For America this year. The organization announced today that DePauw is contributing 14 graduates to TFA's 2016 corps, tied with Franklin & Marshall College. Spelman College leads all small institutions (defined as having 2,999 or fewer undergraduates) with 17 new TFA participants.
The University of Notre Dame is the only other Indiana college on the list (in the medium category; 3,000 to 9,999 students) with 11 alumni joining the program.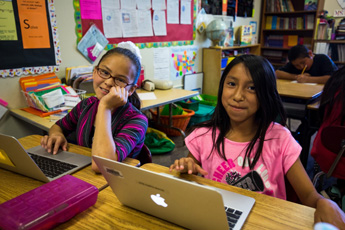 Corps members are top college graduates and professionals who commit to teach in urban and rural public schools and become lifelong leaders in expanding educational opportunity. TFA's mission is to build the movement to eliminate educational inequity by enlisting the nation's most promising future leaders in the effort.
The DePauw graduates, followed by their teaching assignments, are:
Lopez Asucena, Chicago/Northwest Indiana
Christine Betterman, St. Louis
Cara Bargiacchi, Indianapolis
Sarah Dela Cruz, New Jersey
Anika Green, Indianapolis
Emily Hancock, Indianapolis
Riley Hawkins, Mississippi
Molly Henry, Indianapolis
Susan John, Greater Nashville
Taylor Jones, St. Louis
Kelsey Karlson, Milwaukee
Haley Krieble, Indianapolis
Kirstyn Walker, Milwaukee
Paul Watts, Milwaukee
"The remarkable individuals joining our work this year will impact 53 regions across 36 states and the District of Columbia," notes the organization. "They represent more than 740 colleges and universities, and join a network of leaders that is now 50,000 strong."

Teach For America's 2016 corps is among the most diverse in its history. More than half of incoming corps members identify as people of color; 1 in 2 come from low-income backgrounds; and 1 in 3 are the first in their family to graduate college. More than 50 corps members have Deferred Action for Childhood Arrivals (DACA) status.
DePauw is consistently among the nation's top contributors to TFA and has had approximately 200 alumni serve as corps members since the program's inception in 1990.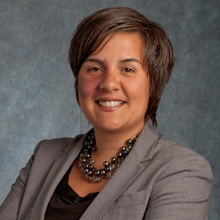 Teach For America is led by Elisa Villanueva Beard (pictured at left), a 1998 graduate of DePauw. She'll be back on campus on Monday, September 19, as a guest of the Robert C. McDermond Center Speaker Series. The event, in the ballroom of the Memorial Student Union, begins at 11:30 a.m. RSVP to Sandy Smith at swsmith@depauw.edu.
Villanueva Beard delivered the commencement address at her alma mater in May 2013. Video is embedded below.
Janeya Cunningham, a first year Posse Scholar at DePauw, was recently featured in Teach For America's magazine, One Day. It's covered in this summary.
Back