Gift by 1995 Graduates Justin & Darrianne Howard Christian Supports Diversity and Inclusion Initiatives at DePauw
September 14, 2016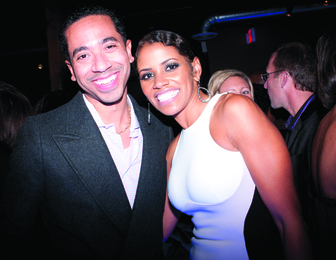 Justin P. and Darrianne Howard Christian, both 1995 graduates of DePauw University, have committed more than $500,000 in funds to support improvements to the Association of African American Students (AAAS) house and programming to enhance diversity and inclusion at DePauw University.
The University plans to rebuild the current AAAS house, located at 310 Hanna Street. The goal is to complete construction in time for the fall 2017 semester. The former Sigma Alpha Epsilon house, vacated by the fraternity last spring, is serving as the temporary AAAS house, Dorothy Brown Cultural Resource Center, and a resource for several identification affinity groups in the meantime.
"The University is making vital strides in its diversity and inclusion strategies, and we know the leaders and thinkers of tomorrow are living in a more diverse world," noted Justin Christian, who is a member of DePauw's Board of Trustees. "It is important that DePauw maintains emphasis on inclusiveness so DePauw graduates continue to succeed.
The founder and chief executive officer one of the Midwest's largest minority-owned businesses, BCForward, Christian said he understands the impact organizations like AAAS can have on students' college experience.
"In the classrooms, you learn your craft, but these student groups instill confidence," he said. "They are where you learn to build
relationships and work together toward a common goal, providing invaluable preparation for the future, both personally and professionally. We feel fortunate we are able to help future DePauw students in this way."
DePauw's Campus Plan for Diversity and Inclusion aims to create an inclusive and welcoming experience for all members of the University's community. Goals include building The DePauw Trust to meet the financial needs of promising students who are admitted to DePauw; strengthening the First-Year Seminar and Sophomore Institute; providing social spaces to foster student community engagement and cross-organizational programming; increasing alumni engagement in campus programming and giving; and ongoing professional development opportunities for faculty and staff.
Founded in 1968 by eight African American students at DePauw, AAAS works to support and promote students of color as they explore their academic and social identities and aims to educate the entire campus community on many aspects of African American culture.
"I am eternally grateful for the significant investments of these two alumni leaders," said DePauw President D. Mark McCoy. "They set an example for students and alumni alike, while helping DePauw make important steps toward our ongoing goal of creating a more diverse and inclusive campus community."
Justin and Darrianne Christian both earned degrees in computer science from DePauw. Mr. Christian is the CEO and founder of BCforward, one of the largest technology consulting firms in the Midwest. With nearly 5,000 employees, BCforward serves Fortune 1000 and government clients across all industries throughout North America, Europe and Asia.
Darrianne Christian is on hiatus from a successful career in the corporate sector to devote more time to their family.
Learn more about diversity and inclusion at DePauw here.
Back