Prof. Bruce Stinebrickner to Examine 'The 2016 Presidential Selection Process'
September 15, 2016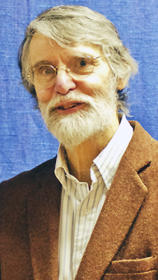 "The world is watching intently as the United States closes in on Election Day, Nov. 8," notes the Banner-Graphic in an article previewing an upcoming speech by Bruce Stinebrickner. The professor of political science at DePauw University will present a lecture, "The 2016 Presidential Selection Process: Looking Back, Looking Ahead," hosted by the Greencastle League of Women Voters.
The event takes place Wednesday, September 21, at 7 p.m. at St. Andrew's Episcopal Church, 520 E. Seminary St., Greencastle.
Read more at the newspaper's website.
In 2007, Dr. Stinebrickner was named to Georgetown University's "all-century" basketball team. Learn more in this previous story.
Back