Join University Choirs in Participatory Choral Concert Sunday
September 13, 2016
The DePauw University Choir and DePauw Chamber Singers, directed by Kristina Boerger, will present "Follow You, Follow Me: An Interactive Circle" for the combined choirs' first concert of the 2016-17 season. You're invited to enjoy the musical program at 3 p.m. Sunday, September 18, in the Great Hall of the Judson and Joyce Green Center for the Performing Arts.
For this concert, which explores the use of canons or "rounds" for gathering communities and as generators of harmony and polyrhythm, audience members will be invited to participate in music from Elizabethan, Early American and contemporary times.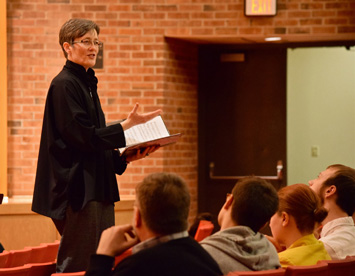 "Our choirs will show how composers everywhere and through various eras have used the tools of 'Row, Row, Row Your Boat' to get people singing together," said Professor Boerger.
Guillaume Dufay's fifteenth-century "Gloria ad modem tubae" will prove that the Medievals could "swing"; Benjamin Yarmolinsky's "Rounds" will present several whimsical or contemplative texts; Britten's "Hymn to Saint Cecilia" will showcase virtuosic chamber singing; and Brahms will prove that the most formal musical architecture can seem to unfold like a spontaneous outpouring of love.
Boerger invites the community to sing along with the DePauw University Choirs this Sunday and "discover how beautiful and simple -- and how beautiful and complex -- a canon can be."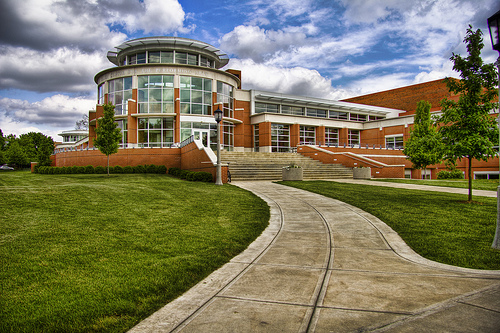 General admission tickets to DePauw student concerts are $5; tickets for seniors, children and all students are free thanks to season sponsors Judson and Joyce Green ('74 & '75). A pay-what-you-can option is also available online and on request. For more information or to make online purchases, visit www.music.depauw.edu. The venue's box office will also be open beginning one hour prior to Sunday's performance.
Back