Indiana Bicentennial Torch Relay to Make Its Way to East College Thursday Afternoon at 5:35
September 21, 2016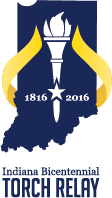 "Having already crossed Indiana three times through 38 counties in Southern and Central Indiana, the Indiana Bicentennial Torch Relay will make its way to Putnam County on Thursday," reports today's Banner-Graphic. "The first official appearance will be at 5 p.m. in at the Putnamville United Methodist Church and retored doctor's office museum," writes Jared Jernagan.
"With Makenzie Carr riding a tractor north from Putnamville, the torch will begin its three-hour trip across the county, making its way through Greencastle, Fillmore, Heritage Lake and Bainbridge before the Putnam County route finishes at Baker's Camp Covered Bridge with Malcolm Romine as the final torchbearer," he notes.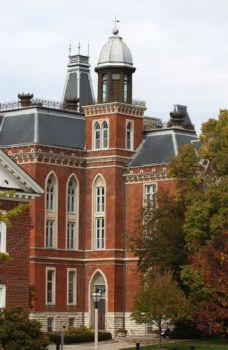 The 12 celebration sites include historic East Collegeat DePauw University at approximately 5:35 p.m. tomorrow. DePauw senior Kerri Hemmelgarn, the president of Theta's Alpha Chapter, will carry the torch at that point. A total of 21 local residents will serve as torch carriers along the Putnam County route.
The twelfth and final stop will be at Baker's Camp Bridge at 8 p.m., where a celebration will take place. It "will include multiple events as the torch prepares to leave Putnam County and resume its route in Hendricks County the next morning, including a cookout, fireworks and Romine lighting the bicentennial cauldron," Jernagan writes.
"Upon exiting Putnam County, the torch will have traveled for 12 days, covering 39 counties and 1,361 miles."
Access the complete story at the Greencastle newspaper's website. The route can be accessed online by clicking here.
Back