Judge Hugh Finson '69 to be Inducted Into His HS Hall of Fame Tonight
October 7, 2016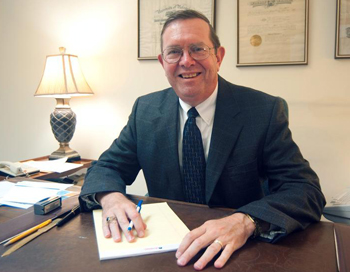 William H. "Hugh" Finson, Piatt County (Illinois) Circuit Court Judge and 1969 graduate of DePauw University, is being inducted into the Monticello High School Hall of Fame. Finson will be one of two graduates of the Illinois high school who will be honored tonight with a reception and at a football game.
A native of Monticello, Finson majored in history at DePauw and went on to receive a J.D. from the University of Illinois College of Law.
He began his career "practicing law with Arnold Sievers in Monticello," notes the Piatt County Journal-Gazette. "He then worked in a partnership with Eaton & Finson for two years. He served as Piatt County Assistant State's Attorney from 1972 to 1975, when he was appointed as Piatt County State's Attorney upon the resignation of his predecessor. He was elected and reelected to that post for three terms through 1988. From 1988 to 1996, he served as misdemeanor and juvenile public defender. Throughout that time, he maintained a private practice of law, representing a number of local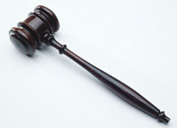 governments, corporations and individuals in a wide range of legal matters. In 2012, the Illinois Supreme Court appointed him resident circuit judge of Piatt County to succeed Judge John P. Shonkwiler, and he was elected to a six year term as Piatt County Circuit Judge in 2014."
Read more at the newspaper's website.
Back