Vice Presidency is "An Awkward Office," Says Dan Quayle '69
October 23, 2016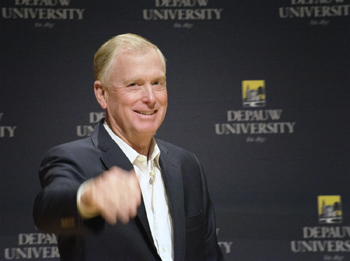 "It's not the easiest job in the world," the 44th Vice President of the United States, Dan Quayle, says of the post he held from 1989 to 1993. A 1969 graduate of DePauw University, Quayle is featured in the latest issue of Indianapolis Monthly.
"Vice president's an awkward office. You're president of the Senate. You're not even officially part of the executive branch -- you're part of the legislative branch. You're paid by the Senate, not by the executive branch. And it's the president's agenda. It's not your agenda. You're going to disagree from time to time, but you salute and carry out the orders the best you can."
Quayle adds, "I was very blessed to have George Bush, one of the most wonderful people I've ever met. Plus, he was vice president for eight years, so he knew what the job was."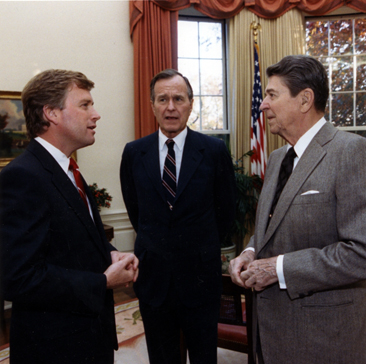 Access the piece at the publication's website.
Vice President Quayle majored in political science at DePauw and captained the Tiger men's golf team. After graduating, he earned a J.D. from the Indiana University Robert H. McKinney School of Law. He was elected to two terms each in the U.S. House of Representatives and U.S. Senate before becoming vice president.
In March 2015, Dan Quayle returned to DePauw as a guest of the Timothy and Sharon Ubben Lecture Series. The talk is summarized in this article; video is embedded below.
Source: Indianapolis Monthly
Back