Portraits of Six "Powerful and Impactful" Alumni Unveiled at Ceremony Opening Old Gold Weekend
October 27, 2016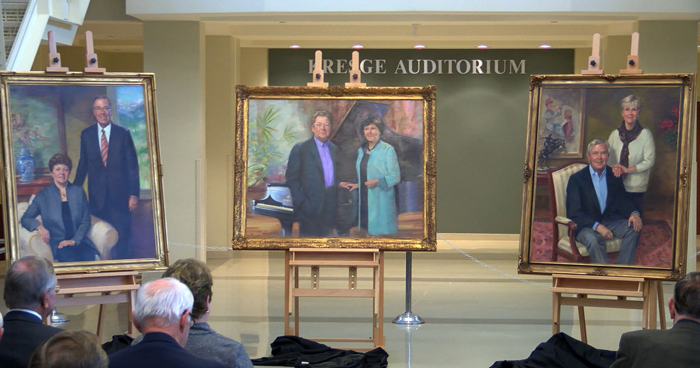 The portraits of six DePauw University alumni who have impacted their alma mater in transformative ways -- Judson C. and Joyce (Taglauer '75) Green '74, David and Suzanne (Anderson '67) Hoover '67, and Timothy and Sharon (Williams '58) Ubben '58 -- were unveiled today at a special ceremony to mark the beginning of DePauw's traditional homecoming, Old Gold Weekend. The couples have contributed many things to the college -- including board service and overseeing the creation of new programs and initiatives -- collectively contributing more than $140 million to make DePauw's unique educational opportunities more impactful, as well as financially accessible to a wider range of students.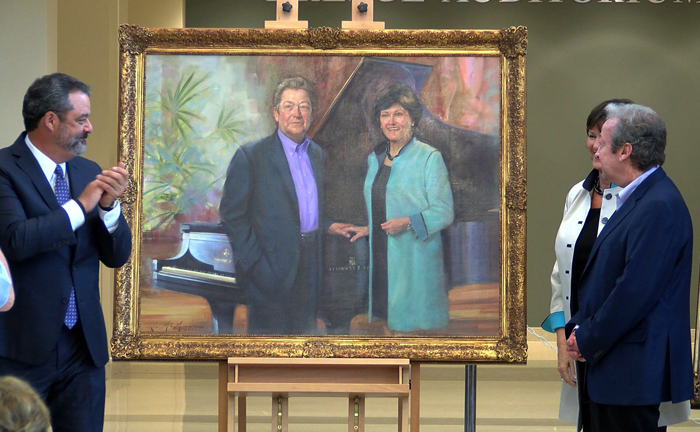 "One of the things that has always impressed me about DePauw, and certainly about the figures that you see before us today .... not only are these people powerful and impactful people who will touch generations and will touch the future forever, but they're also the greatest people you could know," stated D. Mark McCoy, DePauw's twentieth president, at this evening's event. (at left: the Greens with their portrait)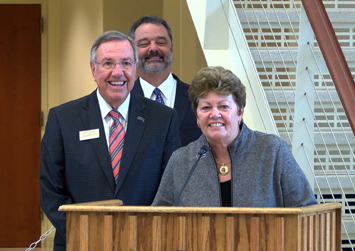 "Each of these remarkable couples has demonstrated exceptional dedication and generosity to DePauw," noted Melanie J. Norton, vice president for development and alumni engagement. "In appreciation for their awe-inspiring support and dedication we believe it is only fitting that we honor them permanently with a portrait on campus." (at right: the Hoovers at the podium)
The portraits of the Greens will hang in the Green Center for the Performing Arts. The Hoovers will be seen in the new Hoover Dining Hall, which will be dedicated tomorrow and open to students, faculty and staff next week. The painting of the Ubbens (pictured at left), whose approximately $80 million in gifts to DePauw have supported an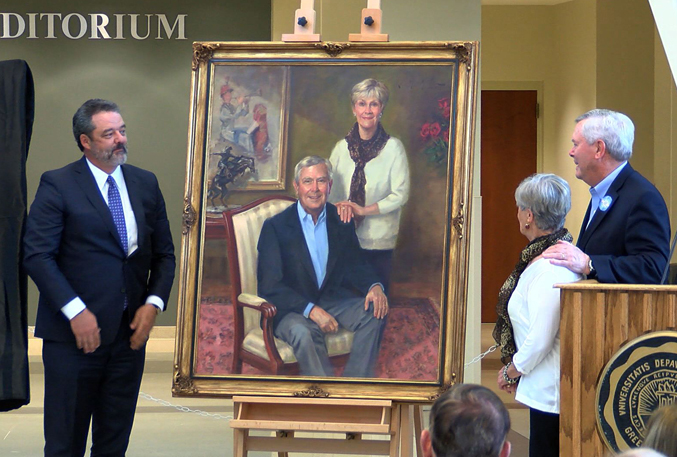 array of programs -- including student scholarships and the noted Ubben Lecture Series -- will be displayed in the Memorial Student Union Building.
Each of the honorees spoke at the event, which took place in the Great Hall of the Green Center.
Video of the complete program is embedded below. A schedule of Old Gold Weekend events, which include the inauguration of Dr. McCoy, is available here.
Back