Filmmaking Premieres at DePauw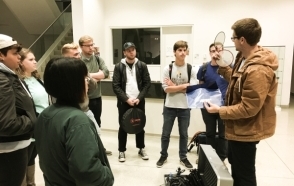 November 2, 2016
Students in Professor Matthew Herbertz's advanced film production class filmed a scene during their Tuesday evening lab. They were learning the challenges of following an actor around a corner with all of the film equipment and people on the production crew while not making any extraneous noise. Herbertz was taking the role of the actor, while giving intermittent advice and guidance. "It's like a dance," he said, "like a beautiful dance."
Fall 2016 is the first semester that the Film Studies program has offered classes on film production in addition to classes on film theory and analysis already available. The new filmmaking courses follow on the heels of a recent string of independent films shot in and around Greencastle, including King Rat, written and directed by Henry Johnston '14 and produced by Alex Thompson '12, and Reparation, directed by Kyle Ham '94. Christine White, director of film studies and professor of English, said that bringing filmmaking into the program was one of the Film Studies Steering Committee's most pressing goals.
After years of consideration, research and planning, Herbertz, who is a filmmaker and cofounder of Kiltered Productions, was hired to teach two production classes offered this fall: "Introduction to Digital Filmmaking" and "Advanced Topics in Digital Film Making: Creating the Short Film." These classes supplement the existing Film Studies curriculum and help students learn how to put film studies into practice. They also give students the experience necessary to qualify for jobs and internships on the sets of film productions.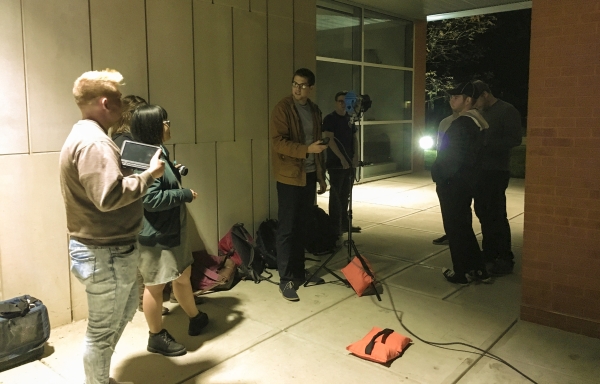 Herbertz, who received his undergraduate degree from DeSales University, feels particularly connected to DePauw. He said, "A liberal arts environment is perfect for integrating filmmaking into film studies. Students are learning the appropriate skills to go out and put the ideas into actions, to be politically and intellectually conscious artists that have something to say and can change the world." In his classes, students not only learn how to use equipment, work on a production team and create content, but they also discuss film theory and relate their experiences to other courses.
In the future, both Herbertz and White hope to see even more production classes offered for students. In spring semester 2017, filmmaker and professor Ougie Pak will join Film Studies at DePauw to teach FILM 331B, "Acting and Directing for Film," as well as FILM 231, "Introduction to Digital Filmmaking." Students are encouraged to give these courses a try, even if they don't have previous experience in production.
Filmmaking courses are particularly important, according to Herbertz, because "the more ability students have, the more they can do in the world. And they might not know what they are really interested in until they get to dive into it." White notes that the Film Studies program looks forward to offering a more comprehensive curriculum and to continue collaboration with departments and programs across the University, including Communication and Theatre, English, Modern Languages, Africana Studies, Asian Studies, Women's Gender and Sexuality Studies, and others – as well as the Pulliam Center for Contemporary Media and Peeler Art Center.
Back