DePauw Theatre Production of The Good Person of Szechwan Features Original Music by Jerald Parks '17
November 4, 2016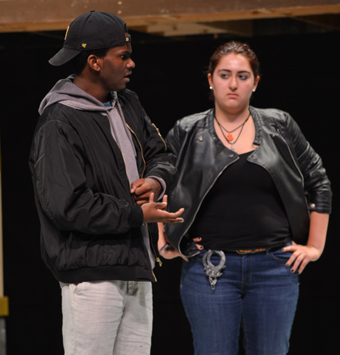 DePauw Theatre presents The Good Person of Szechwan, the second play of the 2016-17 season. The production opens Thursday, November 17, at 7:30 p.m. in Moore Theatre of the Green Center for the Performing Arts followed by a reception in the Great Hall. Performances continue on Friday, Nov. 18 and Saturday, Nov. 19 at 7:30 p.m., with a matinee performance on Sunday, Nov. 20 at 1 p.m.
With original music by Jerald Parks '17, The Good Person of Szechwan was written by Bertolt Brecht in 1941. It debuted on stage in Switzerland in 1943.
The central question in Brecht's parable play is "Can one be good in a corrupt world?" Shen Te, the good prostitute who must ultimately employ bad practices to have even the most basic of life's necessities, deals with this essential and conflicting question.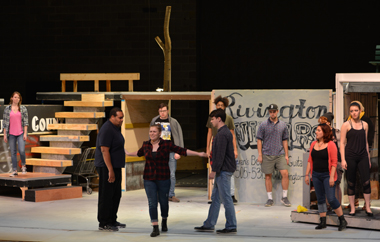 The title of the play suggests a Chinese setting, however, the story happens in a modern U.S. city. In one of those places, according to Brecht, "where man is exploited by man."
Shen Te is rewarded with money when she provides shelter for the "gods." Not unsurprisingly, she uses her windfall to better herself and the lives of her impoverished friends and neighbors. However, her good deeds are exploited and impossible to sustain, and Shen Te is forced to resort to deceit and oppression, nearly extinguishing her much desired and admired goodness.
As with most of his work, Brecht is critiquing societal politics that make it so difficult to adhere to moral principles. And he hopes -- as do we -- that his work will inspire the audience to question why and, as a result, move toward change.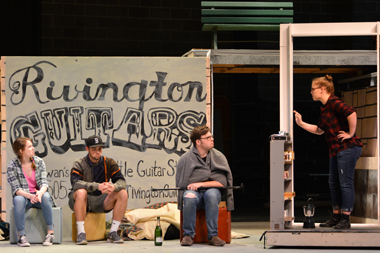 The New York Times noted, "Simple moral fable though it may seem upon the surface, Brecht's play grows more nuanced and complex as Shen Te tries to reconcile her two personas." The newspaper deemed Good Person as one of the most successful plays of 2013 at the New York theatre La MaMa.
The DePauw production is directed by Gigi Jennewein, part-time assistant professor of communication and theatre.
Tickets are $10 for general admission and $5 for students. They can be purchased at brownpapertickets.com/event/2556082.
For more information about DePauw Theatre, click here.
Back