DePauw University Band to Commemorate 75th Anniversary of Pearl Harbor with Sunday Concert
November 9, 2016
The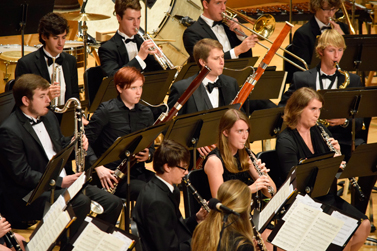 DePauw University Band, directed by Craig Paré, will commemorate the 75th anniversary of the attack on Pearl Harbor during its Sunday, November 13 concert with a performance of Richard Rodgers' stirring soundtrack to the 1952 television series Victory at Sea, which documented the battle of the Pacific during World War II. The performance will begin at 3 p.m. in the Green Center's Kresge Auditorium.
"When I was young," Professor Paré says, "I remember my parents watching the Emmy-winning series, Victory at Sea, which highlighted Allied naval battles, particularly following the attack on Pearl Harbor on December 7, 1941 (who can forget FDR's declaration, "… a date which will live in infamy"?). Having three veterans of the United States Navy in my immediate family, commemorating this tragedy and the United States' heroic response means a great deal to me personally."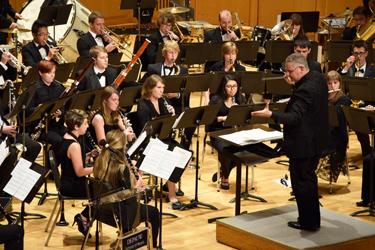 The ensemble will also pay tribute to composer Fred Jewell, an Indiana native, as well as celebrate the state's 200th birthday, with his rousing circus march "The Screamer." In addition, senior clarinetist Gretchen Stibich will be featured on Frank Ticheli's "Blue Shades."
"Gretchen has been an exemplary student and musician with the University Band -- hard working, loyal, hungry to learn all she can and always reaching beyond what she can already do," Paré added. "The solo in 'Blue Shades' is a challenging part for a variety of reasons: virtuosic writing, unique jazz style and a requirement that the soloist have something unique to say. Gretchen has made this solo her own."
Other works on the program include the Suite in D by Arthur Bird, Morton Gould's "Ballad for Band," "After a Gentle Rain" by Anthony Iannaccone, and the Polka and Fugue from "Schwanda the Bagpiper" by Jaromir Weinberger.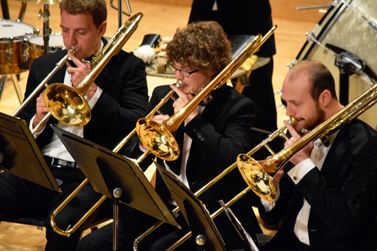 Audience members are also encouraged to bring a non-perishable food item that will be donated directly to the Putnam County Emergency Food Pantry. Bring a food item and receive a free ticket to the concert. Free-will cash donations to the Food Pantry are also being accepted.
General admission tickets to Sunday's performance are $5. For online purchases, visit www.music.depauw.edu. The venue's box office will be open to receive donations or to purchase tickets in person beginning one hour prior to the performance.
Back