David Cameron, Former Prime Minister of the UK, Coming to DePauw Dec. 8 to Discuss 'Where We Go From Here'
November 15, 2016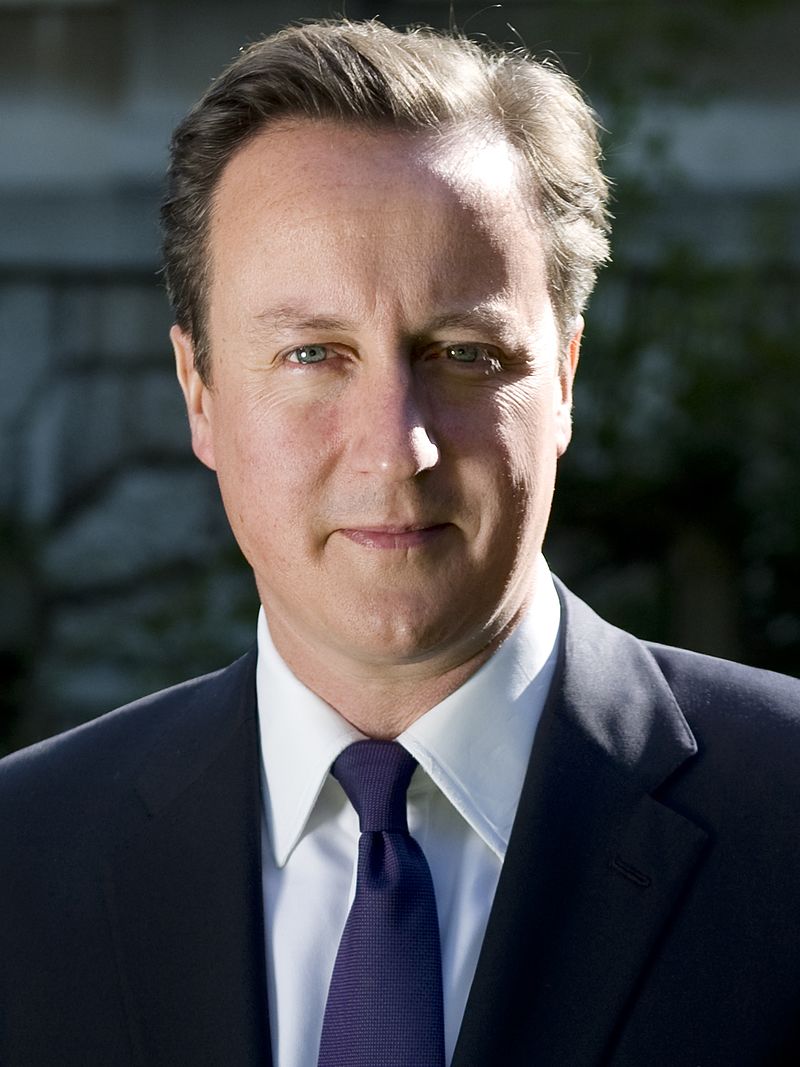 David Cameron, who served as Prime Minister of the United Kingdom from May 2010 until stepping down from the post in July, will come to DePauw University on Thursday, December 8. "The Historic Events of 2016 and Where We Go From Here," presented by DePauw's Timothy and Sharon Ubben Lecture Series, will be one of Mr. Cameron's first public speaking appearances since leaving office on July 13.
The event will begin at 4:30 p.m. in Neal Fieldhouse, located within the Lilly Physical Education and Recreation Center (702 S. College Avenue). Following Cameron's formal remarks, the prime minister will respond to questions, which may be submitted to UbbenQuestions@depauw.edu. DePauw student journalists will present the questions to the former Prime Minister at the event.
Like all Ubben Lectures, the event is presented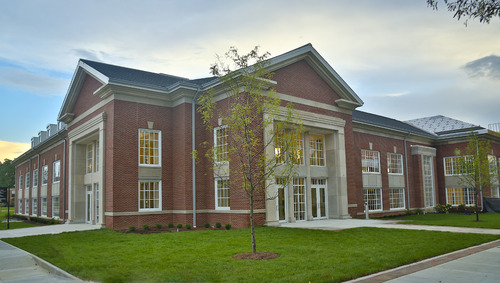 free of admission charge and is open to everyone. There are no tickets. All guests should enter through the main doors of the Lilly Center (facing College Avenue). A line will form inside the building. Students will be admitted to Neal Fieldhouse beginning at 2 p.m.; the venue will open to all others at 2:20 p.m. All doors will close and the building will be secured at 4:15 p.m.
All guests must present a DePauw University or government identification card to gain entry.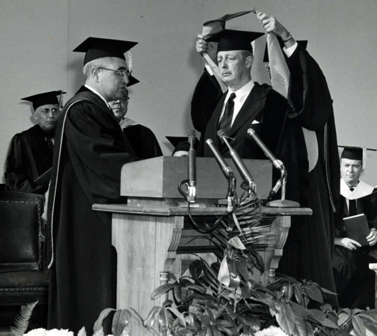 The following will be prohibited within the Lilly Center: bags (including purses and backpacks), personal photography and any recording devices, strollers and umbrellas. Coats will not be allowed in Neal Fieldhouse: racks will be provided outside of the venue where coats can be hung at the owner's risk.
Cameron becomes the sixth British Prime Minister to visit DePauw, continuing a tradition that began in 1958 when Harold Macmillan, at the time the leader of Great Britain's government and whose grandfather was a graduate of the University, spoke at DePauw's commencement and delivered a still-cited speech on "Interdependence" which was televised nationally by NBC. Macmillan, who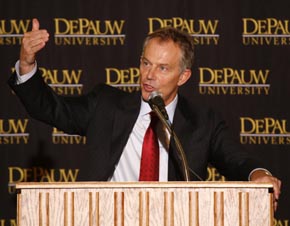 later returned to DePauw in 1968, also received an honorary doctorate during the graduation ceremony.
Harold Wilson presented a 1981 talk on the Greencastle campus. The Ubben Lecture Series brought Margaret Thatcher to DePauw in 1992, John Major in 2001, and Tony Blair in 2008.
Born in London in 1966, David W. D. Cameron was educated at Eton College and Brasenose College, Oxford, and studied philosophy, politics and economics. From 1988-93 he worked at the Conservative Research Department, assisting Prime Minister John Major, before leaving politics to work for Carlton Communications. In 2001 Cameron became a member of Parliament, serving in the opposition shadow cabinet under Conservative leader Michael Howard, succeeding Howard in 2005.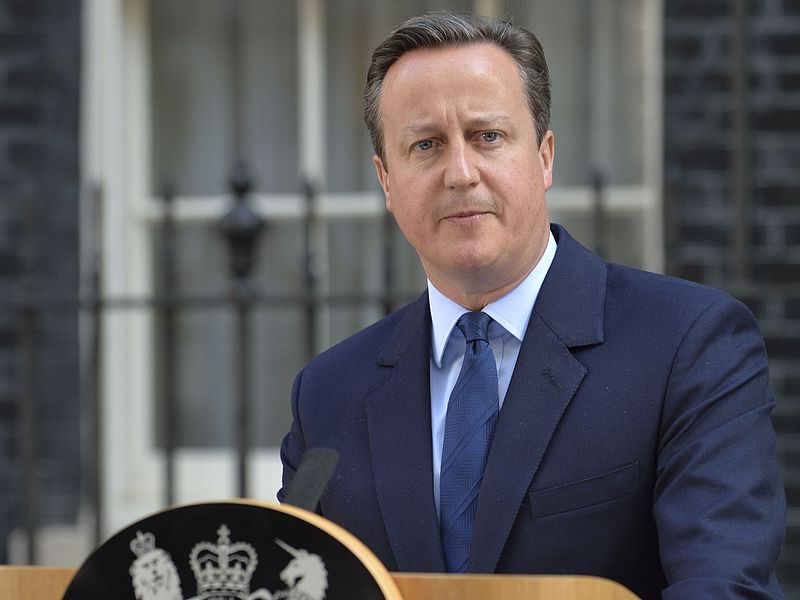 On becoming Party Leader, Cameron successfully modernized the Conservative Party, following three successive election defeats. He was elected Prime Minister in 2010, heading a Coalition Government with the Liberal Democrats. When the Conservatives secured a majority in the 2015 General Election, he remained as Prime Minister leading a Conservative Government and became the first sitting Prime Minister since the mid-19th century to increase his number of Parliamentary seats, vote share and popular vote in a general election. (photo at right by Tom Evans)
On June 24, a day after voters decided in a referendum that the United Kingdom should withdraw from membership in the European Union (commonly referred to as "Brexit"), Cameron announced that he would resign before the start of the Conservative Party Conference in October. He held his final cabinet meeting on July 12 and submitted his resignation to the Queen the following afternoon. He resigned from Parliament in September.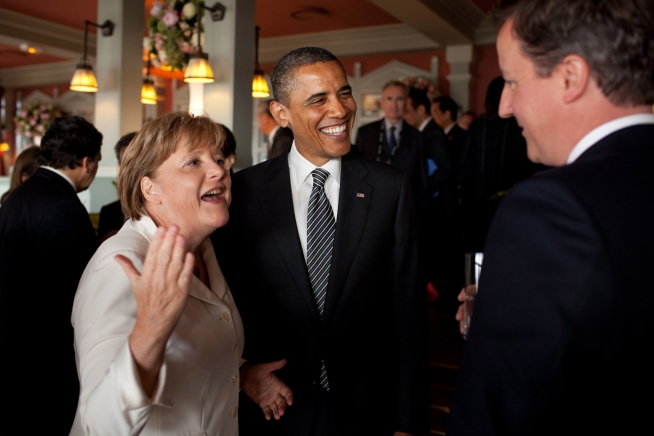 Cameron's administration is credited with introducing signficant changes to welfare, immigration policy, education, and healthcare, legalizing same-sex marriage and privatizing the Royal Mail and other state assets. (at left: German Chancellor Angela Merkel and President Barack Obama talk with Cameron; May 25, 2011)
On July 13, his successor, Theresa May, "heaped praise on Cameron ... saying he had led the Tories -- and the country -- in the right direction by successfully campaigning to legalize same-sex marriage and modernizing what had been known as 'the nasty party', " reported the Washington Post.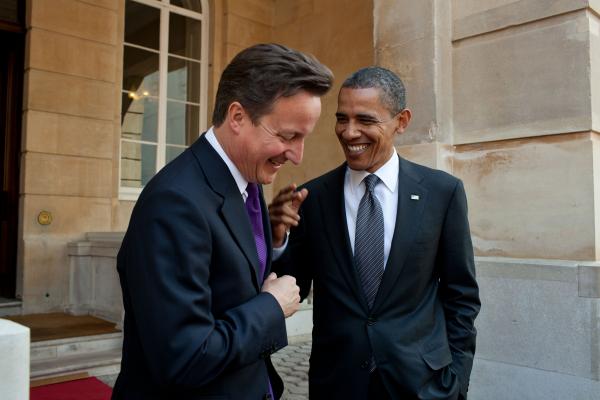 British Defense Secretary Michael Fallon said that Cameron would be remembered as "one of Britain's great reforming Prime Ministers".
Established in 1986 through the generous support of 1958 DePauw graduates Timothy H. and Sharon Williams Ubben, the Ubben Lecture Series was designed to "bring the world to Greencastle." The series has presented 106 events over the past thirty years. This semester's previous guests were Tony Award-winning Hamilton star Leslie Odom Jr., who spoke on September 20, and legendary civil rights leader and presidential adviser Vernon E. Jordan Jr., a 1957 graduate of DePauw, who presented the keynote address at the October 29 inauguration of DePauw's twentieth president, D. Mark McCoy.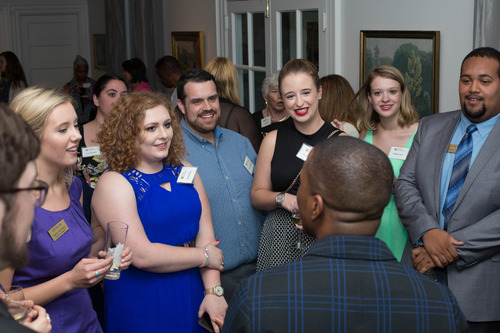 Other previous Ubben Lecturers have included Benazir Bhutto, Elie Wiesel, Jane Goodall, Bill Clinton, Mikhail Gorbachev, Peyton Manning, Jimmy Kimmel, Julian Bond, General Colin Powell, Shimon Peres, David Brooks, Martin Luther King III, Willy Brandt, Dan Quayle '69, F.W. de Klerk, Spike Lee, Doris Kearns Goodwin, Mike Krzyzewski, Ken Burns, Jimmy Wales, Todd Rundgren, Ron Paul, Andrew Luck, Michio Kaku, Piper Kerman, Oscar Arias, Barbara Bush, Ambassador L. Paul Bremer, General Wesley Clark, Bob Woodward, Greg Mortenson, Naomi Wolf, Ross Perot, Karl Rove, Howard Dean, Eric Schlosser, Harry Belafonte, Leymah Gbowee, Sam Donaldson, David McCullough, Lee Hamilton '52, Ralph Nader, Carl Bernstein, Jane Pauley, Arne Duncan, Bret Baier '92, Mitch Albom, Brian Mulroney, Yeonmi Park, Candy Crowley, Liz Murray, Jason Reitman, William J. Bennett, Richard Lamm, Jim Lovell, ice cream e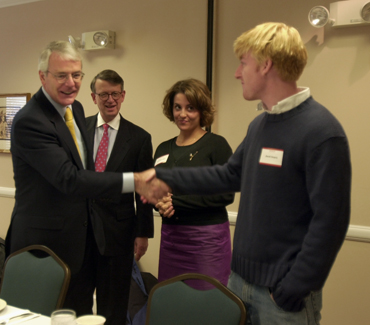 ntrepreneurs Ben Cohen & Jerry Greenfield, Sister Helen Prejean, Bill Bradley, Douglas Hallward-Driemeier '89, David Ho, Allen Neuharth, Andrew Young, Paul Volcker, Jim Alling '83, Paul Tsongas, Gwen Ifill, Nicholas Carr, Rebecca Skloot, Mary Frances Berry, Zbigniew Brzezinski, George Will, Carl Rowan and many others. (above left: Leslie Odom Jr. speaks with DePauw students at a reception before his Ubben Lecture; at right: John Major greets DePauw students at an October 29, 2001 luncheon)
To view a complete roster of Ubben Lecturers -- which includes links to video clips and news stories -- click here. Video montages of many events are available on YouTube.
Back