Sold Out!: All Seats for the 123rd Monon Bell Classic are Claimed
November 11, 2016
Game Notes; Webcast; WGRE Radio; Order DVD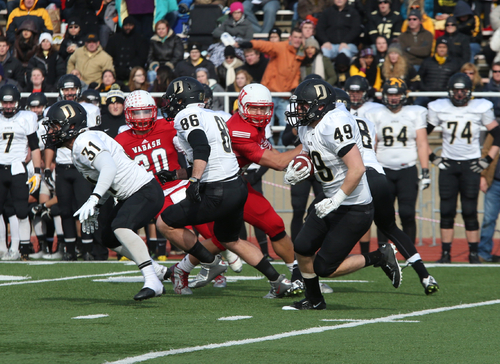 Seats for the 123rd Monon Bell Classic, which will be played tomorrow afternoon in Crawfordsville, are officially sold out.
The game -- one of college football's oldest and most storied rivalries -- pits DePauw University against Wabash College. Kickoff is set for 1:09 p.m.
The contest can be seen nationally on AXS TV. The national cable and satellite network is televising the game in high definition for the 12th time; Rich Cellini and legendary NFL player and broadcaster Paul Maguire will provide color commentary for the sixth consecutive year (they're seen at left with the winner's prize).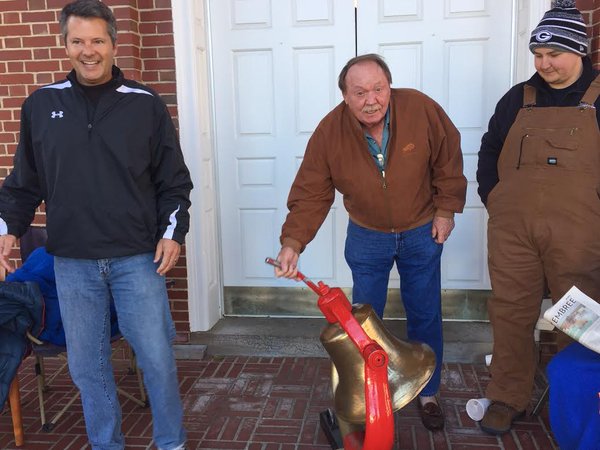 The broadcast begins at 1 p.m. and will, for the first time, be available worldwide via an online stream, accessible here.
The contest will also be seen on the cable television systems of DePauw and Greencastle on channel 3.
Links to game notes and other features can be accessed here.
A commemorative, limited edition DVD of the 2016 Monon Bell Classic is available for pre-order at a discounted price before game day. Learn more here. (below: cover of the 2007 Monon Bell Classic DVD)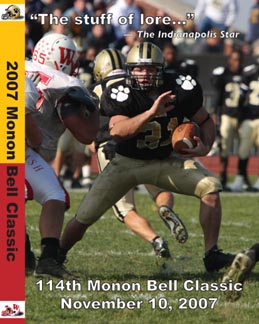 All 122 games to date are commemorated in video vignettes known as "Monon Memories." Created by Ken Owen '82, executive director of media relations at DePauw, the clips can be found here and on YouTube.
DePauw and Wabash first met on the gridiron in 1890. In 1932, a locomotive bell from the Chicago, Indianapolis and Louisville Railroad Company, also known as the Monon Line, was donated and became the winner's trophy each year.
In the all-time series, Wabash holds a 60-53-9 lead. Since the Monon Bell entered the rivalry in 1932, Wabash leads, 41-37-6.
You'll find much more information at DePauw's official Monon Bell website.
Back