Donald Trump "Has to Find a Way to Work" With News Media, Prof. Jeff McCall '76 Tells Washington Post
November 16, 2016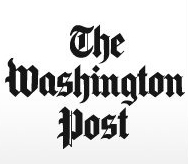 "Defying the usual presidential press protocols, Trump has twice in the past week ditched the pool of reporters who follow him in public," reports the Washington Post today. Trump's moves since election day have "left journalists in the dark about key appointments and other developments with his new administration," writes Paul Farhi. "The cold shoulder has renewed a nagging question for reporters: Will President-elect Trump's behavior be a preview of his approach, or perhaps non-approach, to his relations with the news media when he takes office?"
The piece calls upon Jeffrey M. McCall, "a communications professor at DePauw University who studies the news media," for analysis. "His combative approach to press relations is not helpful," Dr. McCall tells the Post. "He clearly doesn't respect the media, which he is certainly allowed to do, but at a certain point he has to find a way to work with them. When he decided to run for president, he stepped into a much higher degree of scrutiny than what he had as a reality-TV star and businessman.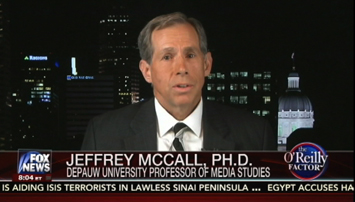 Now that he is president­-elect, that press attention necessarily grows.
The professor, who authored Viewer Discretion Advised: Taking Control of Mass Media Influences, adds, "He doesn't owe it so much to the press to be accessible as he owes it to the citizens who are represented by their press surrogates.His prospects for a successful presidency hinge in large part on his ability to keep his message in front of the public. Whether he likes it or not, those messages will go through the filter of the press."
You'll find the complete article at the newspaper's website.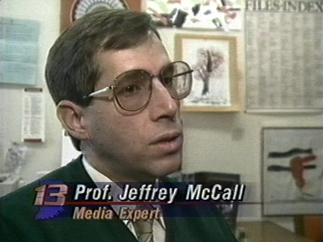 Jeff McCall is a 1976 graduate of DePauw, where he was a Rector Scholar and communication major. He went on to earn a master's degree from the University of Illinois and a Ph.D. from the University of Missouri.
The professor is regularly called upon to analyze media issues. Over the weekend, he again spoke with Chicago's WGN Radio about media coverage of the presidential campaign, which he also discussed during his 14th appearance on Fox News Channel's O'Reilly Factor November 2. McCall also authored a newspaper column on the media coverage and the 2016 campaign, which appeared nationwide last weekend.
Source: Washington Post
Back