Monon Bell DVD at Factory, Will Ship in Early December
November 18, 2016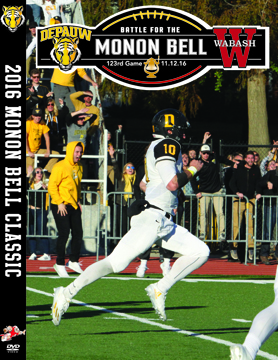 As veteran football analyst Paul Maguire said at the conclusion of Saturday's 123rd Monon Bell Classic, "I've done so many games for 46 years ... this is the highlight." The DVD of the thrilling contest, which was decided by a brother-to-brother touchdown pass from DePauw University quarterback Matt Hunt to his younger sibling Andy with 38 seconds remaining, has been mastered and is now at Oasis Disc Manufacturing in New Jersey. Discs should arrive on campus and begin shipping on approximately December 7. (at right: the front cover of the 2016 Monon Bell DVD)
Added Maguire, who called two Super Bowls for NBC and was a fixture on ESPN's Sunday Night Football, "If you didn't like this football game, ladies and gentlemen, don't ever watch another game."
Each school will have only 300 discs to sell and DePauw's early sales have been strong. The 2016 DVD is $15 per copy; a $4 shipping and handling charge will be added to each order, regardless of size, as well as 7% sales tax to orders shipped within Indiana.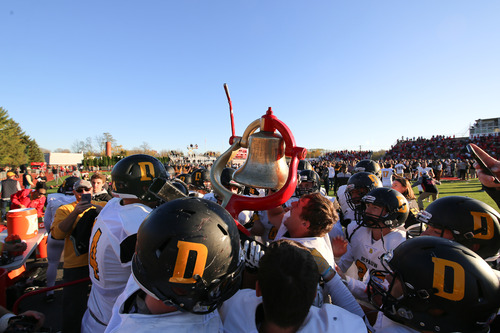 Reserve your copy by accessing an online order form.
The digital disc includes the three hours of thrilling football coverage -- which was carried live on AXS TV and featured commentary by Maguire and Rich Cellini with sideline updates from Brad Wochomurka '04 for the Tigers and Matt Hudson for the Little Giants. Andy Rosenberg, who has directed NBC's Emmy Award-winning Olympics coverage, performed that role in Crawfordsville Saturday.
Also on the DVD, which has more than five hours of content:
Season highlights for both teams;
The game day institutional features that aired during the contest;
Media coverage of the 123rd battle for the Bell;
Photo galleries of this year's clash between the Tigers and Little Giants;
A collection of hundreds of historic images dating back to the rivalry's early days;
"Monon Memories" of the games from 1956 and 2001;
AXS TV's promo for the game, which the channel aired leading up to the broadcast;
A new music video for The Ballad of the Monon Bell, created especially for the 2016 game.
This marks the 21st game in the classic college football rivalry to be preserved on DVD. Still available, for $7.50 each, are the DVDs of the 1977, 1984, 1993, 1994 and 2000-15 Monon Bell Classics (supplies of past games are extremely limited and the 1994 game is sold out; the 2008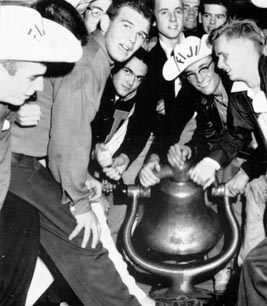 package is a two-disc set including all 115 "Monon Memories" produced to that date).
All 123 of the games to date are commemorated in video vignettes known as "Monon Memories." Created by Ken Owen '82, executive director of media relations at DePauw, the clips can be found here and on YouTube.
DePauw and Wabash first met on the gridiron in 1890. In 1932, a locomotive bell from the Chicago, Indianapolis and Louisville Railroad Company, also known as the Monon Line, was donated and became the winner's trophy each year.
In the all-time series, Wabash now holds a 60-54-9 lead. Since the Monon Bell entered the rivalry in 1932, Wabash leads, 41-38-6.
You'll find much more information at DePauw's official Monon Bell website.
Back