Geoff Dains '95 Named Interim Head Men's Basketball Coach at Cal Lutheran
November 18, 2016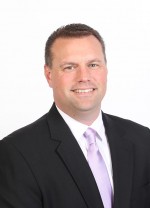 Geoff Dains, a 1995 graduate of DePauw University, has been named interim head men's basketball coach at California Lutheran University. He takes over for Rich Rider, the winningest coach in the program's history, who is retiring, citing "pressing family concerns."
Dains, who was a longtime assistant under Rider, says it was a "huge surprise" when the change was announced.
"The lucky thing is that over Coach Rider's career, he's laid an unbelievable foundation for us to continue to grow," says Dains. "We talked about this with our players and we said, 'Look, the practice plan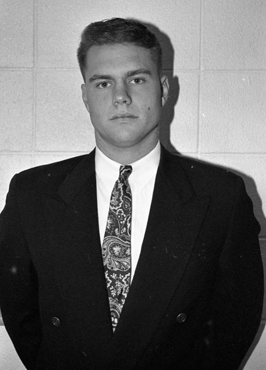 is going to be the same. The drills are going to be the same. There's just going to be a different voice. The No. 1 voice is coming from a different direction. But the philosophy will be the same and the practice will be the same.' That's what I told them, I said, 'Our first practice, you know what the first seven drills are,' and they laughed. I think you've got to keep it as routine as possible and Coach Rider's routine is as good as anyone's to keep these guys focused on the task at hand." (at left: Dains in 1994)
Dains has served Cal Lutheran, where he earned an M.S. in counseling and guidance, for 21 years. He was a communication major and played basketball at DePauw, also serving as an assistant coach.
"I consider Cal Lutheran home. I've put in a lot of time, sweat equity and I have a lot of relationships built right here and consider this a fantastic place to work and, obviously, I would love to continue to do so," said Dains.
Read more at the website of the Ventura County Star.
Back