From USA to UAE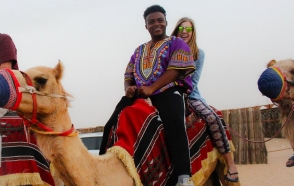 November 21, 2016
Carrie M. Robinson '17 was one of only a few American students who studied at the American University of Sharjah (AUS) in the United Arab Emirates during spring semester 2016. She was able to study abroad through the Council on International Educational Exchange (CIEE).
"I gained independence by going into my program as the only DePauw student," she said, "which forced me to branch out and meet new people at AUS." Only 15 percent of the country's residents are Emirati citizens, and the rest have emigrated from other countries. Most of the students at AUS were from countries such as Pakistan and India, or they were of Pakistani or Indian heritage but were born in the UAE.
"I felt pretty prepared going into my semester abroad because I had visited the UAE and AUS during my sophomore Winter Term," Robinson said. "Even though I mostly knew what to expect, there were a few things that took some getting used to. I knew in advance that the campus was subject to more conservative rules than I am used to at DePauw, but it was a little difficult to adjust and abide by a strict nightly curfew and dress code."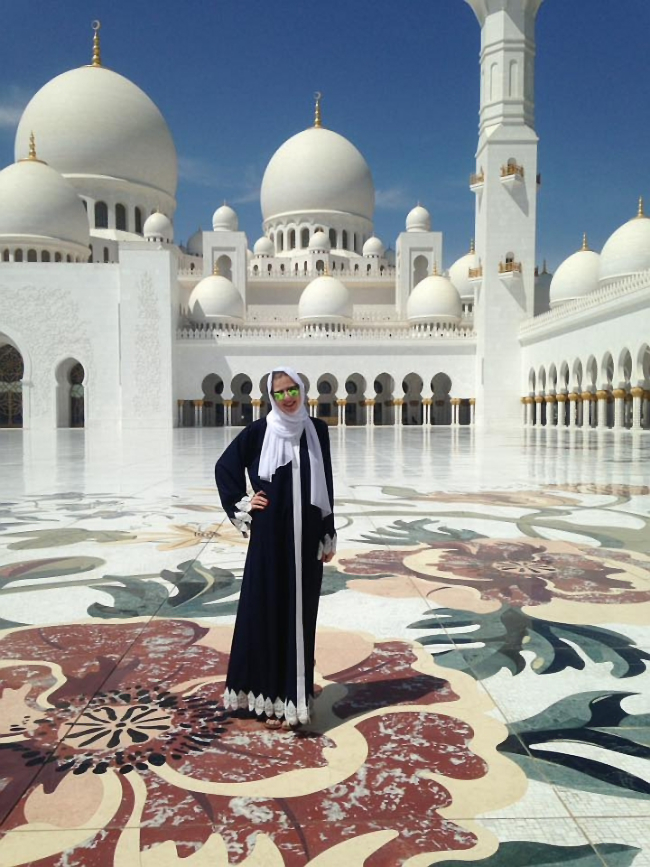 Robinson is a religious studies and anthropology double major with an economics minor. However, because AUS did not offer classes in either of her majors, she worked with her professors both at DePauw and abroad to find classes that would fit her needs. "I gained a sense of independence by going to a country without many other American students and customizing my course schedule," Robinson said.
She took Arabic language and philosophy classes, as well as globalization and microeconomics classes. She found it particularly exciting to study globalization, religion and culture in a country where those topics are so relevant. "It is interesting to see the ways in which various cultures interact and coexist within such a peaceful nation," she said.
In addition to her time at AUS, she traveled to all seven emirates of the UAE as well as Qatar, Bahrain, Musandam (Omani territory within the UAE) and Thailand.
Robinson says that her time spent in the Middle East reaffirmed her plans to pursue work related to the region after graduation and gave her marketable experience in this area.
Back