Prof. Emmitt Riley Authors Op-Ed Column on President-Elect's "Troubling" Appointments
December 3, 2016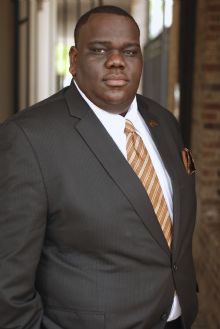 "In the days following Donald Trump's election, thousands took to the streets across the United States to protest," writes Emmitt Y. Riley, assistant professor of Africana Studies, in an opinion column for The Hill. "But many commentators advised caution, suggesting that the man on the campaign trail -- a contentious, no-holds barred misogynist and race-baiter, might somehow change when he got to the White House. The appointment of Steven Bannon, who ran a website that helped spread the orthodoxy of the 'Alt Right' as a top strategist and the nomination of Jeff Sessions as attorney general would suggest otherwise."
Dr. Riley continues, "In my estimate, Donald Trump, Jeff Sessions, and Steve Bannon represent a schizophrenic version of neo-fascism hidden behind the mask of populism. There is a commonality shared amongst these three men: in my opinion they all represent the vial vestiges of bigotry. To expect the Trump Administration's governing style to be any different from the candidate's campaign rhetoric, and that of his top followers -- is nothing short of naive. What is even more troubling is the way in which these appointments signal the empowerment and normalization in politics of white supremacists and bigots. It is not through mere serendipity that white supremacist organizations such as the Ku Klux Klan and the 'Alt Right' are celebrating the election of Donald Trump."
The professor concludes, "The preservation of our democratic values will demand a profound commitment to standing up for justice and the liberation of minorities. Although Donald Trump is entitled to nominate whomever he pleases he must understand that his calls for unity while surrounding himself with people like Bannon, Sessions and Michael Flynn falls on deaf ears. If anything, these actions only further divide an already polarized nation. At this point one can only hope that the United States Senate will take seriously its consent powers."

You'll find the complete essay here.
Riley holds a Ph.D. from the University of Mississippi. He has teaching and research interests in race politics, congressional representation, racial attitudes, voting behavior, political marginalization and inequality.
Source: The Hill
Back