"Donald Trump's Challenges are Really Just Beginning," Writes Lee Hamilton '52
December 4, 2016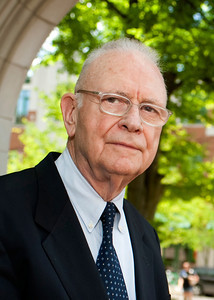 "As hard as the campaign might have been and the transition is proving to be, Donald Trump's challenges are really just beginning," writes Lee H. Hamilton in a nationally-distributed newspaper column. Hamilton, a veteran statesman and 1952 graduate of DePauw University, states, "Governing after a toxic election in which the results awarded him an ambiguous national mandate -- his opponent, after all, got more votes -- will require finesse, a clear-eyed view of his role in the world, and no small amount of luck."
A Democrat who represented Indiana for 34 years in the U.S. House, Hamilton continues, "There is no question that, come January, President Trump and the Republican majority in Congress will be in firm control of the government. They will be able to call the shots on policy, and cooperation between the president and Congress should be far more assured than it has been for the last six years. Trump will soon find, even under these circumstances, that the commitments and promises made during the campaign are going to be very hard to carry out."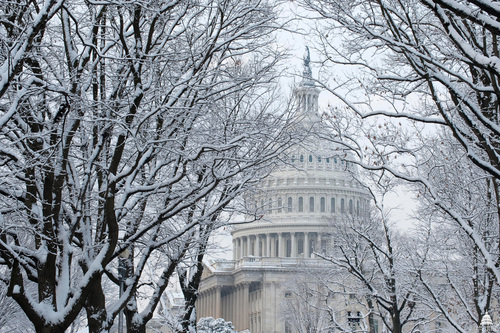 Growing the economy will take much work and cooperation in Washington, as well as time and patience, Hamilton notes. "Other domestic issues he addressed in the campaign will prove no easier to pursue," including health care, revisions to the tax code and reducing government regulations.
"While contemplating this, it's also worth remembering the words of Harold Macmillan, who was once asked what he most feared as Britain's prime minister. 'Events, dear boy, events,' he replied. Surprises will come along that interrupt even the best-tended plans — and that can buttress or destroy a president's standing in the blink of an eye. The Senate, in particular, is precariously balanced in his favor, and it won't take much for Democrats to brake or stymie his initiatives."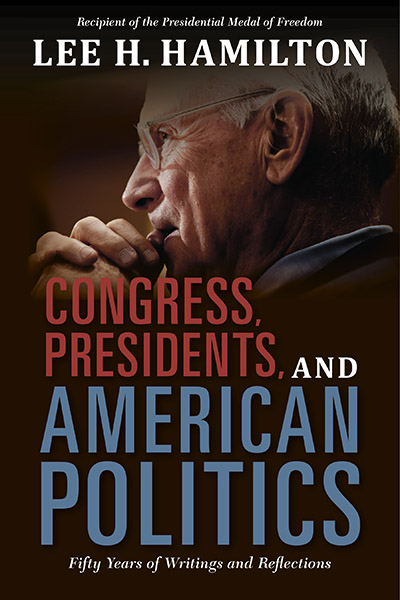 The author of several books, including the new Congress, Presidents, and American Politics: Fifty Years of Writings and Reflections, Hamilton concludes, "As a candidate, Trump effectively captured the discontent and anger of many Americans. With his proposals, he has upended the political order with a new brand of politics and policies. My guess is that he is on a steep learning curve, having underestimated the difficulties and overestimated his capabilities to deal with them. We should all extend the president-elect the benefit of the doubt, be vigilant and see how his presidency unfolds before becoming judgmental."
Access the complete essay at the website of the Omaha World-Herald.
Currently a Distinguished Scholar at Indiana University, Lee Hamilton was awarded the Presidential Medal of Freedom last year. He was one of five individuals inducted last summer into the Capital One Academic All-America® Hall of Fame, as selected by the College Sports Information Directors of America (CoSIDA), and has also received the Churchill Award for Statesmanship, the Eisenhower Medal for exceptional leadership, the Distinguished Service Award from the U.S. Association of Former Members of Congress, and the Franklin and Eleanor Roosevelt Institute Freedom From Fear Award, among many other honors.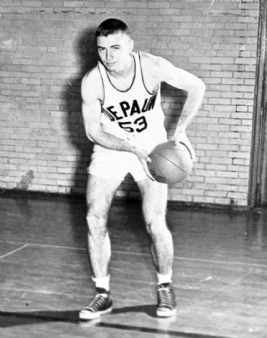 He's also a member of the Indiana Basketball Hall of Fame and DePauw's Athletic Hall of Fame.
The New York Times' David Brooks opined of Hamilton, "The country is hungering for leaders like him: open-minded, unassuming centrists who are interested in government more than politics." The Chicago Tribune's Mike Dorning declared, "In an era of politics dominated by partisan warriors, Hamilton commands respect across party lines. And at a time when retiring members of Congress routinely rush out the door to lobbying firms where they can sell their influence to the highest bidder, he passed up the chance for big money and retains unquestioned independence."
A history major and basketball standout at DePauw, Congressman Hamilton has been a frequent visitor to his alma mater over the years and was on campus March 3 to discuss the issues facing American and the world. He delivered an Ubben Lecture on March 15, 2011 as well as his alma mater's commencement addresses in 1971 and 1998.
Source: Omaha (Neb.) World-Herald
Back