Lee Hamilton '52 Offers Advice to President-Elect Trump
December 30, 2016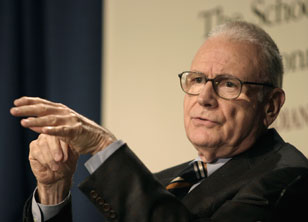 "As Mario Cuomo said, politicians campaign in poetry but have to govern in prose," observes Lee Hamilton, the 1952 DePauw University graduate who served 34 years in Congress. "Now we have a president-elect who campaigned in tweets … but still will have to govern in prose. So, like a few thousand other Americans, I'd like to give him some advice. Not on the substance of policy itself -- that he'll handle himself -- but on how to be effective at achieving what he'd like to achieve."
In a newspaper column, Hamilton points out that Trump will need to prioritize the nearly 300 promises he made during the campaign.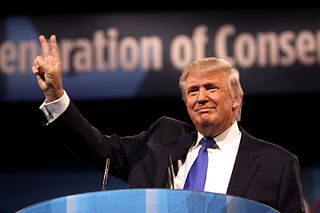 "Second, the president-elect must fix his conflict-of-interest challenge. Because of the extraordinary extent of his business interests, he has an unprecedented number of potential conflicts for a U.S. president. He will be negotiating policy with many people, agencies and countries where he or his business partners have a bottom-line stake in what happens.If he does not fix this before he takes office, conflict-of-interest charges will dog him throughout his presidency and weaken, if not cripple, his effectiveness," Hamilton opines.
Keeping the Republican majority on the same page is another challenge for the new president, adds Hamilton, a Democrat who served southern Indiana in the U.S. House of Representatives. "For a president to succeed, he needs to interact in a measured, sensible, reassuring way, and supply his allies with solid analysis and information, not guesses, instincts, opinions, and debunk-able theories."
Hamilton concludes, "A president who sets clear priorities, removes all doubt about potential conflicts of interest, and works responsibly with his allies on fact-driven policies can make good progress and achieve his goals." (at right: Lee Hamilton chats with DePauw student journalists during a campus visit)
Access the complete essay at the website of Michigan's Cedar Springs Post.
Currently a Distinguished Scholar at Indiana University, Lee Hamilton was awarded the Presidential Medal of Freedom last year. He was one of five individuals inducted last summer into the Capital One Academic All-America® Hall of Fame, as selected by the College Sports Information Directors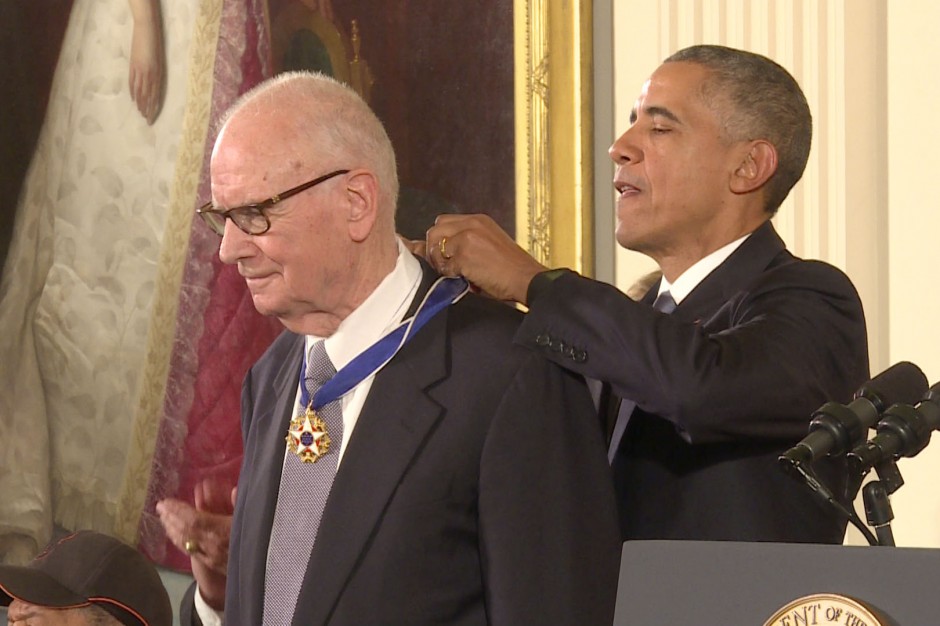 of America (CoSIDA), and has also received the Churchill Award for Statesmanship, the Eisenhower Medal for exceptional leadership, the Distinguished Service Award from the U.S. Association of Former Members of Congress, and the Franklin and Eleanor Roosevelt Institute Freedom From Fear Award, among many other honors. He's also a member of the Indiana Basketball Hall of Fame and DePauw's Athletic Hall of Fame.
The New York Times' David Brooks opined of Hamilton, "The country is hungering for leaders like him: open-minded, unassuming centrists who are interested in government more than politics." The Chicago Tribune's Mike Dorning declared,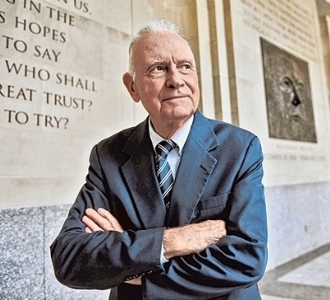 "In an era of politics dominated by partisan warriors, Hamilton commands respect across party lines. And at a time when retiring members of Congress routinely rush out the door to lobbying firms where they can sell their influence to the highest bidder, he passed up the chance for big money and retains unquestioned independence."
A history major and basketball standout at DePauw, Congressman Hamilton has been a frequent visitor to his alma mater over the years and was on campus March 3 to discuss the issues facing American and the world. He delivered an Ubben Lecture on March 15, 2011 as well as his alma mater's commencement addresses in 1971 and 1998.
Back