Variety Story on Rachel Maddow's MSNBC Show Cites Prof. Jeff McCall '76
January 17, 2017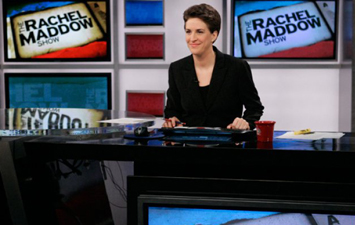 As MSNBC's Rachel Maddow reworks her show to feature long form, in-depth interviews, "Republicans would do well to meet with her, argues Jeffrey McCall, a media studies professor at DePauw University in Greencastle, Ind.," notes a story in Variety.
McCall, a 1976 graduate of DePauw, is a professor of communication and author of the book Viewer Discretion Advised: Taking Control of Mass Media Influences. "The GOP needs to appear to be speaking to all Americans, and going on MSNBC could help generate that image," he tells Variety. "Republicans on Maddow's show won't likely win over her viewers, but creating rational discussion would be good for all involved."
Brian Steinberg writes, "Maddow and MSNBC have good reason to pursue the idea (of a format shift). The cabler has contended with ratings woes and a massive reorientation of its programming strategy in recent years, but Maddow in 2016 attracted

the most viewers to her 9 p.m. time period in her history at the network. Indeed, of the 15 most-watched cable-news programs in 2016, the only one not airing on Fox News Channel was hers. The feat might have been expected in 2008, when MSNBC enjoyed a wave of popularity among progressive viewers encouraged by the election of President Obama, and when Maddow had Keith Olbermann as her 8 p.m. lead-in. But in 2016, it's quite an accomplishment."
You'll find the article -- "Inside Rachel Maddow's Plans to Reinvent Her MSNBC Show in Trump Era" -- at the publication's website.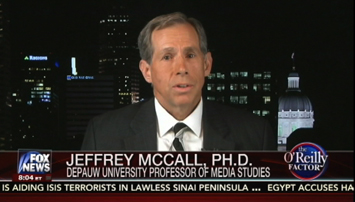 Jeff McCall was a Rector Scholar and speech (communication) major at DePauw. He went on to earn a master's degree from the University of Illinois and a Ph.D. from the University of Missouri. He serves as faculty adviser to DePauw's student radio station, WGRE.
The professor is regularly called upon to analyze media issues. He recently discussed President-elect Trump and the media with the Washington Post and authored a newspaper column on that topic. He also authored recent newspaper columns on the state of prime time television and the NFL's television ratings woes.
Source: Variety
Back