Graham Wilkerson '12 Discusses His Business, Genesis Sports Performance, on Statewide TV Show
February 12, 2017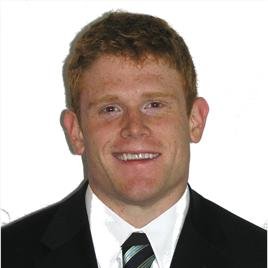 "A dream of former DePauw University football player Graham Wilkerson has turned into the reality of Genesis Sports Performance," reported Bill Benner on this weekend's edition of Inside Indiana Business. Wilkerson, a 2012 graduate of DePauw, appeared on the statewide television program to discuss his Indianapolis-based company, which is "helping high school, college and professional athletes reach their potential," as Benner noted.
"Genesis started as an idea of mine," Wilkerson, a history major, told the show. "I was doing medical device sales actually, my passion was I wanted to be in strength and conditioning, so I left a pretty stable job and I started training out of another gym, just subcontracting. And I built up the clientele to afford my own space and started with a few clients and just continued to build."

A year later, Genesis is operating out of a 3,000 square foot space and its clients range from 8th graders to pro athletes.
Wilkerson, a Certified Strength and Conditioning Specialist (CSCS), also serves as head strength and conditioning coach at Bishop Chatard High School in Indianapolis. He is working toward a master's degree in Athletic Coaching Education at Ball State University.
See the segment at the program's website; it's also embedded below.
Source: Inside Indiana Business
Back