Deborah Emerson '72 Named Director of Library in NY State
February 14, 2017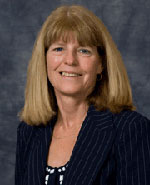 Deborah Emerson, a 1972 graduate of DePauw University, is the new director of Wadsworth Library in Geneseo, New York. She is currently executive director of the Syracuse-based Central New York Library Resources Council, and is expected to start in her new position in mid-March.
"Emerson has a more than 40-year career in the library field, with the exception of three years spent in the advertising field." reports the Livingston County News. "She is immediate past president of the New York Library Association and a member of the American Library Association. She was assistant director of the Rochester Regional Library Council in Fairport for more than a decade. She spent 13 years at Monroe Community College advancing from a senior library clerk and advanced to head of reference. She was also a cataloging assistant at Rochester Institute of Technology. The position allowed her to return to the library field while starting the M.L.S. program at the state University at Buffalo after three years in another field. In that role, she has been responsible for planning and carrying out CLRC board policies and administering the council's staff, programs and fiscal affairs. She has also advocated for libraries on state and national levels."
A longtime resident of Geneseo, Emerson says, "People are using libraries more than ever. But often we need to remind people why we are here and what we are able to offer."
Access the complete article at the newspaper's website.
Back