Prof. Jeff McCall '76 Analyzes "Blurring Lines" Between Celebrities & Politicians
February 16, 2017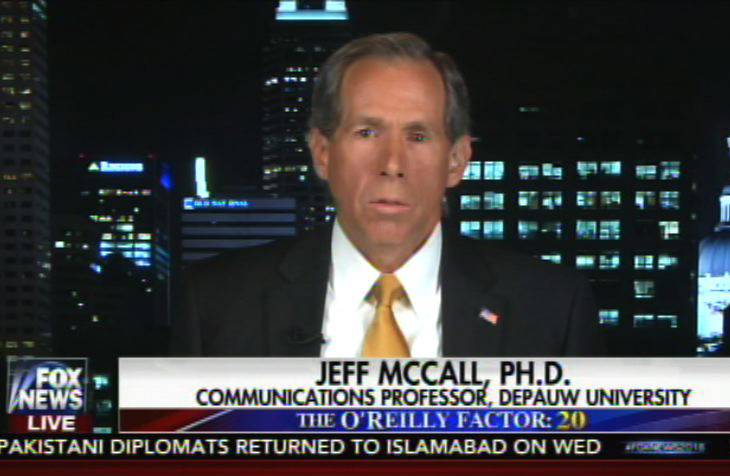 "President Trump, who became famous for his role on The Apprentice, has been called the 'reality TV President,'" begins an article in the Chronicle of Higher Education. "So what did Mr. Trump learn from his years on the show? Quite a bit, according to professors who study the genre."
Kelly Field writes, "To Jeffrey McCall, a professor of media studies at DePauw University, the lines between celebrity and politician have been blurring for years. Mr. Trump's presidency has blurred those lines even further, he says, and reality TV showed him how to 'cut through the mists to reach an audience. His media experience tells him that he must reach audiences in a direct and simple fashion,' Mr. McCall says. Mr. Trump's political rallies and his governing style share many of the same features of a reality show: short, repeated themes with bold and direct messages, little room for nuance, and sometimes unpredictable turns."

According to Dr. McCall, "Trump revels in that style and likes to keep audiences wondering what will happen next, just like on The Apprentice."
Later, Field notes, "Mr. McCall isn't convinced that Mr. Trump's hosting of The Apprentice helped him seem presidential. But, he says, 'it would certainly have raised his profile as a celebrity.' And that elevated profile might have been more helpful to winning votes than appearing presidential."
You'll find the complete story -- headlined "What Reality TV Taught Trump, According to Professors Who Study It" -- at the Chronicle's website.
Jeffrey M. McCall is a professor of communication. A 1976 graduate of DePauw, he joined the DePauw faculty in 1985 and authored Viewer Discretion Advised: Taking Control of Mass Media Influences. A Rector Scholar and speech (communication) major at DePauw, he went on to earn a master's degree from the University of Illinois and a Ph.D. from the University of Missouri. A former journalist, McCall serves as faculty to DePauw's student radio station, WGRE.
The professor is regularly called upon to analyze media issues. He recently discussed President Trump and the media with the Washington Post and The Hill analyzed the future of the Rachel Maddow show for Variety. McCall also authored a newspaper column on the feud between the new president and the media.
Source: Chronicle of Higher Education
Back