Public is Invited to Indiana Court of Appeals Session at DePauw, March 9
March 3, 2017
For the twelth time in the last 13 years, the Indiana Court of Appeals will come to campus of DePauw University and will hold a session which the public is invited to observe. On Thursday, March 9, the court will hear oral arguments in the case of DeFries, et al. v. Board of Commissioners of Posey County, et al. The presentations, which are open to the public, will begin at 10 a.m. in the Inn at DePauw's Social Center before a three-judge Court of Appeals panel.
Normal courtroom rules of decorum will apply. At the conclusion of the oral arguments, the judges plan to answer questions from the audience, although they must refrain from discussing the particular case being considered.
The three-judge panel conducting the oral arguments will comprise Judges Margret G. Robb, the first woman to serve as Chief Judge of the Indiana Court of Appeals; Terry A. Crone. a 1974 graduate of DePauw; and Robert Altice, Jr., the most recent appointee to the Indiana Court of Appeals.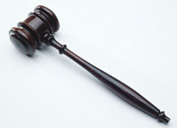 According to the Court of Appeals, the case being heard at DePauw "involves a challenge to the Posey County Board of Commissioners' decision to vacate a public road. On appeal, a group of remonstrators argue that the decision must be set aside because the Commissioners failed to hold a hearing within thirty days as required by statute and because the decision was arbitrary, capricious, and unsupported by evidence."
The briefs in the case can be accessed by clicking here.

The department of political science at DePauw University is again hosting the event. The Court of Appeals hears several oral arguments each year at locations around the state to enable citizens to learn about the judicial branch.
Back