Justin Christian '95 Inducted Into Central Indiana Business Hall of Fame
February 24, 2017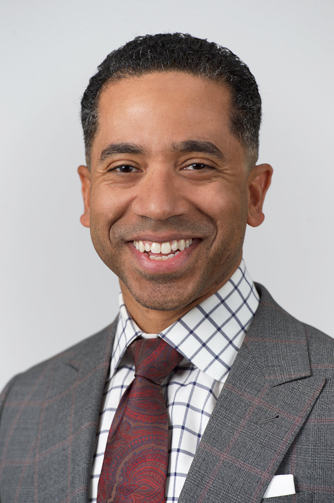 Justin P. Christian, chief executive officer and founder of BCforward and 1995 graduate of DePauw University, is among the 2017 inductees into the Central Indiana Business Hall of Fame.
Established in 1989 by the Junior Achievement Board of Directors, the Hall of Fame honors outstanding men and women who epitomize success in the business world, high moral and ethical standards, and dedication to important civic causes, thereby improving the quality of life in their community.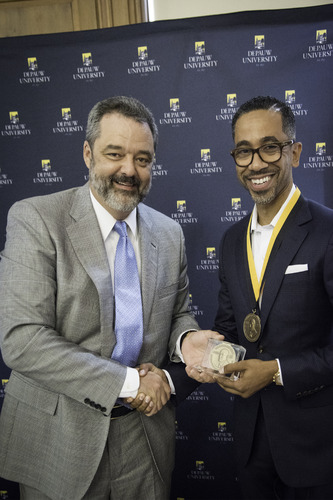 Christian and the other 2017 Laureates will be honored at a black tie event last night at the Indiana Roof Ballroom.
Founded in 1998, BCforward is Indiana's largest consulting firm and the largest minority business enterprise.
Christian was a computer science major at DePauw and is a member of the University's Board of Trustees. (at left: Christian with DePauw President D. Mark McCoy)
A video tribute was played at the ceremony, and it includes comments from Dave Berque, associate vice president of student academic life, dean of academic life and Greenleaf Professor of Computer Science at DePauw. It can be viewed below.
Learn more here.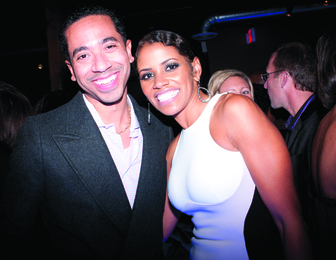 Justin Christian and his wife and DePauw classmate, Darrianne Howard Christian '95, have committed more than $500,000 in funds to support creation of a new Center for Diversity and Inclusion at DePauw as well as programming. Now under construction north of the Richard E. Peeler Art Center, the 10,000 square foot building will house both the Association of African American Students (AAAS) house and programs of the Doroth Brown Center and will provide new common space for campus programming.
The gift was announced in September 2016.
Learn more about diversity and inclusion at DePauw here.
Back