TOMS CEO Jim Alling '83 to Address DePauw's 178th Commencement
March 15, 2017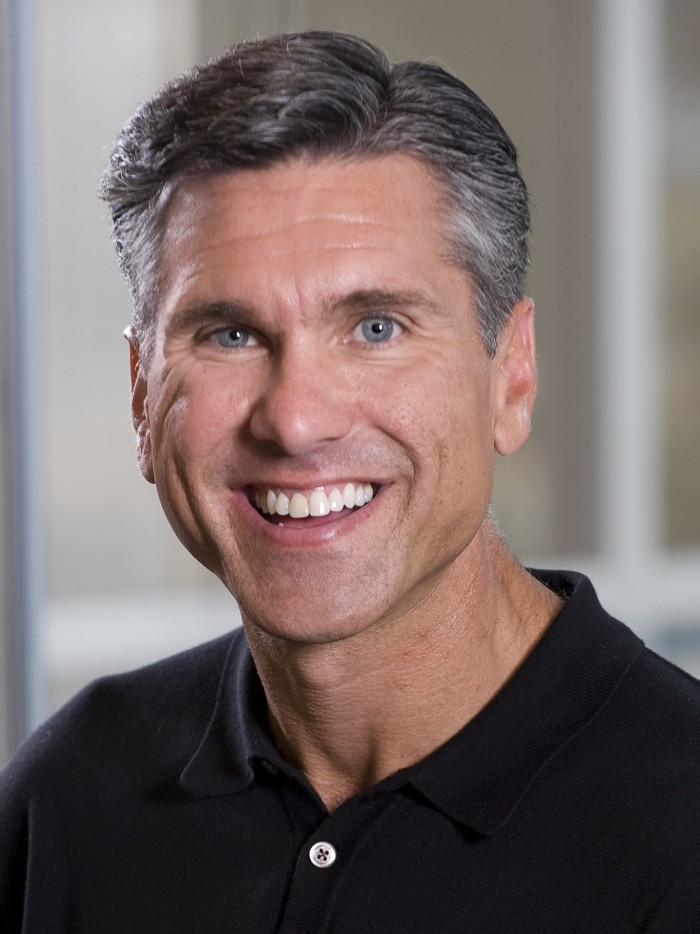 Jim Alling, the CEO of TOMS, whose experiences as a DePauw University undergraduate led to leadership roles at some of America's most admired companies, will deliver the principal address to his alma mater's Class of 2017. Alling -- a 1983 DePauw graduate who has also served as president of Starbucks USA and Starbucks International, and as chief operating officer of T-Mobile USA -- will return to Greencastle on Sunday, May 21, for the 178th Commencement. The program will begin at 10:30 a.m. in Holton Memorial Quadrangle.
"Jim is a shining example of why DePauw is considered a laboratory for leadership, and we are honored and excited that he will be sharing his optimism and energy with our graduates," said President D. Mark McCoy. "He's more than a visionary leader; his work and leadership are touching lives around the world."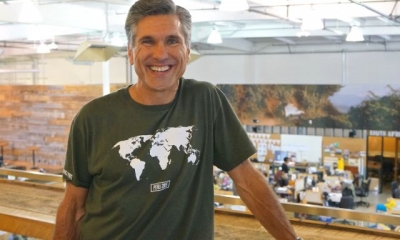 An economics and Spanish double-major at DePauw, Alling has more than 30 years of general management and marketing experience in consumer packaged goods and consumer retailing, having served as an executive at four top global companies: Starbucks, T-Mobile, Nestle and most recently TOMS, of which he was named CEO in April 2016.
TOMS' business model is designed to make a positive difference in the world and advance health, education and economic opportunity for people worldwide. Each time the company sells a pair of shoes, a new pair of shoes is given to an impoverished child. TOMS also sells eyewear, and takes part of the profit from each sale to save or restore the eyesight for people in developing countries. With each purchase of TOMS Roasting Co. coffee, the company works with other organizations that they refer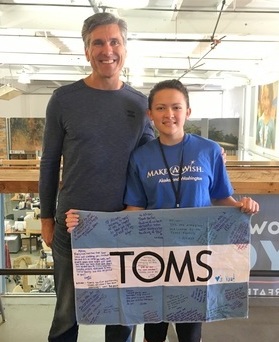 to as "giving partners" to provide 140 liters of safe water (a one-week supply) to a person in need. Purchases of TOMS bags help provide training for skilled birth attendants and distribute birth kits containing items that help a woman safely deliver her baby.
Before TOMS, Alling served for five and one-half years as chief operating officer of T-Mobile USA, a multibillion-dollar wireless carrier. In this role, he was responsible for all customer-facing activities for a subscription base of more than 44 million users and the 34,000 employees who directly served them.
Before T-Mobile, Alling joined Starbucks in 1997 to lead the launch of its coffee into grocery stores. He earned multiple promotions to become president of Starbucks Coffee USA with more than 10,000 retail locations, sales of more than $7 billion, and more than 125,000 employees. He also served as president of Starbucks International, overseeing more than 5,000 stores in 45 different countries with sales topping $4 billion.
Alling began his career in 1985 at Nestle, where he earned a series of promotions to become a vice president and general manager for Nestle USA.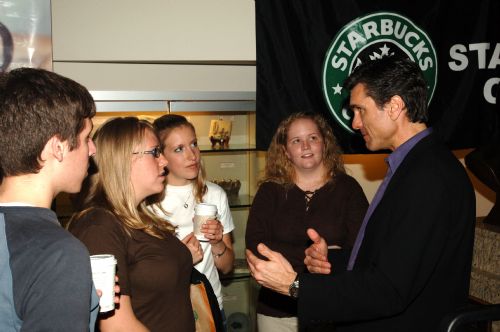 He holds a master's degree in international management from the Thunderbird School of International Management in Glendale, Arizona (now a part of Arizona State University).
On March 13, 2007, Alling delivered an Ubben Lecture at DePauw. (at left: Alling talks with DePauw students after the speech)
"What I wish for all of you students -- what I really wish for you -- is that you find work that makes you feel good, that fills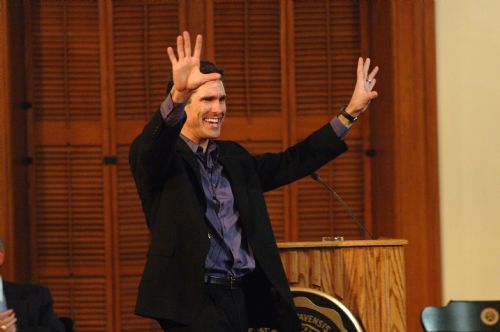 you up," he said. "Most jobs in the world today are too small for people's spirits. Be in something that fills you up. Be in something that plays to your strengths. Be in something at the end of the day that inspires you."
During his speech, Alling urged students in the audience "to really take advantage of everything that DePauw has to offer. You do have something that maybe you recognize (and) maybe you don't, but there is a special feel -- there is a community feel -- on this campus. And it's different -- trust me -- it is different than other places."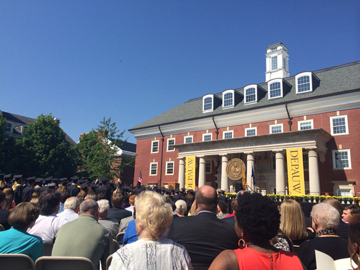 Graduates and their families can order a DVD of May's Commencement. The disc will include a multi-camera shoot of the ceremony and an array of extra features and will include footage of each graduate receiving their DePauw diploma. The DVDs are $19.95 for the first disc; additional DVDs sent to the same address will be $8 each (shipping to domestic addresses is included; 7% sales tax will be added to Indiana orders).
An online order form is available here. Learn more about the DVD in this story.
For more information on the 178th commencement, click here.
Back