"DePauw Makes a Doctor of Todd Rundgren": Indianapolis Star
March 21, 2017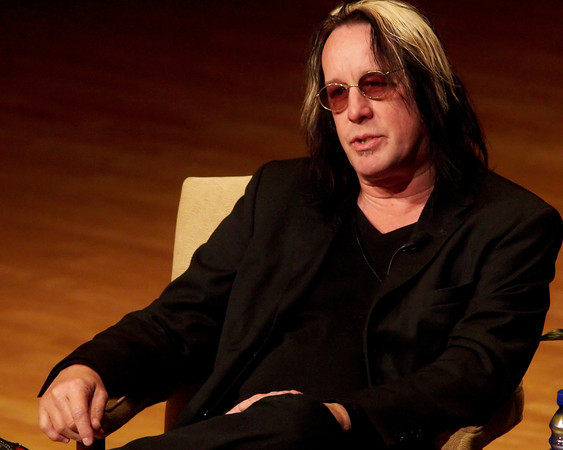 "Todd Rundgren, the rocker who's unusual in that his most famous songs are not his most critically acclaimed, will receive an honorary doctoral degree from DePauw University in Greencastle at the school's commencement on May 21, the university said Monday," reports the Indianapolis Star this afternoon. (at right: Rundgren speaking in DePauw's Kresge Auditorium in April 2009)
Will Higgins notes, "Rundgren is widely respected in music circles as a brilliant and innovative songwriter, performer and producer yet his two big radio hits are the saccharine 'Hello It's Me' (1972), and 'Bang the Drum All Day' (1983), now a staple at sports arenas. Rundgren, who was born in Philadelphia and lives in Hawaii, has an unusually strong connection to universities in Indiana. He has actually been to Greencastle before. He lectured at DePauw in 2009 on 'Music, Technology and Risk-Taking.' He later served as a visiting professor at Indiana University and at the University of Notre Dame."
The newspaper adds, "The DePauw honorary degree will be Rundgren's second this spring. The week prior he'll get one from Boston's Berklee College of Music, alongside Lionel Richie."
The report also notes that previous celebrity appearances at Indiana commencement exercises have included actor Kal Penn's 2014 address at DePauw.
You'll find the complete story -- headlined "DePauw makes a doctor of Todd Rundgren" -- at IndyStar.com.
TOMS CEO Jim Alling '83 and Jesse Kharbanda, executive director of the Hoosier Environmental Council, will also receive honorary doctorates at the ceremony. Read more in the original announcement.
Rundgren's 2009 Ubben Lecture is covered here and embedded below.
Source: Indianapolis Star
Back