Award-Winning Journalist Dexter Filkins to Examine 'New Ways of Writing War', April 5
March 25, 2017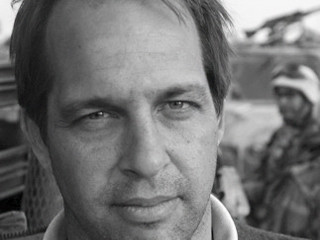 Dexter Filkins, called "the premier combat journalist of his generation" by the Washington Post, is coming to DePauw University on Wednesday, April 5. Filkins will keynote DePauw's Hampton and Esther Boswell Symposium, "New Ways of Writing War". His 8 p.m. talk in Thompson Recital Hall, located within the Green Center for the Performing Arts, is free and open to all.
Filkins is a staff writer for The New Yorker and authored the book, The Forever War. He worked at the Miami Herald and the Los Angeles Times, where he was the paper's New Delhi bureau chief, before joining the New York Times in 2000, reporting from New York, South Asia, and Iraq, where he was based from 2003 to 2006. In 2009, he won a Pulitzer Prize as part of a team of Times journalists covering Pakistan and Afghanistan.
Filkins has received two George Polk Awards, given annually by Long Island University to honor contributions to journalistic integrity and investigative reporting.He has also has won two National Magazine Awards and three Overseas Press Club Awards. The Forever War won the 2008 National Book Critics Circle Award for nonfiction, and was named a best book of the year by the Times, the Post, TIME, and the Boston Globe.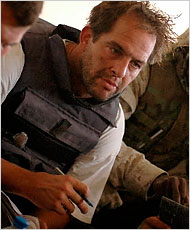 He will sign books following the speech.
At 4:15 p.m. on April 5, Filkins will join in a panel discussion with Samuel Autman, associate professor of English, and moderated by Elizabeth Eslami, Hampton and Esther Boswell Distinguished Professor of Creative Writing at DePauw. Participating in the talk via Skype will be Ben Solomon, a Pulitzer Prize-winning international video journalist for the New York Times and 2010 graduate of DePauw.
Funding for the Hampton and Esther Boswell Symposium is made possible by a generous gift from Thomas W. Boswell '66 and Cheryl K. Boswell. The symposium is named in honor of Mr. Boswell's parents.
Learn more here.
Back