DePauw Concerto Competition Winners to be Featured in Sunday Concert
April 3, 2017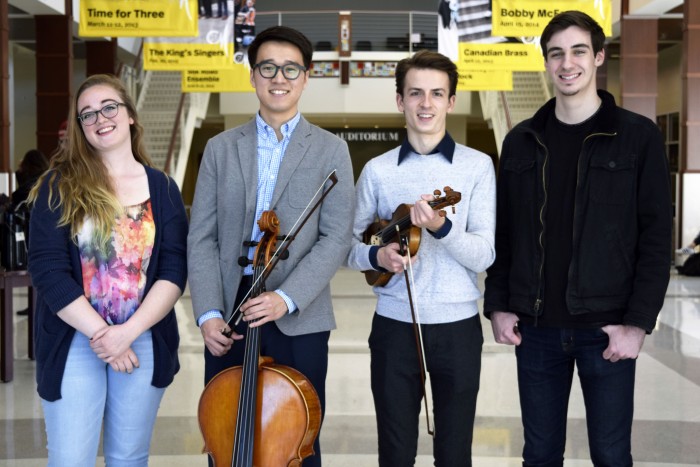 The four winners of the 35th Annual DePauw Concerto Competition will be featured in concert with the DePauw University Symphony Orchestra this Sunday, April 9, at 3 p.m. in Kresge Auditorium of the Judson and Joyce Green Center for the Performing Arts. (photo, l-r: Amelia Smerz '20, cello; Sungmin (Peter) Kim '17, cello; Jackson Bailey '18, violin; David Young '20, voice)
Among the outstanding student soloists will be David Young, a first-year vocalist from League City, Texas, singing Mozart's "In quegli anni" from the opera The Marriage of Figaro; first-year cellist Amelia Smerz from Downers Grove, Illinois, performing the second movement of the Dvorak Cello Concerto and senior cellist Sungmin (Peter) Kim of Greenwood, Indiana, who will play the first movement of the Dvorak Cello Concerto. Junior violinist Jackson Bailey from Fort Collins, Colorado, will close the concert with the first and second movements of the Shostakovich Violin Concerto. The orchestra's music director, Orcenith Smith, will conduct.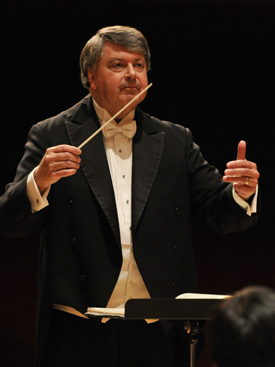 The DePauw Concerto Competition is a collaboration between the School of Music and the University Orchestra. The contest features two rounds of competition with the preliminary round judged by DePauw faculty members in their respective disciplines, followed by a second, full round of competition judged by music professionals from outside the university.
"The outcome for this year's final round showed an amazingly high level of achievement," said Professor Smith, coordinator of the annual event. "Of the 40 participating students, all categories of instruments and voice types were represented in the preliminary round of competition, with 24 students advancing to the finals. This meant that the performing level was very, very high. The four students who earned the opportunity to perform with the orchestra were at the top and outstanding, indeed."
General admission to the DePauw Concerto Winners' Concert is $5. Tickets for seniors, children and all students are free, thanks to season sponsors Judson and Joyce Green ('74 & '75). To obtain advance tickets online, visit www.music.depauw.edu.
Back