Prof. Jeff McCall '76 Offers Comments on Cable News "War"
April 7, 2017

"Fox News and CNN are at war," reports The Hill's Jonathan Easley. "Anchors and reporters at the cable news giants are directly attacking one another on the air, sniping over Twitter, blanketing the airwaves with coverage of each other's controversies and counting the hours until their rival personalities are driven to ruin."
The piece includes comments from Jeffrey M. McCall, professor of communication at DePauw. "This is not a totally new phenomenon," he tells the newspaper of Capitol Hill. "The three cable networks have skirmished off and on for years. But the latest incidents are, indeed, taking matters to the next level."
You'll find the complete article here.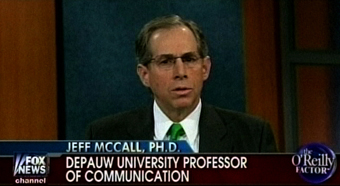 A 1976 graduate of DePauw, Jeff McCall was a speech (communication) major and went on to earn a master's degree from the University of Illinois and a Ph.D. from the University of Missouri. A former journalist, he joined the DePauw faculty in 1985 and serves as faculty to DePauw's student radio station, WGRE, where he learned broadcasting as an undergraduate.
The professor, who authored Viewer Discretion Advised: Taking Control of Mass Media Influences, is regularly called upon to analyze media issues and has been cited in more than 100 newspapers. Earlier this week, he authored a column on the debate over allowing video coverage of U.S. Supreme Court proceedings. He was cited last week in a Fox Business story on the apparent dismissal of TheBlaze reporter Tomi Lahren and the Washington Post featured Dr. McCall's comments on conservative commentators. He also recently analyzed the "blurring lines" of celebrity and politician with the Chronicle of Higher Education.
Source: The Hill
Back