Courtney Knies '10 Named Community Coordinator at Current Blend
April 13, 2017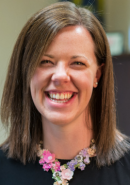 Courtney Knies, a 2010 graduate of DePauw University, has joined Current Blend, a co-work space in Huntingburg, Indiana, as community coordinator.
"Her job will include building a community of entrepreneurs in Dubois County by bringing people together for open discussions that lead to new business ideas," notes the Dubois County Herald. "She will also be developing programs and conferences for Current Blend and residents in the community who are seeking to become part of entrepreneurship in Dubois County."
Knies, who majored in sociology and political science and was a Bonner Scholar at DePauw, was previously executive director of Mentors for Youth of Dubois County. She was also director of programs for the Greenleaf Center for Servant Leadership.
Read more at the newspaper's website. Also available is this previous story.
Back