Malala Yousafzai, Youngest-Ever Nobel Peace Prize Recipient, Coming to DePauw for Sept. 4 Ubben Lecture
June 11, 2017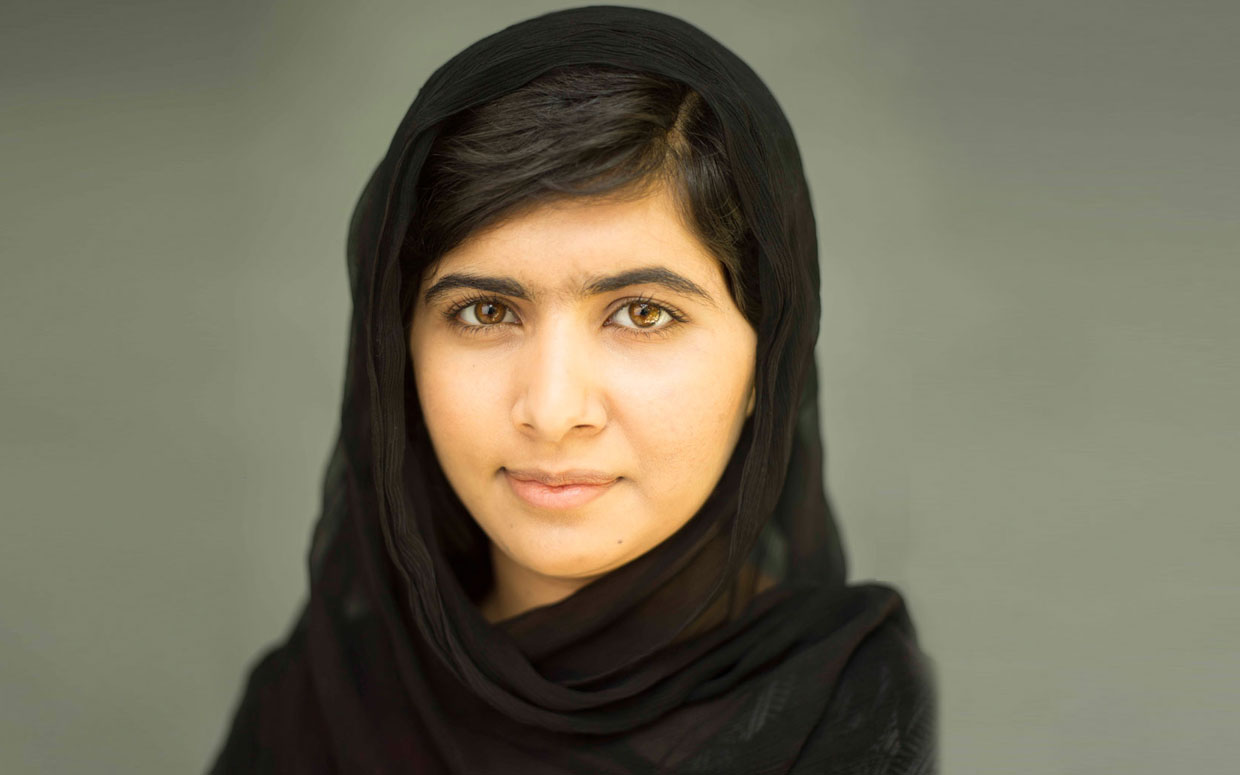 Malala Yousafzai, a Pakistani schoolgirl whose bravery and activism for female education made her the youngest-ever recipient of the Nobel Peace Prize, is coming to DePauw University in the fall. On Monday, September 4, she will deliver a Timothy and Sharon Ubben Lecture in DePauw's Neal Fieldhouse, which is located within the Lilly Physical Education and Recreation Center (702 S. College Avenue).
The program will begin at 7:30 p.m. Like all Ubben Lectures, the event is presented free of admission charge and is open to everyone. Seating will be open to general admission (tickets will not be distributed). More information will be made available as the event draws closer.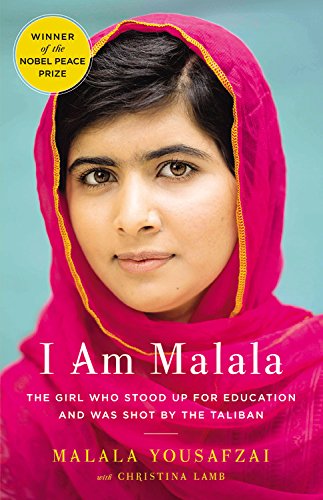 Malala will become the tenth Nobel laureate and eighth winner of the Nobel Peace Prize to be welcomed to DePauw as an Ubben Lecturer. The previous visitors included Leymah Gbowee, Oscar Arias, F.W. de Klerk, Mikhail Gorbachev, Shimon Peres, Willy Brandt, Elie Wiesel, Leon Lederman, and Ferid Murad, a 1958 DePauw graduate.
"Malala is one of the world's most powerful and inspirational voices, and I'm thrilled that we'll be welcoming her to DePauw to share her story and vision with our students, faculty, staff, alumni, and many friends," says Ken Owen 82, coordinator of the Ubben Lecture Series. "I'm confident that this will be a day that will be talked about for many years to come."
Born in 1997, Malala Yousafzai grew up in the Swat Valley in northern Pakistan with her parents and two brothers. From the age of 10, Malala has campaigned for the rights of girls to receive an education. She wrote a blog, was interviewed by newspapers and for television, and was nominated for the International Children's Peace Prize by Bishop Desmond Tutu.
In October 2012, as a 15-year-old, Malala was shot and critically injured by the Taliban while traveling home from school on the bus with her friends. Following the attack, Malala was flown to the U.K.'s Queen Elizabeth Hospital, and by March 2013 she had made a remarkable recovery and was well enough to return to school.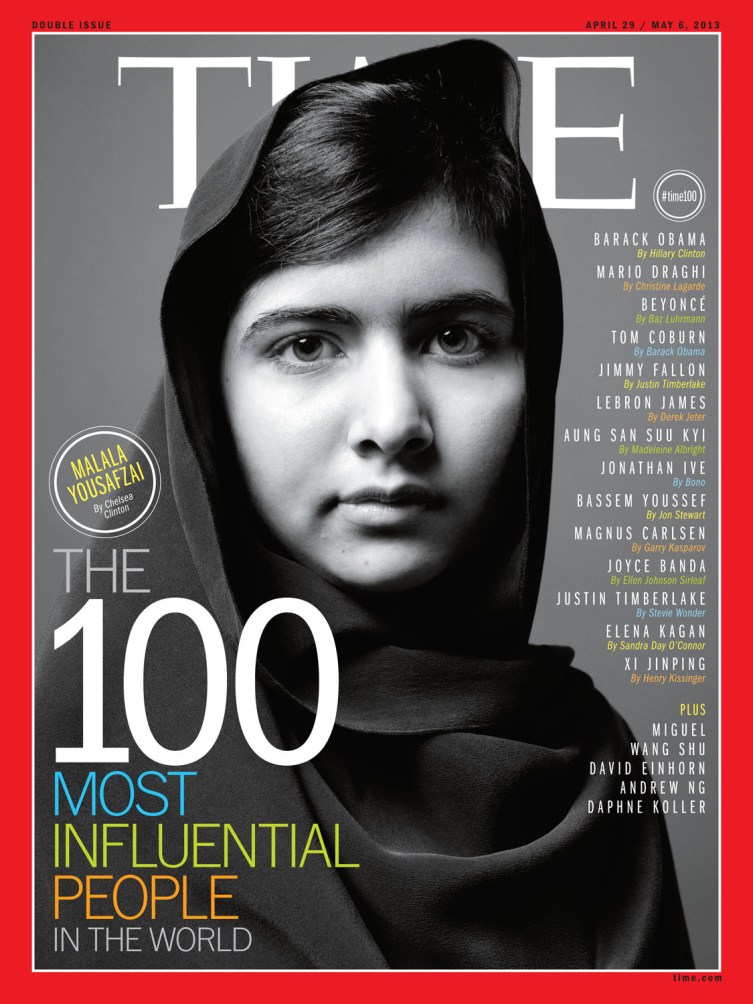 Now living in Birmingham, England, with her family, Malala continues to campaign for the right of every child to go to school. Since the attack, she has become internationally known for her courage in refusing to be silenced and continuing her fight for the right of everyone to receive an education. She founded the Malala Fund -- which is dedicated to help promote education for girls throughout the world -- and in 2013 co-authored I Am Malala, an international bestseller.
Malala's bravery and unwavering dedication to her cause led her to received one of the world's highest honors, the Nobel Peace Prize, in 2014. Then 17, she became the youngest recipient the prestigious award, and was honored alongside Indian child rights campaigner Kailash Satyarthi. The two were praised "for their struggle against the suppression of children and young people and for the right of all children to education."
Named one of "The 100 Most Influential People in the World" by TIME, Malala also received Pakistan's first National Youth Peace Prize and the 2013 Sakharov Prize for Freedom of Thought and Conscience, the International Children's Peace Prize, the Tipperary International Peace Award, the Premi Internacional Catalunya Award of Catalonia, the Simone de Beauvior Prize, the Oklahoma City Reflections of Hope Award, and Amnesty International's Ambassador of Conscience Award.
A Washington Post review of I Am Malala called the book "riveting" and stated, "It is difficult to imagine a chronicle of a war more moving, apart from perhaps the diary of Anne Frank."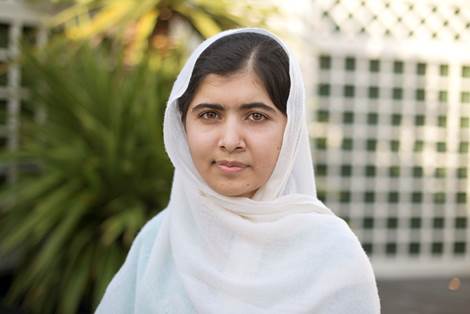 In April of this year, Malala was named named the youngest-ever United Nations Messenger of Peace. "I stood here on this stage almost three and a half years ago ... and I told the world that education is the basic human right of every girl," she said as she accepted the honor. "And I stand here again today and say the same thing."
Yousafzai added, "Once you educate girls, you change the whole community, you change the whole society."
Malala will turn 20 this summer, and will become DePauw's youngest-ever Ubben Lecturer. Yeonmi Park, who told her harrowing story of escaping North Korea, came to DePauw in October 2015, the day after her twenty-first birthday.
Established in 1986 through the generous support of 1958 DePauw graduates Timothy H. and Sharon Williams Ubben, the Ubben Lecture Series was designed to "bring the world to Greencastle." The series has now presented 107 events over the past thirty years.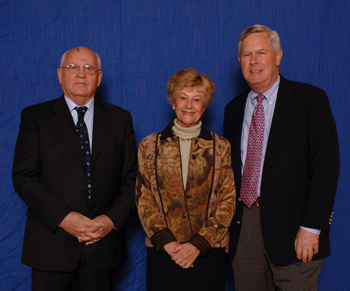 (at right: Tim and Sharon Ubben with Mikhail Gorbachev; October 27, 2005)
Other previous Ubben Lecturers have included David Cameron, Benazir Bhutto, Margaret Thatcher, Leslie Odom Jr., Elie Wiesel, Jane Goodall, Tony Blair, Bill Clinton, Jimmy Kimmel, Vernon E. Jordan Jr., Shimon Peres, David Brooks, Spike Lee, Doris Kearns Goodwin, Mike Krzyzewski, Julian Bond, General Colin Powell, Andrew Luck, Michio Kaku, Piper Kerman, Oscar Arias, Barbara Bush, Ambassador L. Paul Bremer, General Wesley Clark, Jimmy Wales, Ken Burns,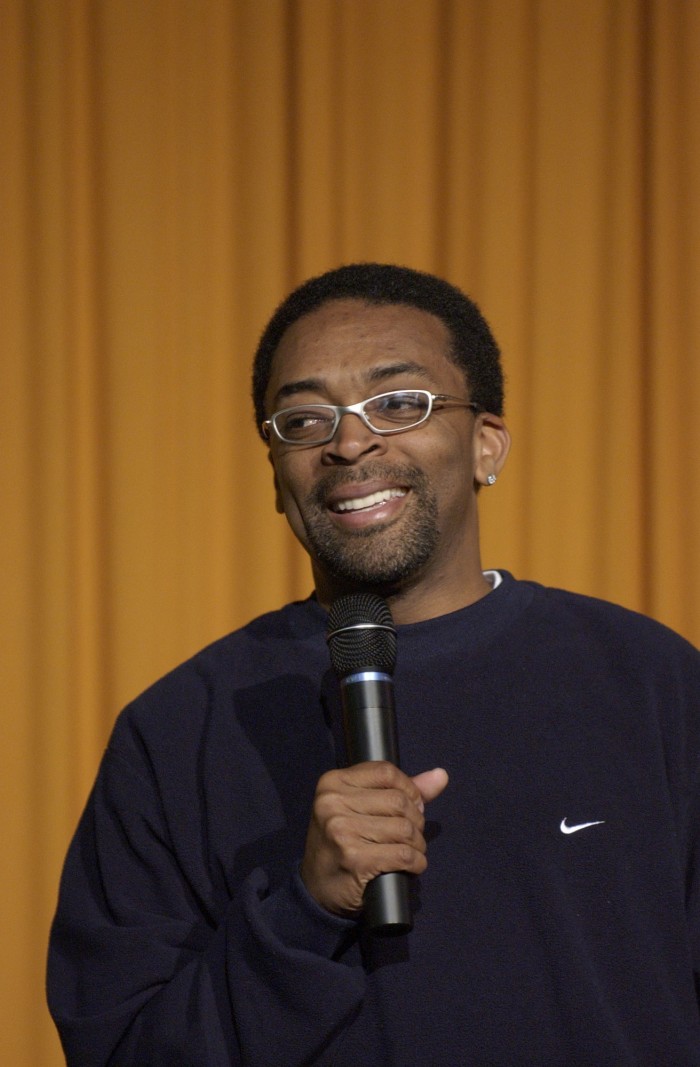 Ron Paul, Naomi Wolf, Ross Perot, Karl Rove, Howard Dean, Eric Schlosser, Harry Belafonte, Leymah Gbowee, Sam Donaldson, David McCullough, John Major, Lee Hamilton '52, Ralph Nader, Carl Bernstein, Martin Luther King III, Willy Brandt, Dan Quayle '69, F.W. de Klerk, Jane Pauley, Arne Duncan, Bret Baier '92, Mitch Albom, Brian Mulroney, Todd Rundgren, Bob Woodward, Greg Mortenson, Candy Crowley, Peyton Manning, Liz Murray, Jason Reitman, William J. Bennett, Richard Lamm, Jim Lovell, Gwen Ifill, ice cream entrepreneurs Ben Cohen & Jerry Greenfield, Sister Helen Prejean, Bill Bradley, Douglas Hallward-Driemeier '89, David Ho, Allen Neuharth, Andrew Young, Paul Volcker, Jim Alling '83, Paul Tsongas, Nicholas Carr, Rebecca Skloot, Mary Frances Berry, and many others. (at left: Spike Lee speaks in Neal Fieldhouse; April 3, 2003)
To view a complete roster of Ubben Lecturers -- which includes links to video clips and news stories -- click here. Video montages of many events are available on YouTube.
Back