Rain Chance Down to 40% for Sunday Morning's Commencement
May 19, 2017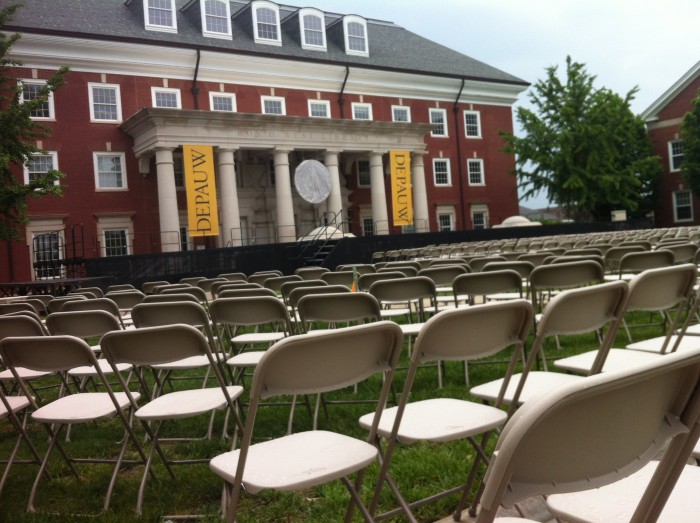 Links: Commencement Page; Webcast; DVD Order Form; Weather
The chance for rain during Sunday morning's commencement exercises, which was 90% at mid-week, is down to 40% with 48 hours left until the ceremony. The Weather Channel's outlook now calls for heavy thunderstorms Friday, scattered storms Saturday, and that four-in-ten chance of a storm Sunday morning, with partly sunny skies later in the day.
DePauw's 178th Commencement is scheduled to take place outdoors at 10:30 a.m. in Holton Memorial Quadrangle. It will be moved indoors to DePauw's Lilly Physical Education and Recreation Center should conditions require it.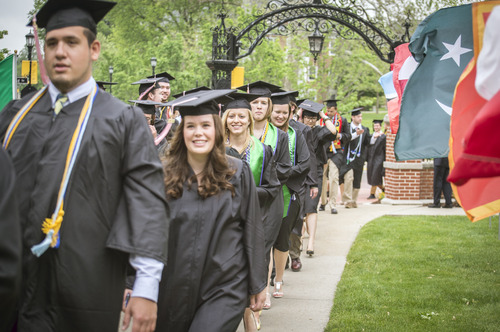 The program can be viewed anywhere in the world through a webcast, which will be available live via this link.
A total of 561 degrees will be awarded during Sunday's program, which will feature an address by Jim Alling, chief executive officer of TOMS and 1983 graduate of DePauw. Honorary doctoral degrees will be presented to Alling, musician and technology pioneer Todd Rundgren, and Jesse Kharbanda, executive director of the Hoosier Environmental Council (read more here).
The multi-camera shoot of the program will be available to graduates and their families on DVD. The professionally replicated disc will include footage of each graduate receiving their DePauw diploma and all of the pageantry from the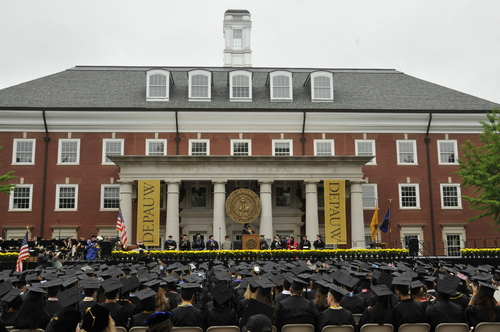 commencement ceremonies, as well as an array of extra features, including clips of Ubben Lectures and highlights from the thrilling 2016 Monon Bell Classic. The DVDs are $19.95 for the first disc; additional DVDs sent to the same address will be $8 each (shipping to domestic addresses is included; 7% sales tax will be added to Indiana orders).
An online order form is available here. Learn more about the DVD in this story.
For more information on the 178th commencement, click here.
Back