DePauw's Sixth President, Rev. Alexander Martin, Was First President of West Virginia University
May 22, 2017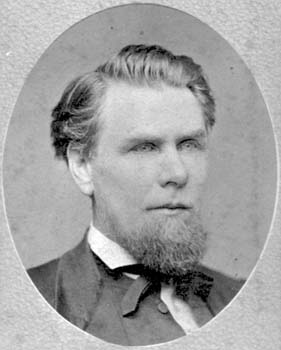 Rev. Alexander Martin, the sixth president of DePauw University, "was West Virginia University's first president," recalls the Gazette-Mail of Charleston, West Virginia. Martin's "drive for public education and high academic standards set the tone 150 years ago for an institution that would become the flagship for higher education in West Virginia."
The feature adds, "West Virginia had only been a state for four years when Martin took the helm of this fledgling institution [in 1865]. A more fitting choice to lead the new state's public university would be hard to fathom, as Martin knew his audience and aimed at nothing less than to bring education to this generally poor state ... He was a hands-on president, even responsible for the name change from Agricultural College of West Virginia to West Virginia University in 1868, according to Ken Sullivan in the West Virginia Encyclopedia."

The newspaper adds, "Rev. Martin had a heart for the people of West Virginia and a mind for top-flight academics at WVU. His insistence on discipline and high standards and his support for a then-new idea called "co-education" led to his departure from WVU in 1875. Martin had no problem finding work and was soon after offered the presidency at what became the nationally renowned DePauw University in Greencastle, Indiana ... He died in Greencastle at age 71 in 1893."
The piece notes, "Every now and then, the right person comes along at the right time to help important ventures take flight. What Rev. Alexander Martin started in 1867 has offered now many generations of West Virginia families a chance for their youth to develop into empowered servant leaders in scores of fields and careers."
Read more here.
Born in Scotland, Martin served as the last president of Indiana Asbury from 1875 to 1884 and then five more years as president of the new DePauw University. He retired the post after 14 years but continued as professor of mental and moral philosophy for four years until his death.
A biography is available here.
Back