DePauw's Class of 2017, 561 Strong and "A Force to be Reckoned With," Graduates Under Sunny Skies
May 21, 2017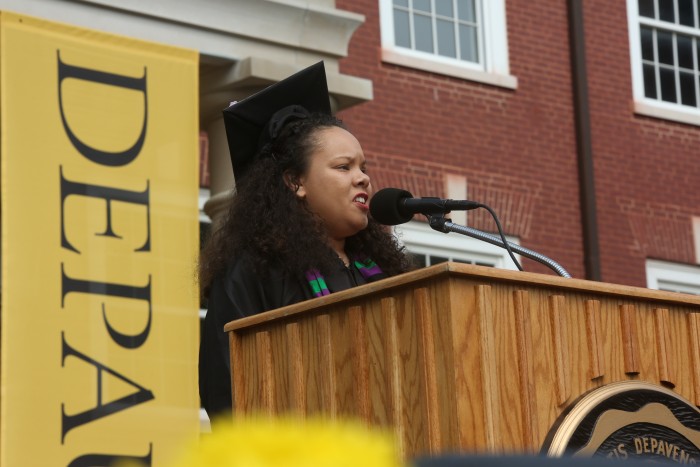 "DePauw's Class of 2017 is a force to be reckoned with," said Sarah Fears to her classmates at DePauw University's 178th Commencement. "The world outside of DePauw is not ready for the brilliant light that our class is going to provide. They cannot render us invisible."
Fears spoke at this morning's ceremony as the winner of DePauw's top student award, the Walker Cup, which is presented to the senior who has contributed the most to the University community during his or her four years on campus. She cited the 1952 book by Ralph Ellison, Invisible Man, and implored the 561 graduates seated before her to embrace their individual talents and gifts.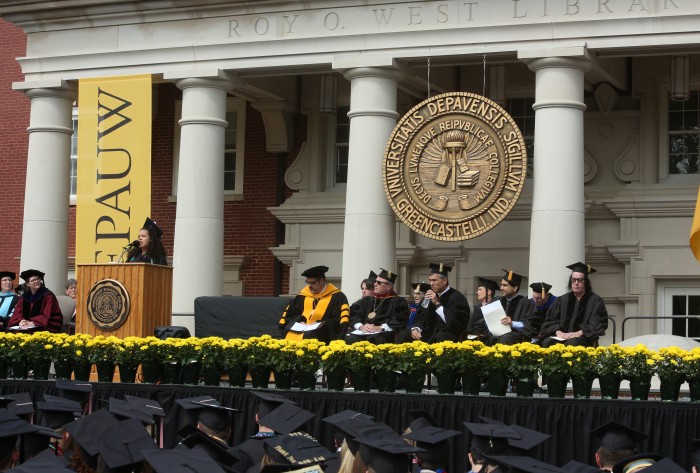 "I'm here today to tell you to that you are more than what other people think of you," Fears asserted. "Live your life in ways that you have only dreamed of. Live unrestricted, free of the judgement and approval of others. Live your life for yourself, and do what makes you genuinely happy."
A political science and Africana studies double major from Terre Haute, Fears established the Intercultural Conversation Facilitator program in DePauw's Office of Multicultural Student Services. As a Bonner Scholar, she served the Greencastle community by teaching English as a Second Language at Tzouanakis Elementary School and serving as community service soordinator for the school's Student Friend program, which provides mentors to third-through-fifth graders. She was also instrumental in creating DePauw Dialogue and was an important voice in the establishment of the new Center for Diversity and Inclusion. She received the Walker Cup on April 24.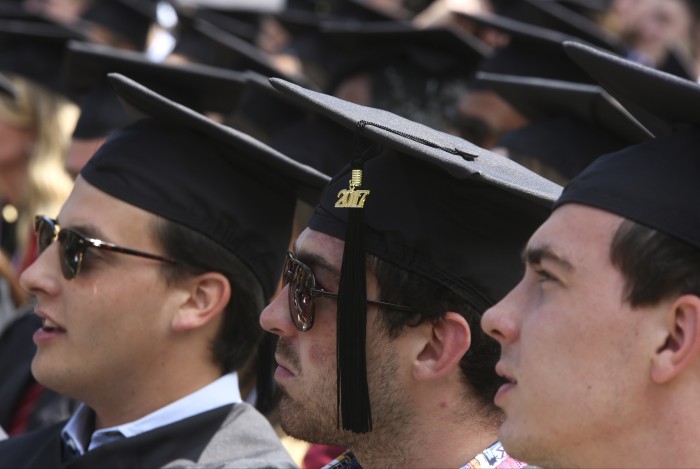 "Live your life like the first day we arrived on campus," she implored her classmates as they prepared to leave DePauw with diplomas. "Fill an inflatable pool with water and host a pool party on Longden's roof if that's what you're into. Make new friends without being hardened, and let go of your baggage. Experience and know true happiness. Live in the moment.
"We are a culmination -- the total sum -- of our experiences, and if our life stories are just what we thought others expected of us, then our stories will never be what they are truly meant to be. Do not let anyone else write or control your story. No one else can tell you who are. No one else can assign a value to you -- you are priceless."
She concluded her remarks by stating, "Congratulations, Class of 2017. I see you. Go forth and be conduits of change."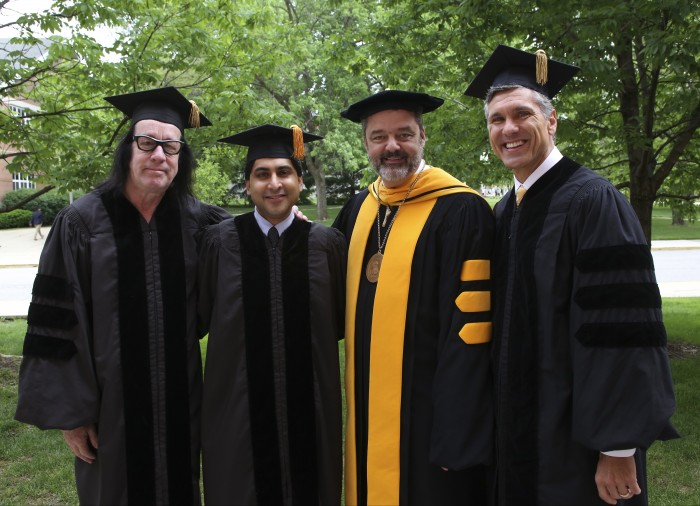 After several days of rainfall, conditions improved in time for the 10:30 a.m. program, which took place in Holton Memorial Quadrangle. Skies were cloudy as the faculty and students processed in, but they soon gave way to sunshine and a breeze.
The principal address at today's program was given by Jim Alling, a 1983 graduate who is chief executive officer at TOMS and the former chief operating officer of T-Mobile USA and former president of Starbucks USA and Starbucks International.
Honorary doctoral degrees were presented to Alling, rock legend Todd Rundgren, and Jesse Kharbanda, executive director of the Hoosier Environmental Council. Read more here.
The ceremonies included recognition of DePauw faculty members who are retiring at the conclusion of the current academic year: Rex A. Call, director of sports medicine with rank of associate professor of kinesiology; and S. Page Cotton, professor of kinesiology and Theodore Katula Director of Athletics and Director of Recreational Sports.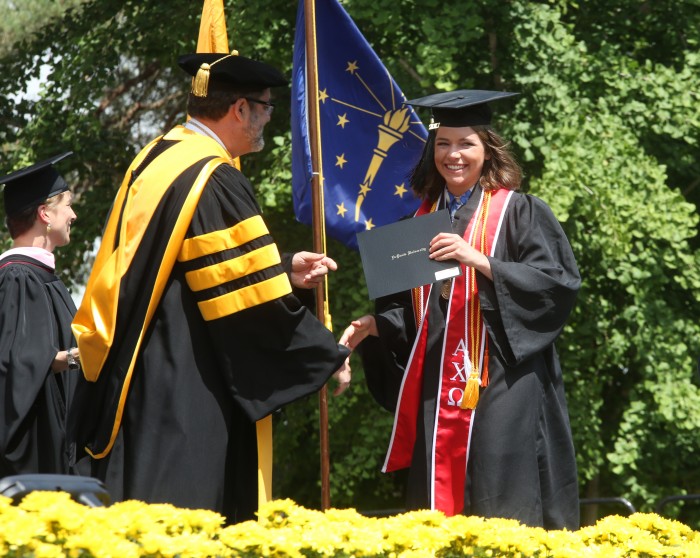 Graduates and their families can order a DVD of the 2017 Commencement. The disc will include a multi-camera shoot of the ceremony and an array of extra features and will include footage of each graduate receiving their DePauw diploma. The DVDs are $19.95 for the first disc; additional DVDs sent to the same address will be $8 each (shipping to domestic addresses is included; 7% sales tax will be added to Indiana orders).
An online order form is available here. Learn more about the DVD in this story.
For more information on the 178th commencement, click here.
Back