Environmentalist Jesse Kharbanda, Musical Innovator Todd Rundgren, & TOMS CEO Jim Alling '83 Receive Honorary Doctorates from DePauw
May 21, 2017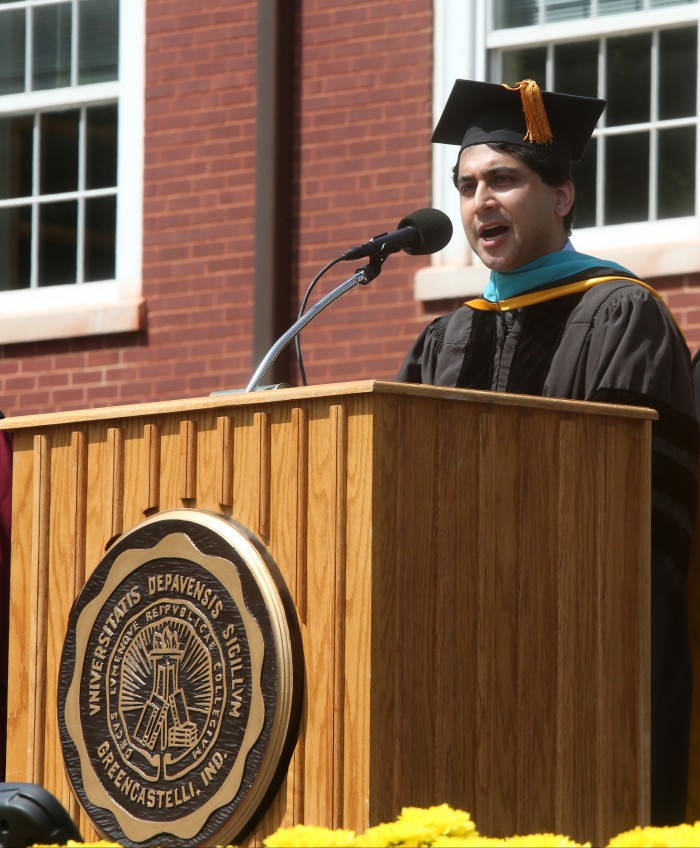 "Class of 2017, may you direct your civic energies to helping to empower the economically struggling in our world to have a safe and dignified life," Jesse Kharbanda, executive director of the Hoosier Environmental Council, said at DePauw University's 168th Commencement today. "May you direct your civic energies to ensuring that animals of every stripe will have a chance to thrive in a world that is theirs, too. And may you direct your civic energies to preserve our precious ecosystems for generations to come."
Kharbanda received an honorary Doctor of Public Service degree during the ceremony. The Hoosier Environmental Council is Indiana's largest environmental policy organization. He has graduate degrees from Oxford University and undergraduate degrees from the University of Chicago.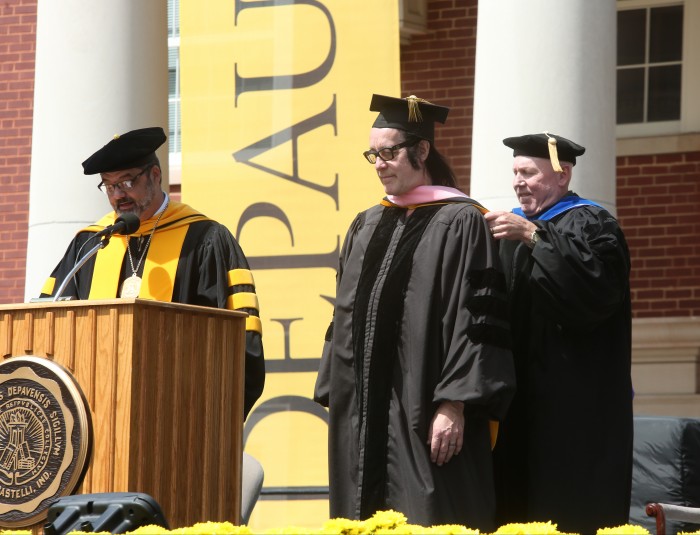 Todd Rundgren -- a veteran musician and innovator known for hits such as "Hello, It's Me" and "Bang the Drum All Day" and for producing Meat Loaf's Bat Out of Hell and XTC's Skylarking -- was awarded an honorary Doctor of Performing Arts degree.
As he was presented with the honor, the student band played "All The Children Sing" in an arrangement created by Andrew Bobker, a rising junior at DePauw and a Rundgren fan. The musical surprise created some confusion on stage; as a result, Rundgren did not speak.
A few hours later, before he departed Indiana, Rundgren sat down with Ken Owen '82,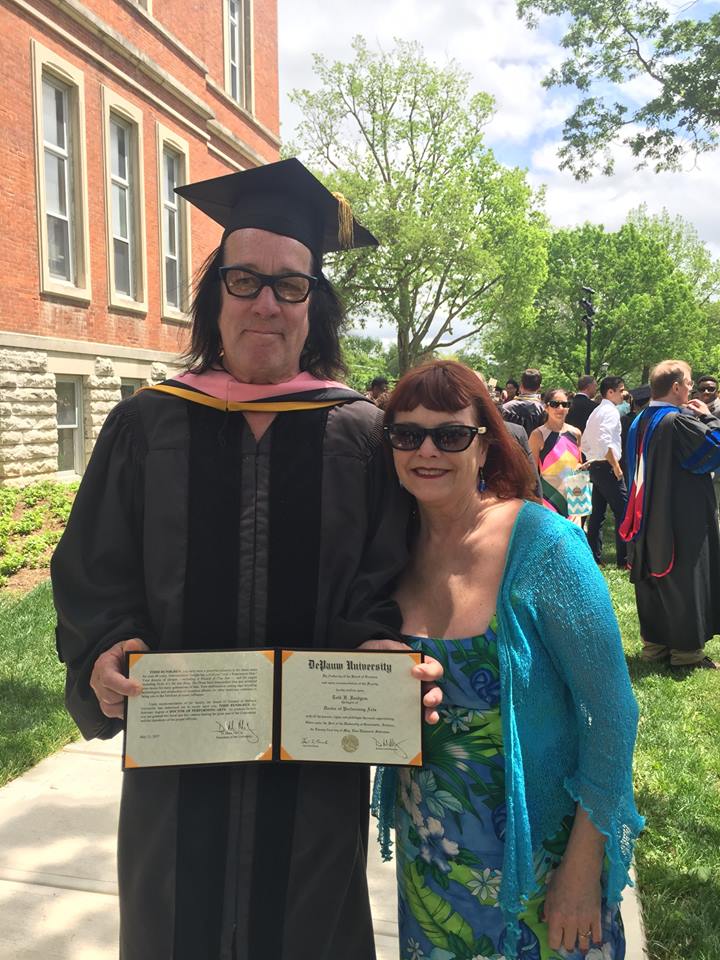 executive director of media relations at DePauw, to record a message for DePauw's Class of 2017 and deliver the message he had intended to give the graduates earlier.
"I kind of got to this point because I wasn't afraid to leave my old self behind and become something different," Rundgren said. "And the hardest thing in the world that you can possibly do is change yourself. Everyone goes out thinking, 'I'm going to make my mark on the world.' The hardest thing is to make your mark on yourself. Be prepared, no matter how attached you are to your habits and your ways of thinking, to just completely discard them and start over." (photo: Rundgren and his wife, Michele, on East College lawn)
He added, "Of course you have to believe in yourself, but you also have to be honest with yourself and if there's something about you that you don't like you do have the power to change it. You just have to make that decision."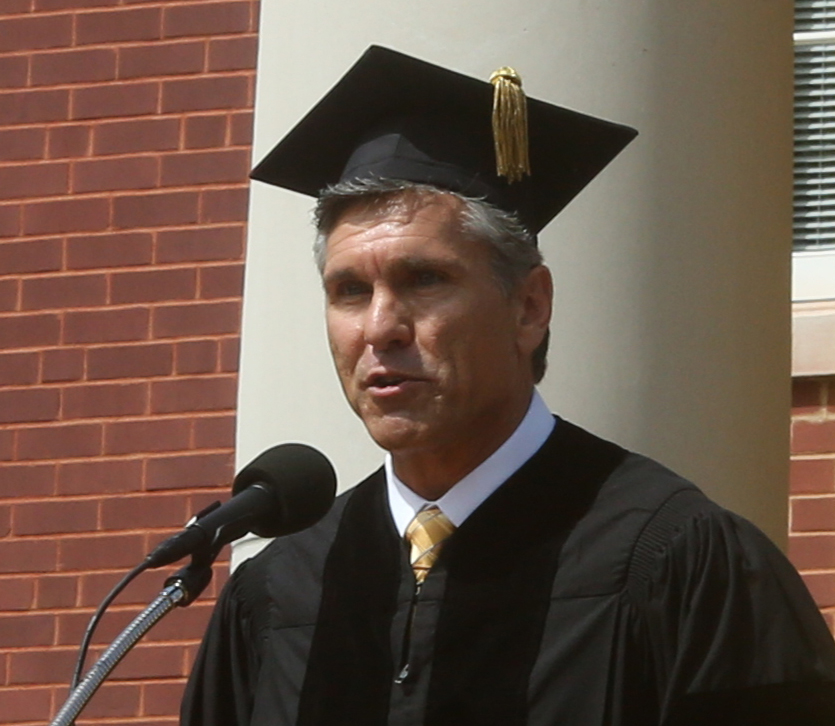 Jim Alling, a 1983 graduate who is chief executive officer at TOMS and the former chief operating officer of T-Mobile USA and former president of Starbucks USA and Starbucks International, presented the primary address at today's ceremony and received an honorary Doctor of Business Administration degree.
Alling majored in communications and Spanish as an undergraduate and has more than 30 years of general management and marketing experience in consumer packaged goods and consumer retailing.
A total of 561 undergraduate degrees were awarded at the program, which took place this morning in Holton Memorial Quadrangle.
Read more about the event, and the speech by Walker Cup recipient Sarah E. Fears '17, in this summary.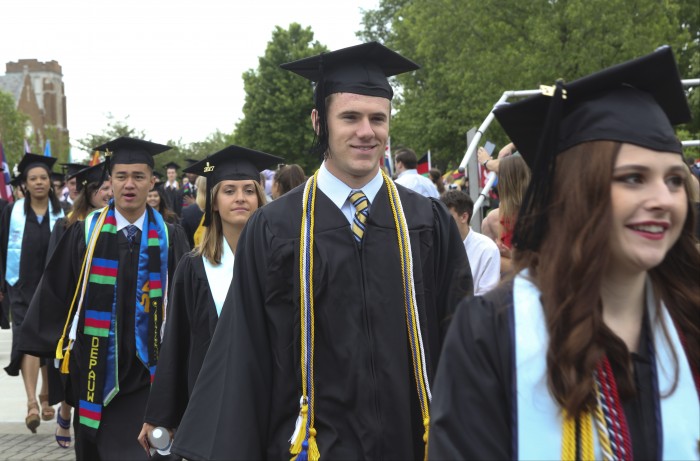 Graduates and their families can order a DVD of May's Commencement. The disc will include a multi-camera shoot of the ceremony and an array of extra features and will include footage of each graduate receiving their DePauw diploma. The DVDs are $19.95 for the first disc; additional DVDs sent to the same address will be $8 each (shipping to domestic addresses is included; 7% sales tax will be added to Indiana orders).
An online order form is available here. Learn more about the DVD in this story.
For more information on the 178th commencement, click here.
Back