2017 Commencement DVD is at Replicator, Will Ship Soon
May 25, 2017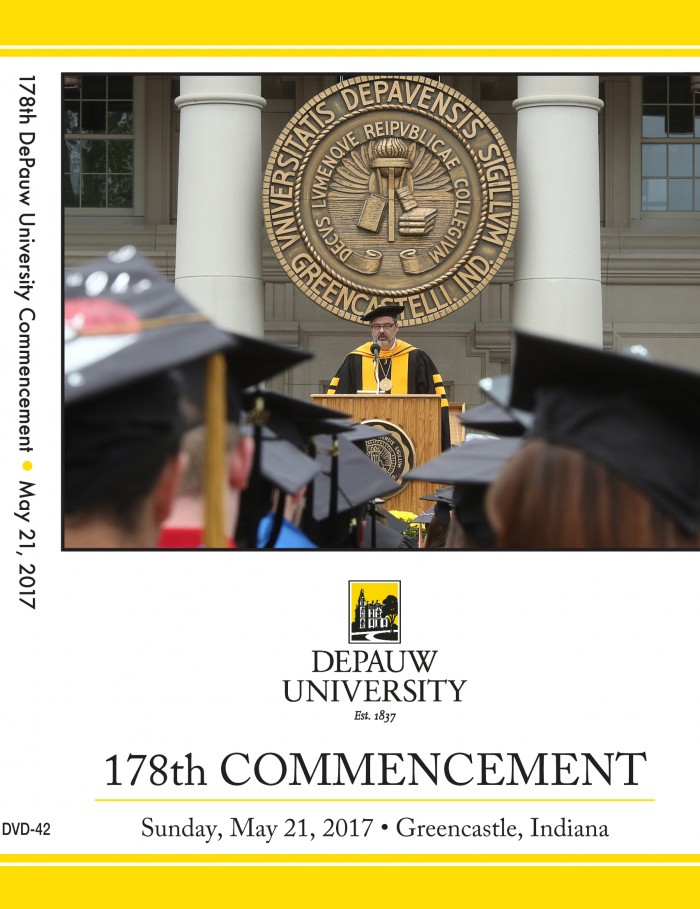 The master DVD of Sunday's 178th Commencement at DePauw University is arriving at the replicator in New Jersey today, and the manufactured product should be ready for delivery within three weeks. The limited edition disc, which will include footage of each graduate of the Class of 2017 receiving their DePauw diploma along with a range of bonus features, is available for pre-order. The DVDs are $19.95 for the first disc; additional discs sent to the same address will be $8 each (shipping to domestic addresses is included; 7% sales tax will be added to Indiana orders). (at right: front cover of the 2017 commencement DVD)
An online order form is available here.
The DVD features the four-camera coverage of the ceremony, including the procession of graduating seniors, speeches (including the primary address by TOM's CEO Jim Alling '83), and the presentation of diplomas. Those looking for a particular part of the program can immediately access what they seek via the DVD's menu. For example, to see a graduate whose last name is Rogers, you click on the letter 'R' in the menu and are immediately taken to the first person whose last name begins with the letter 'R' receiving his or her diploma. Users can also jump to specific speeches, or watch the program from beginning to end.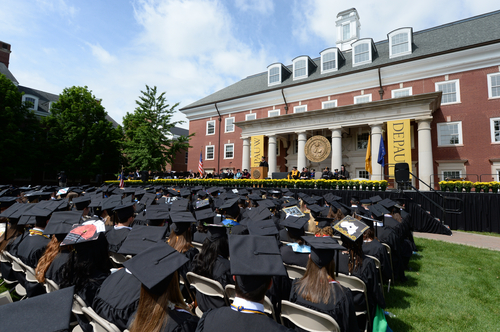 The dual-layer disc also contains many extras that recap of some of the memorable experiences the graduates have had while at DePauw and spotlight some of the University's history. The bonus features include campus highlights from 2013-2017 (ranging from clips of the opening convocation at which the Class of 2017 was welcomed to DePauw and clips of Ubben Lecturers such as Andrew Luck, Bret Baier '92, Martin Luther King III, Jimmy Kimmel, Vernon Jordan, David Cameron and Leslie Odom Jr.); a photo gallery of commencement weekend activities; highlights of November's thrilling Monon Bell Classic; a special message from honorary degree recipient Todd Rundgren; and vintage footage from the DePauw Archives, including a look at the campus and Greencastle in 1987 (via a television newscast), a 1975 interview with legendary football coach Raymond "Gaumey" Neal, a report on Vernon Jordan's 1993 commencement address, clips of visits by Olympic swimmers Janet Evans and Greg Louganis as well as former British Prime Ministers Margareth Thatcher and Tony Blair, and more.
The DVDs are professionally replicated (by Oasis Disc Manufacturing), not duplicated, and are housed in a decorative jacket.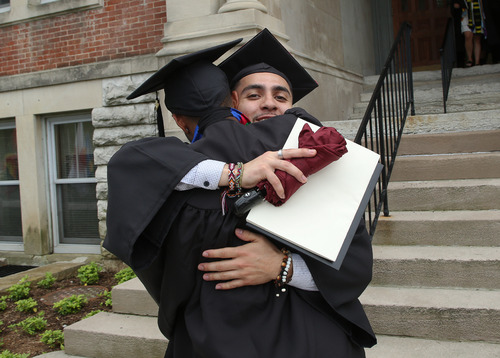 "The package is the equivalent of a video college yearbook, putting many pieces related to the graduates' experience in one place," says Ken Owen '82, executive director of media relations, who directed Sunday's shoot and built and mastered the disc. "I hope the Class of 2017 and their families enjoy this keepsake."
This marks the 16th commencement DVD that DePauw has produced, and the 41st DVD overall. Past projects include 21 Monon Bell Classics (1977, 1984, 1993, 1994 and 2000-16), some of which remain available click here.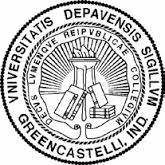 DePauw has produced a commencement DVD each year since 2002. Discs of past commencement ceremonies are available via this link.
Coverage of Sunday's event on this website includes a summary of Alling's speech, the remarks by Walker Cup recipient Sarah Fears '17, and the presentation of honorary degrees.
For more information on the 178th commencement, click here.
Back