Angie Hicks '95 Honored by Harvard Business School
May 25, 2017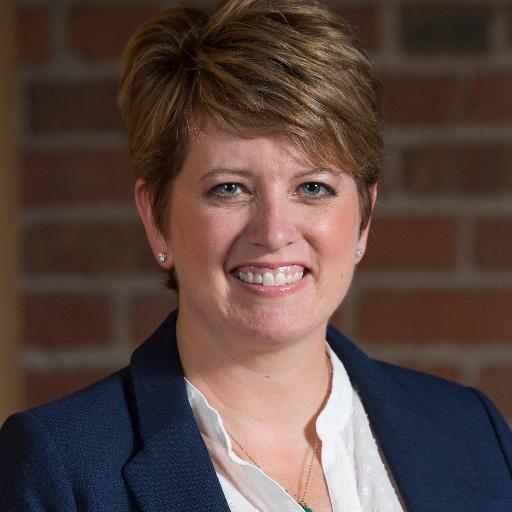 Angie Hicks, co-founder and chief marketing officer of Angie's List, has been presented with Harvard Business School's Alumni Achievement Award. Hicks, who received her M.B.A. from Harvard in 2000, was among six distinguished individuals who were honored yesterday "as part of the Class Day ceremony for the M.B.A. Class of 2017, who will receive their degrees on Commencement Day today," notes an announcement.
Calling it Harvard Business School's "most important honor," the news release notes, "Throughout their careers, these distinguished graduates have contributed significantly to their companies and communities while upholding the highest standards and values in everything they do. As such, they represent the best of the School's alumni body. Exemplary role models, they inspire all those who aspire to have an impact on both business and society."
It adds, "Hicks launched Angie's List in 1995 after graduating from DePauw University. She has spent the last two decades expanding the company, which went public in 2011. She serves as an executive sponsor of the Angie's List Foundation, which supports nonprofits in Indianapolis, where the company is based, and was a co-founder of the Governor Bob Orr Indiana Entrepreneurial Fellowship Program."
Angie's List is an online platform which allows approximately five million members to review local service providers such as electricians and plumbers. (at left: Angie Hicks after a speech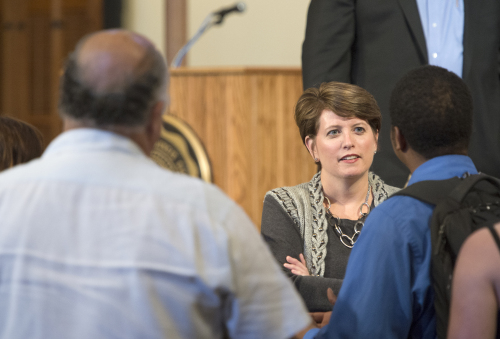 in DePauw's Meharry Hall)
Read more here.
Hicks launched the company shortly after graduating from DePauw, where she was an economics major and Management Fellow. She was honored last month with TechPoint's "Trailblazer Award", which "recognizes visionaries whose contributions have had lasting and significant impact on our technology ecosystem." In 2009, she won the Indiana Commission for Women Torchbearer Award for entrepreneurial accomplishments and this March was named the 2017 Tech Founder of the Year at the Midwest Women in Tech conference in Chicago.
In 2007, DePauw honored Hicks with a Distinguished Alumni Award for Management and Entrepreneurship and she received the Robert C. McDermond Medal for Excellence in Entrepreneurship in 2009.
Back