Prof. Jeff McCall '76 Sees No Improvement Coming in Strained Relations Between Media & Politicians
May 26, 2017

According to the Christian Science Monitor, "as U.S. politics becomes increasingly polarized and partisan a heightened tone of hostility may be seeping into the relationship between reporters and the politicians they cover." Peter Grier and Harry Bruinius report, "On Wednesday Greg Gianforte, a Republican candidate for Congress in Montana, physically assaulted a reporter asking a question about health care.Last week, Federal Communications Commission security pinned a reporter against a wall after he tried to question FCC commissioners. And earlier this month, West Virginia police arrested a veteran reporter for trying to question Secretary of Health and Human Services Tom Price in the state capitol."
The story quotes Jeffrey M. McCall, professor of communication at DePauw University, who says, "I don't look for the situation to improve anytime soon. The press needs to step up its professional behavior and societal leaders must be more open to public scrutiny. There's little evidence now that either of those things are ready to happen."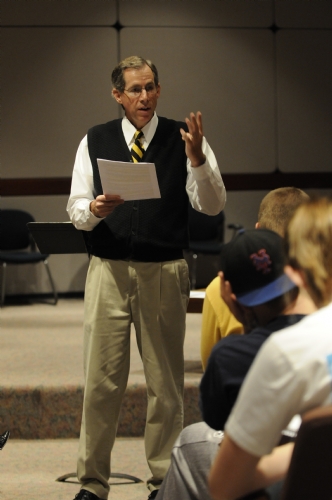 Later, the article notes, "And while it's true that Trump has skillfully exploited the public's fears and concerns about the press during his campaign, it's not as if he was attacking institutions held in august regard by the public. The standing of the press has been declining for years, notes Professor McCall of DePauw University. 'The press's credibility has declined by fifteen percentage points in fifteen years, so public perception of media decline was well underway before the Trump campaign,' McCall says. The public just no longer believes the media has citizens' interests in mind, according to McCall. It sees news outlets as too sensational and eager to profit and driven by their own particular agendas. 'Overall, there is little sense today in America about what a free press was created to do,' McCall says."
You'll find the complete text at the Monitor's website.
Jeff McCall is a 1976 graduate of DePauw, where he majored in communication and worked on student radio station WGRE. The author of the book Viewer Discretion Advised: Taking Control of Mass Media Influences, Dr. McCall has been called upon for comment by more than 100 newspapers, and was cited Wednesday by the Washington Post.
Source: Christian Science Monitor
Back