Newspaper Writes of Todd Rundgren's Belated Message to DePauw's Class of 2017
May 23, 2017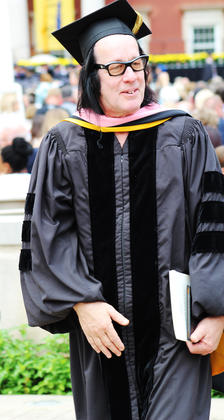 In it's coverage of Sunday's 168th Commencement at DePauw University, this morning's Banner-Graphic notes that in "what was expected to be one of the highlight moments of the graduation ceremony, rock music legend Todd Rundgren didn't bang a drum for a second, let alone all day, nor did he speak a word from the commencement stage." Eric Bernsee reports that "in a confusing turn of events, just as Rundgren was bestowed with the traditional honorary degree hood as a Doctor of Performing Arts, the DePauw University Band struck up a rendition of Rundgren's 'All the Children Sing'."
Ken Owen '82, executive director of media relations at DePauw, tells the newspaper, "(University Band Director) Craig Paré had a student who wanted to do a version of one of Rundgren's songs and play it as a surprise, which they clearly did. I think the music playing threw him (Rundgren) off and he just went back to his seat and probably thought he wasn't supposed to speak."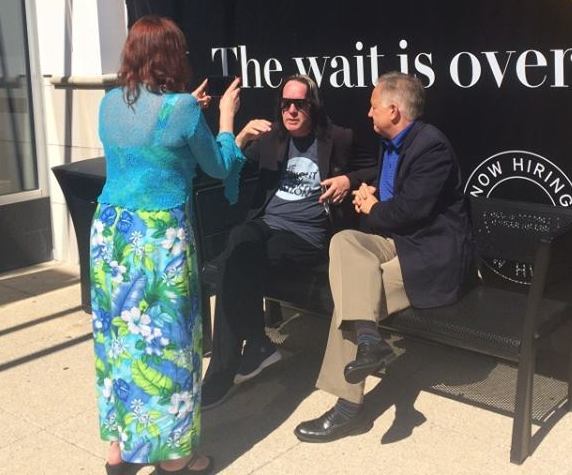 Bernsee notes, "Before taking Rundgren and his wife to the Indianapolis Airport later Sunday to catch their flight home, Owen and the rock star sat down for a short explanation video. In it, Owen begins by shouldering the blame, saying, 'Because I forgot to warn him we were going to play music during the ceremony, things got out of whack.' He then asked Rundgren what he would have told the DePauw Class of 2017 had he spoken."
The story continues, "Rundgren praised 'the lineage of a school like DePauw,' adding that it has traditions that alumni parents and grandparents have passed along to current students."
Rundgren -- known for hits such as "Hello It's Me" and "Love is the Answer" as well as producing acts such as Patti Smith, Hall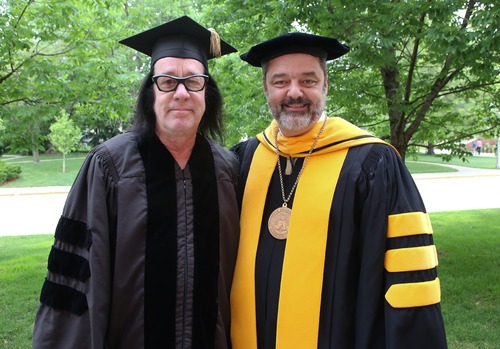 and Oates, Meat Loaf, and the Psychedelic Furs -- stated, "I got to his point because I wasn't afraid to leave my old self behind and become something different. The hardest thing in the world to possibly do is change yourself," he said, urging graduates to "be prepared no matter how attached you are to your habits and your ways of thinking to just completely discard them and start over. Of course you're supposed to believe in yourself, but you also have to be honest with yourself, and if there's something about that that you don't like, you do have the power to change. You just have to make that decision." (at right: Rundgren with DePauw President Mark McCoy)
The complete text -- headlined "Rundgren left speechless by DePauw honorary degree" -- is available at the Greencastle newspaper's website.
Jim Alling, chief executive officer of TOMS and 1983 DePauw graduate, delivered the primary address to the Class of 2017. It's summarized here as well as in the Banner-Graphic.
Source: Greencastle Banner-Graphic
Back