Fox News Needs to Dig Itself Out of "Public Relations Holes," Says Prof. Jeff McCall '76
June 2, 2017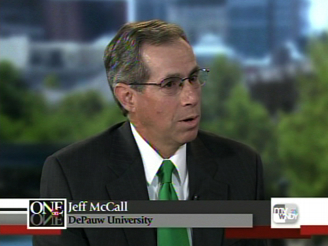 "Fox News Channel commentator Sean Hannity returned from his Memorial Day weekend vacation to host his prime time show Tuesday evening," writes Jeffrey M. McCall, professor of communication at DePauw University, in a newspaper column. "That normally would not be noteworthy, but given the turmoil surrounding FNC these days, it is."
The professor notes, "Hannity is the last visible remnant of the FNC prime time lineup that has dominated cable news for 15 years. Were he to depart, either by his own choice or by being shown the gate, traditional FNC viewers would have reason to think the channel had lost its direction as a news/commentary alternative to 'mainstream' media."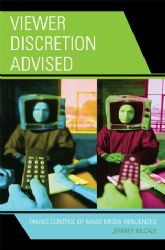 McCall, author of Viewer Discretion Advised: Taking Control of Mass Media Influences, observes, "The last 10 months have seen a parade of high-profile departures from FNC. Former FNC chief executive Roger Ailes started the parade last July when he was ousted after a series of sexual harassment allegations. On-air host Greta Van Susteren resigned in September and has since landed at MSNBC. Highly rated Megyn Kelly took off earlier this year to take a high-profile role at NBC. FNC's top-rated host, Bill O'Reilly, was tossed in April, after an advertiser boycott related to his own harassment allegations. Then FNC co-president Bill Shine, a top advocate for Hannity, was forced out last month."
A 1976 graduate of DePauw and a former journalist, Dr. McCall appeared on The O'Reilly Factor more than a dozen times to discuss media matters. "For all the controversy surrounding FNC in recent months, one could conclude the channel is in ratings trouble. Surprisingly, however, the network's prime time audience in May was 11 percent higher than for May 2016. MSNBC and CNN have seen even larger growth, but those gains have not come at the expense of Fox."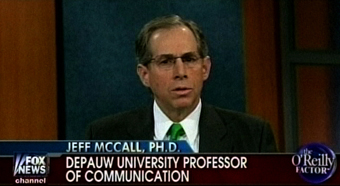 His column concludes, "If Hannity's place in the FNC lineup is now stable, perhaps the channel can focus more on the news than being the subject of it. A news organization that is itself making headlines is digging public relations holes. CBS is learning that lesson this week with the removal of Scott Pelley as network anchor. FNC is happy to let CBS enter the media spotlight."
Access the complete piece, which is being published in a number of American newspapers this weekend, at the Indianapolis Star's website.
Jeff McCall majored in communication and worked on student radio station WGRE. The media studies professor has been called upon for comment by more than 100 newspapers, and was cited recently by the Washington Post and Christian Science Monitor.
Source: Indianapolis Star
Back