Latest Gift by 1958 Graduates Tim & Sharon Ubben Will Create Robert G. Bottoms Alumni and Development Center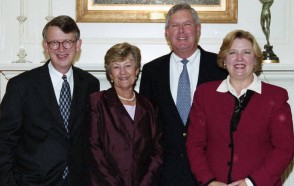 June 8, 2017
A major capital gift from Timothy and Sharon Ubben, two of the greatest benefactors in DePauw University's 180-year-history, will create a new home for the college's development and alumni engagement division. At the request of the Ubbens, who are both 1958 graduates of DePauw, the building will be named the Robert G. Bottoms Alumni and Development Center to honor the university's 18th president for his leadership and lasting influence. (photo, l-r: Bob Bottoms, Sharon and Tim Ubben, and Gwen Bottoms, in 2000)
Dr. Bottoms led DePauw from 1986 to 2008 and worked in the University's administration for 30 years. Under his leadership, DePauw became a national, top-tier liberal arts college and an institution with much greater diversity in its student body and faculty, with an endowment that grew nearly five-fold (read more here).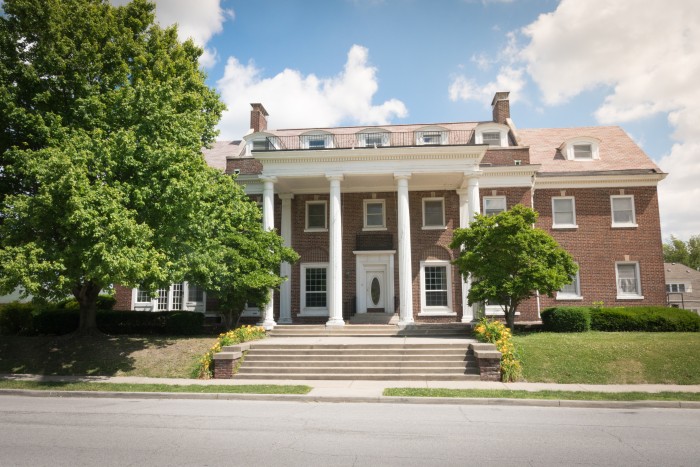 "Bob was a visionary president and an outstanding fundraiser," states Tim Ubben. "The development and alumni engagement division has waited a number of years for a space that not only serves as a front door for our returning alumni, but also signals the importance of the work that happens inside."
The plan calls for the building at 201 E. Seminary Street, which formerly housed Sigma Nu fraternity and later, Delta Zeta sorority, to be renovated.
"In addition to honoring Bob Bottoms and the many things he has done for DePauw, Tim and I are very pleased to be able to breathe life back into this stately building," added Sharon Williams Ubben. "It is a building that has much history and means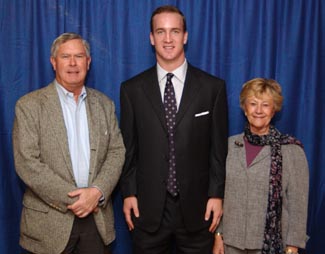 a great deal to many associated with DePauw. Giving the structure new life and a prominent role in campus life will underscore that this is a place that has transformed young lives for generations."
The Ubbens' many gifts to DePauw include endowing the Ubben Lecture Series, which has brought more than 100 prominent individuals -- including Margaret Thatcher, Mikhail Gorbachev, Elie Wiesel, Peyton Manning, and Benazir Bhutto -- to DePauw since 1986. A 1996 gift of more than $5 million created Alumni Legacy Scholarships. In 2000, the couple created more than 15 endowed faculty chairs. The Ubbens have also contributed to renovations of Harrison Hall, Olin Laboratory, the Lilly Physical Education and Recreation Center, and Blackstock Stadium. In 2013, the couple committed $20 million to the University's endowment to provide need-based financial aid for DePauw students. That same year, the expanse of land in front of Mason Hall, Lucy Rowland Hall and Rector Village was named Ubben Quadrangle to honor the Ubbens.
All told, the couple's commitments to DePauw now exceed $91 million.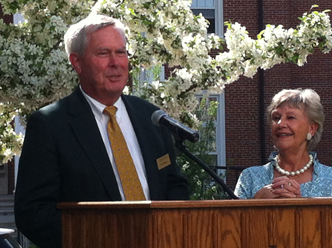 "Tim and Sharon have played a major role in making the DePauw experience that they enjoyed even more immersive and impactful for generations of students to come," said Melanie J. Norton, vice president for development and alumni engagement. "The potential for a project like this relies on angel investors and the synergies DePauw will experience with a co-located development and alumni engagement team cannot be overstated. The Ubbens are definitely our angels and we cannot wait to invite our alumni back to what will be a fabulous new home," Norton concluded.
The University today announced that The Campaign for DePauw, which was formally launched in October 2014 with a goal of $300 million, has now raised more than $317.8 million. As the fundraising effort continues, campaign co-chairs R. David Hoover '67 and Sarah Reese Wallace '76 have another major gift to announce:
A gift by Don R. '61 and Barbara Daseke will fund a significant and long-awaited renovation of the Roy O. West Library. The 80,000 square foot facility, dedicated in 1956 and named in honor of a DePauw trustee (1914-50) and board president, will receive a total makeover and a 14,000 square foot addition that will house a spectacular two-story reading room and rooftop terrace. Work on the building will commence in May 2018 and will also include development of the Tenzer Technology Center.
"The generosity of Don and Barbara will ensure that Roy O. West Library continues to serve as the iconic, intellectual beating heart of our campus," said Rick Provine, dean of libraries. "Their gift will preserve our past and enliven the future of all DePauw students and faculty members for years to come."
"Don and Barbara allowed us to announce their staggering $20 million commitment last spring for a purpose yet to be determined," noted President D. Mark McCoy. "We are incredibly grateful for their decision to direct a portion of this gift to the renovation and expansion of the library," he continued. "There is no building more central to the mission of an academic institution, and their investment will allow us to re-imagine and create a collaborative and relevant 21st century space that will serve DePauw well for decades to come."
Three other recent commitments have also helped propel the campaign forward:
Dr. Bill Asher '50 and Dorothy Asher made a $1 million commitment to establish the J. William Asher Office of Undergraduate Research, Scholarship, and Creative Activity. The Asher Office will provide oversight, support and resources to students and faculty members in forming, sustaining and improving undergraduate research, scholarship and creative activity on campus. This is the fifth $1 million endowment created by Dr. Asher in support of the faculty and student research, covering through this latest gift a touch to every academic area of campus.
Luis '81 and Debbie White Davila '82 made a gift of $750,000 to create the Luis R. Davila and Debbie White Davila Endowed Fund for Global Engagement. This gift will encourage and facilitate the integration of international experiences and global perspectives into all areas of teaching and learning at DePauw.
Lawrence E. '84 and Judith Young issued a challenge commitment of $125,000 to support the Inclusive Excellence Initiative and the University's emerging Center for Diversity and Inclusion recently named by Justin '95 and Darrianne Christian '95. This multi-faceted initiative supports not only new space but includes funds for access, programming, endowment and other needs. The Young Challenge will match endowment gifts to this initiative at a rate of 1:1.
The Campaign for DePauw continues.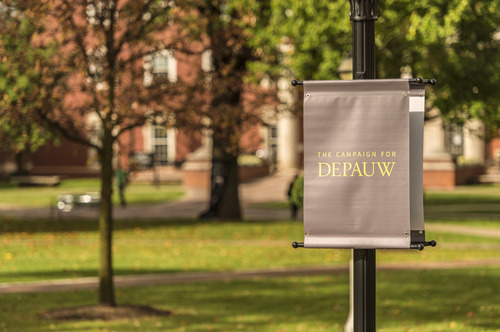 "The generosity of DePauw's alumni and friends continues to astound me," stated President McCoy. "I have the great fortune to interact with many college presidents across the nation and know that we have something very special at DePauw. We will never take this support for granted and look forward to the ways in which the remarkable philanthropy of our donors will continue to ensure DePauw's relevance and importance in the world of higher education."
Learn more about The Campaign for DePauw here.
Back