Vernon Jordan '57 Receives the Harvard Law School Center on the Legal Profession's Award for Global Leadership
June 9, 2017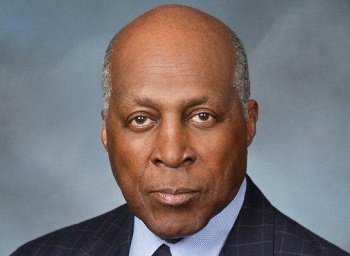 "I am of the belief that in order to change a nation you must of course change hearts and minds, but you must also change the laws," notes Vernon E. Jordan Jr., civil rights legend and 1957 DePauw University graduate. "And to change the laws you need good lawyers. Or, to put it in more lawyerly terms, 'Yes, the meek may inherit the earth, but you're going to need a lawyer to probate the will.'"
A column in the New Yorker is adapted from Jordan's remarks on June 5, when he received the the Harvard Law School Center on the Legal Profession's Award for Global Leadership. The awards dinner, "A Celebration of the History of Black Lawyers", was held at the National Museum of African-American History and Culture.
"Lawyers were the backbone of the civil-rights movement -- starting with the dean of Howard University Law School, Charles Hamilton Houston," Jordan remarked. "When I was a student at Howard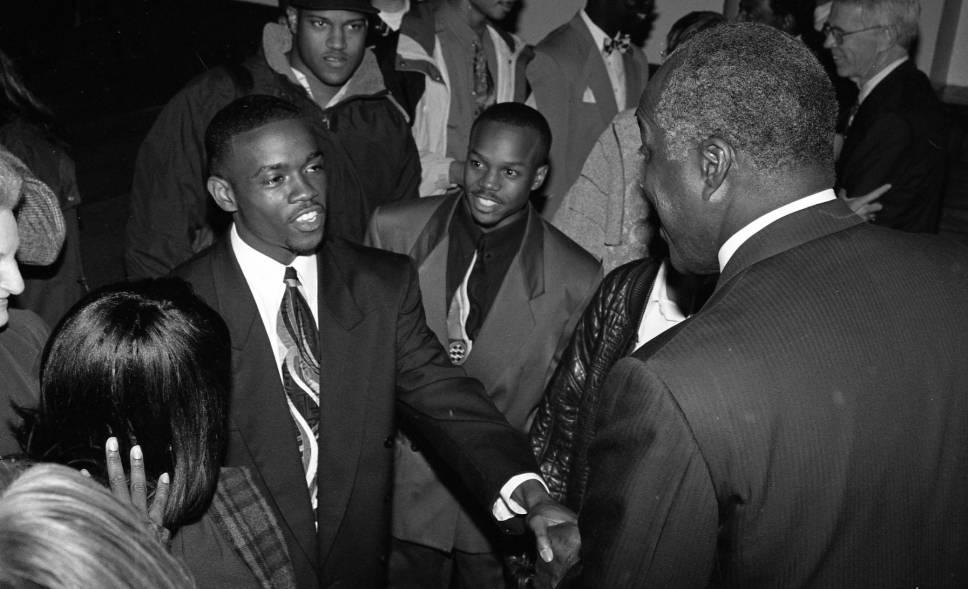 University Law School, I sat in the moot-court room and watched in awe as he and other giants of the movement -- legends like Constance Baker Motley, William Bryant, Robert Carter, Julius Chambers, William T. Coleman, Jack Greenberg, Oliver Hill, Elaine Jones, Thurgood Marshall, Robert Ming, and James Nabrit -- prepared their arguments for the Supreme Court. At breaks during their dry runs, as they huddled together, my classmates and I would stand close by, just to hear what they were saying. Standing in proximity to them was part of our education and my inspiration." (at left: Jordan on campus for Old Gold Weekend in 1996)
Jordan recalled, "Just eight weeks after my graduation from Howard Law School, I travelled with (Don) Hollowell to a small town in rural Georgia called Reidsville. We were there representing an eighteen-year-old black man who had been arrested, arraigned, indicted, tried, convicted, and sentenced to die in the electric chair, all in the space of forty-eight hours. The proceedings were held in the segregated courthouse of Tatnall County. Hollowell, C. B. King, and I slept in the nearest colored motel, thirty miles away. Every day, we would appear in court and plead our client's case. Every day at lunch, the white lawyers and court officials --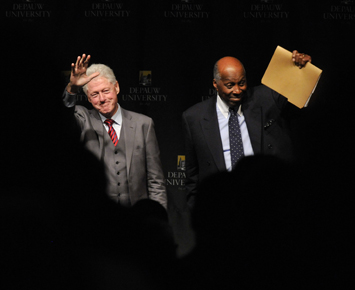 everyone but us -- would go across the square to the whites-only café. And the three black lawyers would go to the local grocery store for sliced baloney, a loaf of bread, a jar of mustard, and a Coca-Cola, which we would eat in our car, parked in the courthouse square." (at right: Jordan with President Bill Clinton at DePauw; November 18, 2011)
Vernon E. Jordan Jr. is a senior managing director of Lazard Frères & Co. LLC (NYSE: LAZ), and is senior counsel with the Washington, D.C.-based law firm of Akin Gump Strauss Hauer & Feld LLP. He is the former executive director of the United Negro College Fund, former president of the National Urban League, and has been a longtime adviser to President Bill Clinton.
"The laws that defined and circumscribed life in the Jim Crow South were warped, but it was also the law -- farsighted, fair-minded jurisprudence -- that gave us the tools to dismantle segregation, piece by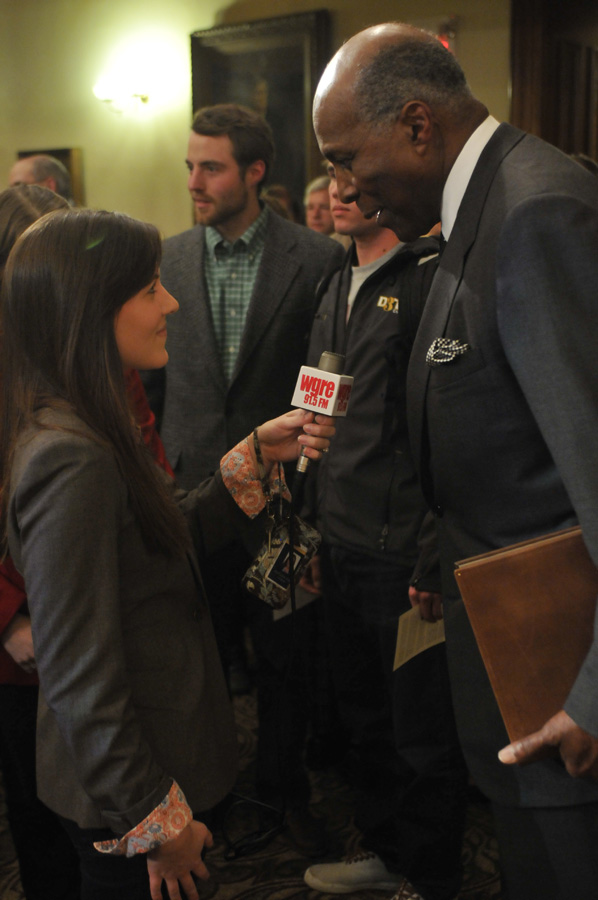 rotten piece. And it has been lawyers who have bent that arc of the universe toward justice."
Read the piece -- "A Celebration of Black Lawyers, Past and Present" -- at the publication's website. (at left: Jordan being interviewed by a student reporter from DePauw's WGRE)
A political science major as an undergraduate, Jordan is an advisory member of DePauw's Board of Trustees and has twice presented the commencement address at his alma mater, in 1973 and 1993. In December 2009, he was one of eight individuals presented with the Du Bois Medal, the highest honor awarded by the Harvard University Institute of Politics' W.E.B. Du Bois Institute. His other numerous awards include the Spingarn Medal, the NAACP's highest honor for achievement, and the Trumpet Award. In 2014 he received The American Lawyer magazine's Lifetime Achievement Award.
On May 14, Jordan presented the commencement address at Syracuse University. Read more here.
Last October, Vernon Jordan returned to campus to deliver the keynote address at the inauguration of DePauw's twentieth president, D. Mark McCoy. The remarks were presented as part of the Timothy and Sharon Ubben Lecture Series, and are embedded below.
Source: New Yorker
Back