"We Grew the Most When We Were Tested the Most," Gregory Mutz '67 Tells 50th Reunion Classmates at DePauw
June 10, 2017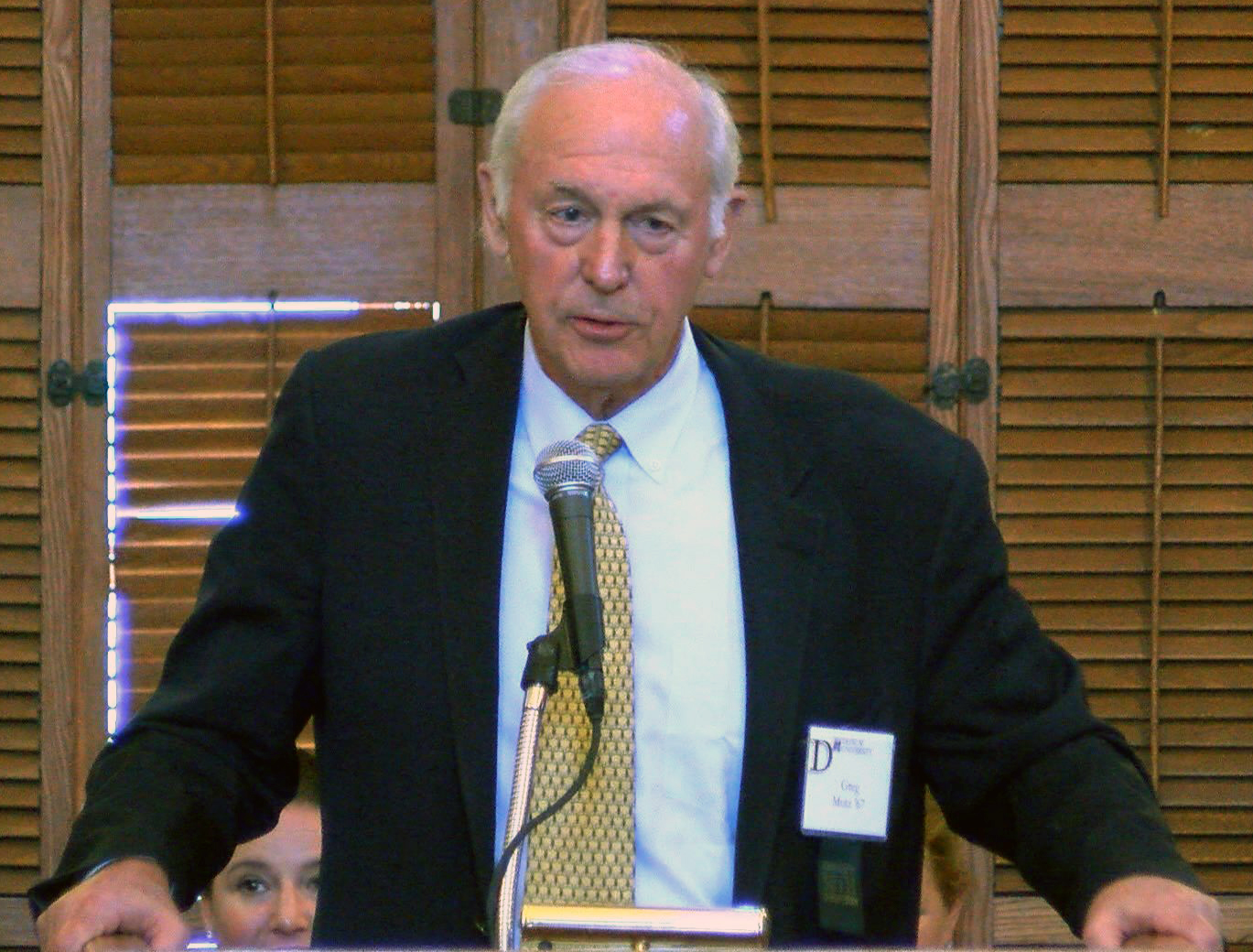 In a speech filled with humor, Gregory T. Mutz also told fellow members of DePauw University's Class of 1967, "Each person in this room at some point has had a rainy day. Every life doesn't work out perfectly and no life works out just the way we thought it would the day we graduated from DePauw. Life's a wonderful gift and yet life, at the same time, is a roll of the dice."
Mutz, the chairman and CEO of AMLI Residential Partners, LLC, a Chicago-based real estate company he co-founded in 1980, presented the 50th reunion address to his classmates and other alumni who gathered in Meharry Hall this morning for the annual convocation held as part of DePauw's Alumni Reunion Weekend celebration.
"Any regrets? Oh, for sure, each one of us would do one or two things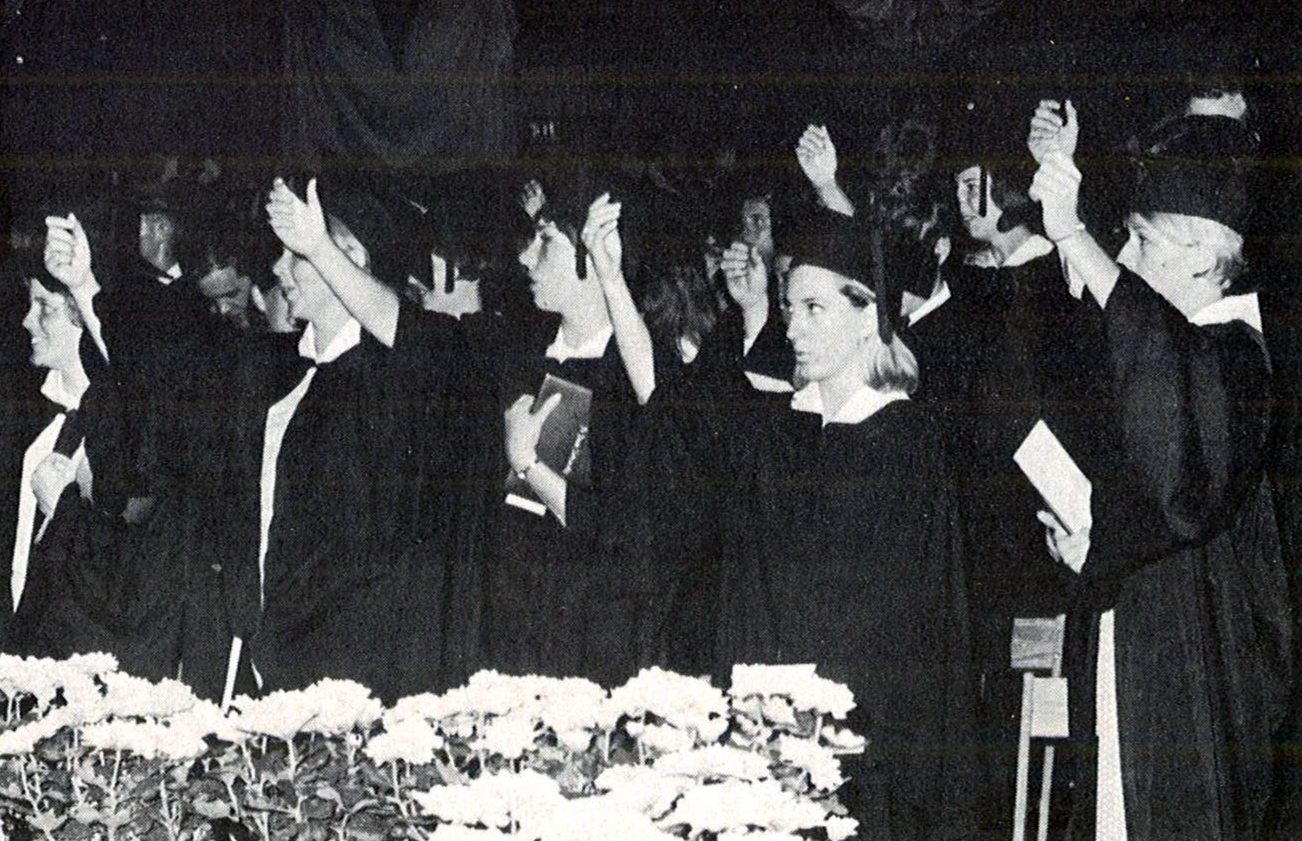 a little bit differently if we had to it do over again. But as they say down the road in Cloverdale, no one runs the sausage machine backwards and reclaims that squeal," Mutz said to laughter from the audience. "I imagine that we've all learned that we grow more when the road is strewn with potholes, and we grow when we are on the beach frolicking, having fun. As for me, I grew more rapidly in my one year in Vietnam as an infantry lieutenant, seeing and, yes, doing things that I never, ever thought imaginable when I was a Phi Delt on Anderson Street. The simple truth is that I imagine that each one of us in the Class of '67 realize that we grew the most when we were tested the most." (at left: the Class of 1967 toasts DePauw at commencement)
Mutz, who also holds a J.D. degree from the University of Michigan Law School, noted that the world has changed much since 1967, especially when it comes to gender equality.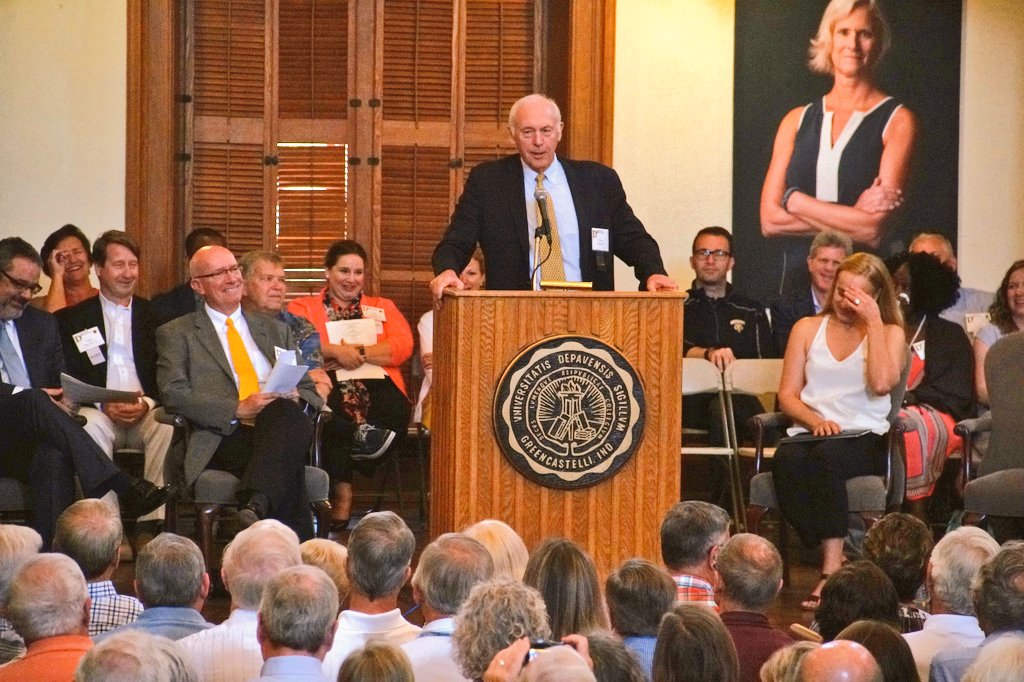 "In our class, 80 guys lettered. My guess is in our class there's 80 women who would have lettered, and there's likely three or four who would have been outstanding in their sport -- would have their pictures and athletic exploits touted in the DePauw Sports Hall of Fame -- if, if only they had been allowed to participate. Unfortunately, we don't know who those women were that had this exceptional, unusual athletic talent."
Mutz then had the women of the Class of 1967 stand, and as the audience cheered, he stated, "You are looking, folks, at a whole lot of talent that went untested, went unrecognized, and went unnoticed. Today, ladies you are indeed recognized as athletic giants."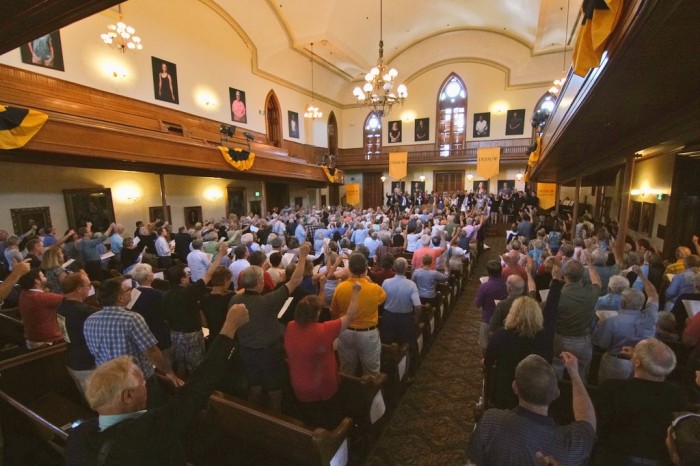 Members of the the Class of 1967 unfurled a long banner during today's program to unveil the total of their 50th reunion gift. For their golden anniversary, the class raised $414,318.04 for The Fund for DePauw, with 44% of its members making a contribution. The reunion gift of the Class of '67 totaled almost $32.7 million.
Francesca Moroney Cooper a writer and anti-bias/anti-racist activist, spoke on behalf of the 25h reunion class from 1992. "I feel strongly that conversations about these topics are incredibly important. I applaud DePauw for engaging in the kinds of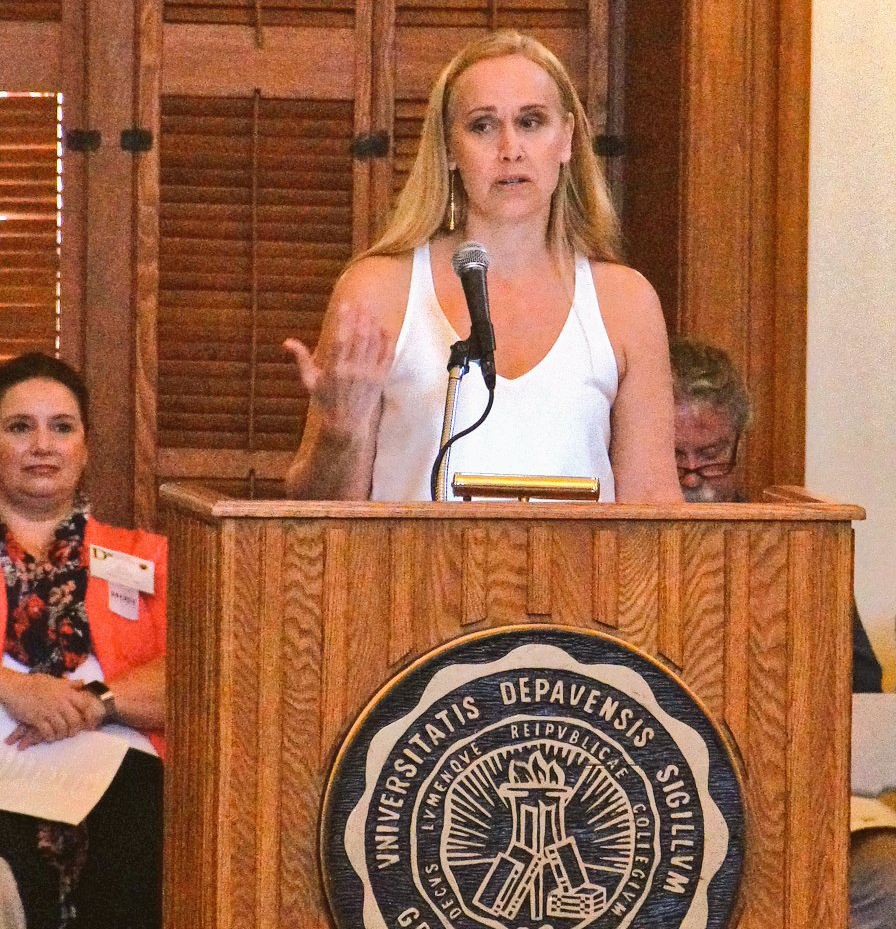 hard conversations that I hope many of us are already having in our families and in our communities. I am encouraged that DePauw demands greatness of its community. I am encouraged by the fact that the DePauw I attended – one that was almost 97% white -- is not the same as the DePauw of today, where 29% of the student body is comprised of students of color."
She continued, "And so as DePauw has demanded change and inclusivity, we, too, must demand change from ourselves, our peers, and all of our institutions. Our new, shared approach must not only recognize the mistakes of the past but must also break down all remaining barriers, all invisible walls. Because when we acknowledge these walls, when we see them for what they are, for the traumas and the pain and the tragedies that they have caused, then it opens up the parts of ourselves that we have hidden for far too long. It opens up our innate desire for connection, for empathy and understanding.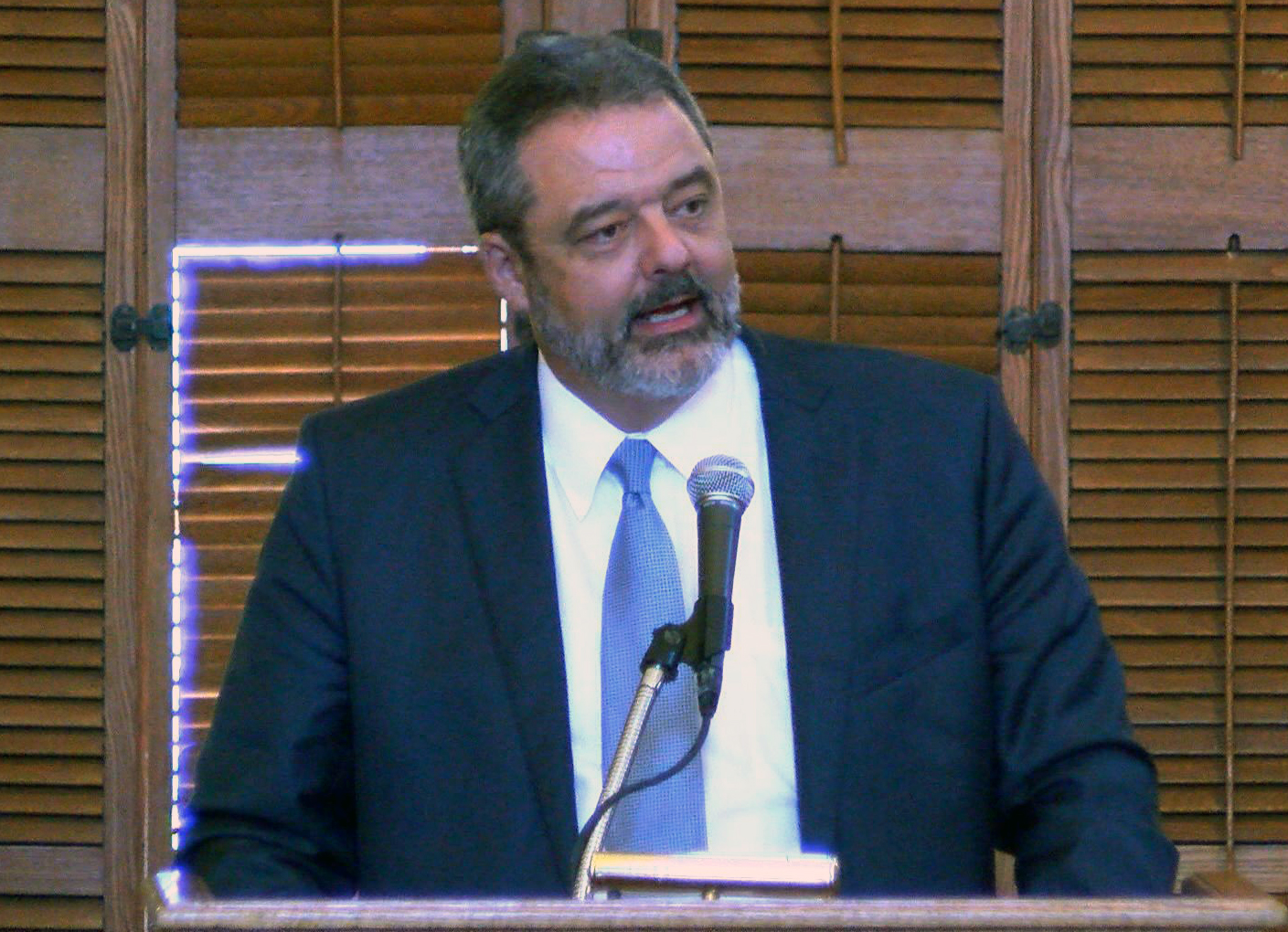 President Mark McCoy recalled the 1977 Grateful Dead album, What a Long Strange Trip It's Been, saying it probably "has a whole new meaning now" for the graduates of that year and others back for their reunions. "The fact is, you have changed dramatically since you last sat here in Meharry Hall as a student. Your life has had ups and downs and zigs and zags, and yet DePauw prepared you for those changes."
The president stated, "Knowing that the world is changing, DePauw never bothered with teaching you what to think. We invested in teaching you how to think, and that set you up for a life of dreams and meaning."
Alumni Reunion Weekend activities have included a block party on the courthouse square in Greencastle, faculty-led Alumni College discussions, and the presentation of the Old Gold Goblet to R. David Hoover, retired chairman,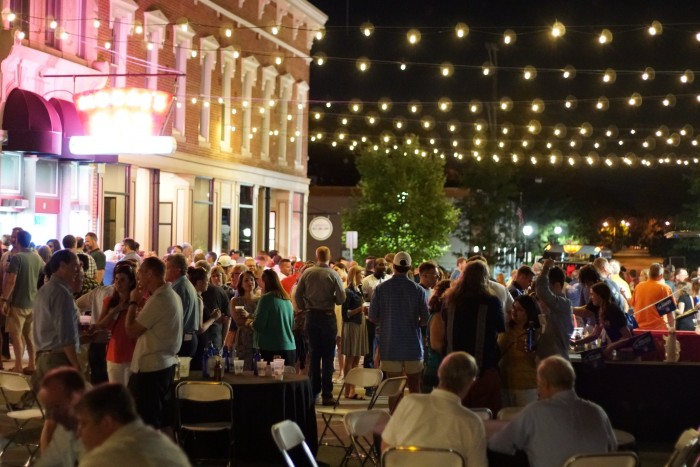 president and chief executive officer of Ball Corporation (NYSE: BLL) and 1967 graduate of DePauw. The award is given annually to recognize "eminence in life's work and service to alma mater."
Lawren K. Mills, a partner in the law firm of Ice Miller in Indianapolis, was presented with the Young Alumni Award on June 9. Alumni Citations were awarded to Kevin R. Armstrong '82, senior vice president and chief mission and values officer for Indiana University Health, and Dennis E. Bland '87, president of the Center for Leadership Development, an Indianapolis not-for-profit dedicated to empowering African American youth for academic, college and career success.
Alumni Reunion Weekend concludes tomorrow. More information is available through this link. A list of registered alumni is available here.
Back